Obtain a natural cure by using essential oils for gingivitis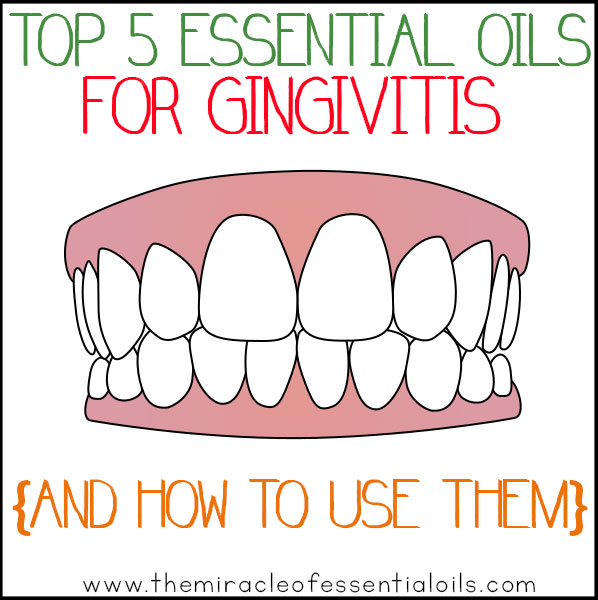 What is Gingivitis?
Gingivitis is commonly known as gum disease. It is a condition where the gums suffer from inflammation. Gum disease is most often caused by bacterial infection.
Some of the signs of gingivitis include:
Swelling
Inflammation
Pain
Bleeding
Mal odor/ Foul breath
In serious cases, gingivitis makes the gums pull away from the teeth. The gums retract and shrink, causing the teeth to look longer and more exposed. Periodontitis is the result of unchecked and untreated gingivitis, where by the teeth become loose and begin falling out.
Causes of Gingivitis
Gingivitis arises due to poor oral hygiene. The shape of your gums and teeth can make you more prone to gum disease.
Some people's gums and teeth are more prone to having food particles getting stuck between them. Over time, these food particles accumulate and form plaque.
The plaque then progresses to become tartar. This then leads to infection that can cause gum disease.
Autoimmune diseases can also create or aggravate gum disease. When there is an autoimmune disorder, food particles can pass through the digestive tract and reach various organs including the gums. When they reach the gums, the immune system then attacks the gums, causing autoimmune disorder-induced gum disease.
Top 5 Essential Oils for Gingivitis
While essential oils on their own cannot cure gingivitis, they can play a huge role in preventing and treating the condition. To obtain a full cure from gingivitis, you will need to adopt many holistic lifestyle changes.
How to Use Essential Oils for Gingivitis
There are many ways you can use essential oils for gingivitis. Remember, most essential oils should not be ingested, so keep in mind that any essential oil that you apply on your teeth, gums and oral area should be rinsed out and never swallowed.
Here are some of the ways you can incorporate essential oils to naturally treat gingivitis:
Make your own diy tooth paste (find recipe here)
Diy tooth scrub
Gum massage oil
Diy mouth wash
Oil pulling
Read on to find out how to make a simple diy essential oil mouth wash for gingivitis.
DIY Essential Oil Mouth Wash for Gingivitis
This is an oil based mouth wash, in that no water is used. It is completely made with coconut oil. All you have to do is swish it in your mouth just like regular mouth wash, and spit it out. It is different from oil pulling, however, because you only need to do it for a few swishes and you can do it several times a day for gingivitis relief.
What you need:
Directions:
Grab a glass bottle and pour in your coconut oil and essential oils
Use a stainless steel spatula or glass stirring rod to mix it all thoroughly
Now transfer the oily mouthwash into a bottle using a funnel.
Your mouth wash is now ready!
To use, simply pour in a small amount into your mouth and swish it around about 5 – 10 times.
Repeat this after brushing up to 3 times a day.

How do you use essential oils for gingivitis? What natural remedies worked for you? Share in the comments below!