Leaky gut syndrome has been linked to a number of diseases and health conditions by many nutritionists and naturopathic doctors. Using essential oils for leaky gut syndrome acts as a tool to support you in your gut healing journey for improved health and body function!
What is Leaky Gut?
Leaky gut refers to increased intestinal permeability. Intestinal permeability simply refers to intestines being permeable. This means they have tiny spaces through which material passing from inside the gastrointestinal tract slips through to the rest of the body.
In a healthy human being, the intestine normally exhibits some permeability. This is to allow nutrients to pass through the gut. But it prevents potentially harmful substances such as antigens, microorganisms and toxins from leaving it and traveling to other areas of the body.
In an individual with leaky gut, there is increased permeability which allows harmful substances including microbes, microbial products, foreign antigens and undigested food particles into the rest of the body. This results in the activation of the immune system. There is increased inflammation in the body.
Leaky gut or increased intestinal permeability is a factor in many other diseases including Irritable Bowel Syndrome (IBS), Crohn's disease, celiac disease, type 1 & 2 diabetes, rheumatoid arthritis, fatty liver, obesity, allergic diseases and others.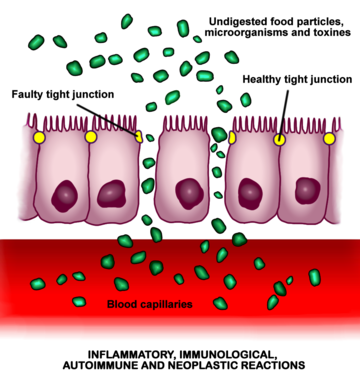 Looking at Essential Oils for Gut Health
Healing your gut requires major change in eating habits and lifestyle changes. No more soda every day with your Big Mac & Chips at lunch! You should limit white sugar, look into low FODMAP diets and eat more probiotics like kefir, kombucha, probiotic supplements, yogurt and others.
Essential oils, meanwhile, can also be used as supportive tools to heal your gut naturally. They are highly concentrated liquid plant extracts obtained from the aromatic parts of parts. These precious liquids have been found to be effective in improving gut health and managing leaky gut. How? By:
Reducing inflammation when taken internally *Not all essential oils can be taken internally
Repairing the gut walls
Promoting healthy gastrointestinal motility
Boosting the immune system
Killing off harmful pathogens
Harmonizing with the beneficial bacteria in the gut
Improve digestive processes
Studies that Show Essential Oils Can Help Leaky Gut
7 Essential Oils for Leaky Gut Syndrome

Below are the 7 best essential oils for leaky gut syndrome:
1. Wild Oil of Oregano Essential Oil
2. Peppermint Essential Oil
3. Thyme Essential Oil
4. Caraway Essential Oil
5. Cardamom Essential Oil
6. Clove Essential Oil
7. Ginger Essential Oil
How to Use Essential Oils for Leaky Gut
Here are three key ways you can use essential oils for leaky gut syndrome:
1. Topical Blend
What you need
½ cup sesame oil
5 drops peppermint oil
5 drops caraway oil
3 drops clove oil
3 drops cardamom oil
3 drops thyme oil
2 drops wild oil of oregano
2 drops ginger oil
Fractionated coconut oil
4 oz amber glass dropper bottle
Directions
Begin by carefully adding all the amounts of essential oils, drop by drop.
Now using a funnel, top up the dropper bottle with fractionated coconut oil.
Screw on the cap tightly then shake well to mix all oils up.
Your essential oil blend for leaky gut is ready. It stores well in a cool dry place for up to a year.
To use, first roll up your blouse/shirt to reveal your stomach. Now place 3-4 drops in your palm then gently rub it on your stomach for 2 minutes. Let it soak in completely. Apply 2 times in a day.
You can also store a small amount in a 10 ml roller bottle for easy application.
2. Inhalation
What you need
2 drops peppermint
2 drop ginger
1 drop cardamom
1 drop clove
Directions
In a high quality essential oil diffuser, add all the drops of essential oils. Now add the required quantity of water, following the manufacturer's instructions.
Diffuse for 15-60 minutes. You can diffuse it for 15 minutes three times a day.
If you don't have a diffuser, drop the blend into the wick of an aromatherapy inhaler. Put the wick back and screw on the cap. Inhale deeply as needed.
3. Internal Use
What you need
2 drops wild oil of oregano
Olive oil
00 vegetable capsule
Directions
Get a 00 vegetable capsule.
Add 2 drops of wild oil of oregano (food grade).
Now fill the rest of the capsule with olive oil.
Take the capsule after a meal. For proper dosage, please consult a naturopathic doctor. Otherwise, oregano tea is much safer and gentler for daily consumption. You can drink oregano tea or add oregano to soups and other dishes.
Caution & Safety
Internal use of essential oils must be done under the care of a naturopathic doctor. This is because they are very potent substances that can be damaging if consumed wrongly. Remember that most essential oils must not be ingested and they definitely should not be consumed over a long period of time! Only consume 100% pure unadulterated high quality essential oils.
Keep essential oils away from pets and children.
If you're new to essential oils, please first read Caution & Safety when Using Essential Oils