Our lips are responsible for talking, eating, smiling, kissing and more! It's only fair that we should provide our pouts with the best care possible by using healing and revitalizing essential oils for lips!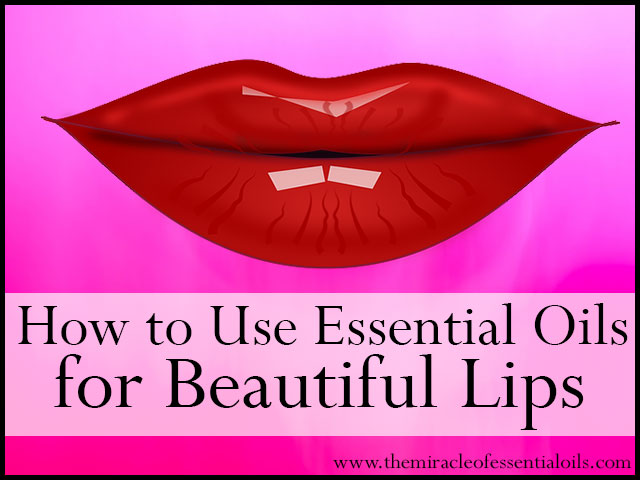 Pucker Up for Some Lip Talk
Did you know that the skin on your lips is far thinner than the skin on the rest of our bodies? It's true! The top layer of the skin, called epidermis has a protective layer known as the stratum corneum, which in the lips is much thinner and more transparent. That's why the lips have a pink shading, as we can see through the thin layer beneath which thousands of blood vessels and capillaries run.
Another astounding fact is that the skin on the lips have no oil glands, also known as sebaceous glands. These glands, located under each hair follicle are responsible for producing the skin's own unique oil which helps keep it moisturized and protects it from microbial and environmental forces.
This is why caring for the lips is very important as they lack self-moisturizing oil glands or extra protection from a thick epidermal covering.
Using essential oils can take your lip care to a whole new level, and there's no looking back!
Common Ailments of the Lips
Here are some of the common ailments experienced by the lips, which can greatly be relieved and cured using the power of essential oils!
Dry, flaky lips
Chapped, cracked and bleeding lips
Cold Sores
Hives
Choosing the Right Essential Oils for Lips
One important guide to selecting the best essential oils for lips is that they should fall under the category of GRAS (Generally Recognized As Safe), meaning they can be ingested in small quantities without any adverse effects. Since essential oils can easily be ingested when applied on the lips, we need to be careful what oils we choose to apply. This means oils like tea tree (melaleuca) are a big no-no for lips.
Another guideline in selecting the right essential oil for lips is to make sure that you choose an oil that is not photosensitive or phototoxic. Applying phototoxic essential oils such as most citrus oils and going out under the sun light can cause chemical burns on the lips. Remember the skin on your lips is more delicate than the skin on the rest of the body, and must be treated gently.
Top 10 Essential Oils for Lips
Right! Now here's the list of the best essential oils for beautiful, plump and moisturized lips!
6. Frankincense Essential Oil (where to get it)
Essential Oils to Avoid on Lips
These essential oils should be completely avoided on the lips. The reasons are because they are phototoxic, irritant to sensitive skin on the lips or because they should not be ingested and therefore are risky to apply on lips.
Some common essential oils to avoid on the lips include:
Tea tree (Melaleuca)
Lime
Lemon
Bergamot
Eucalyptus
Camphor
How to Use Essential Oils on Lips
The best way to use essential oils on lips is by making lip balms. I shared three exciting essential oil lip balm recipes here. An easier way is just diluting them in a suitable carrier oil like olive oil or coconut oil and applying them to your lips.
To make a simple coconut – essential oil mix for glossy, moisturized lips, simple get a small portable container, add in 2 tablespoons of coconut oil (melt it first) and 5 drops of your favorite essential oils for lips from the list above. My favorite mix for lips is peppermint – lavender, that leaves your lips so plump, silky and soft.
How Much Essential Oil Should You Add to Lip Balm
A question that arises over and over again with those who want to make their own lip balm at home is "How much flavor should I add to my lip balm?"
With essential oils, a little goes a long way so go easy on the amount you use.
The general rule is to use a 1% dilution, which means 1 drop per teaspoon of base ingredients.
You can slowly work your way up to 3% dilution (3 drops per teaspoon of base ingredients), if you face no allergic reaction.