Looking for good essential oils for lung health? Below is a list of common lung problems and the essential oils that help, research on essential oils for lung health and 3 most effective recipes for healthy lungs.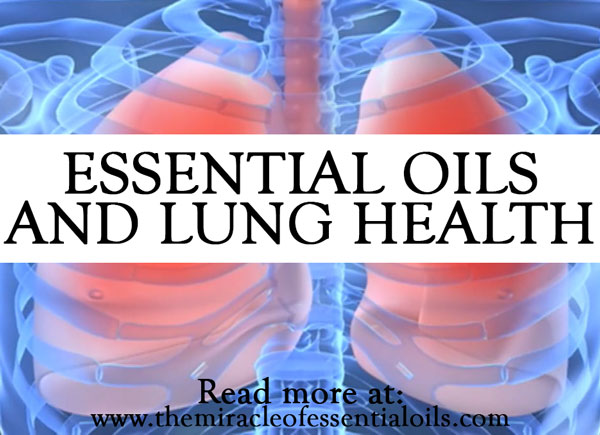 How Essential Oils Support Lung Health
Essential oils are pure and highly concentrated liquid plant extracts obtained by steam distillation or cold pressing of aromatic plant material. It takes a lot of plant material to derive just a little essential oil, which is why essential oils are so potent and powerful. Just imagine: it takes about 5,000 pounds of fresh rose petals to make just one pound of rose essential oil and one drop of peppermint oil is approximately equal to 28 cups of peppermint tea!
Being super concentrated, essential oils constitute of numerous healing and medicinal properties in just a few drops. One of the major benefits and ways of using essential oils is through using the power of their aromas, which have therapeutic benefits.
For lung health, essential oils mainly help when their tiny aroma compounds are inhaled into the respiratory system, sending various signals to the brain to instruct the body to carry out specific functions. Examples of these include inhalation of eucalyptus or peppermint oil which helps open up the respiratory pathways, clear congestion, relieve pain and so much more.
Some of the ways in which essential oils support lung health include the following:
Boosting the immune system
Strengthening the respiratory system
Fighting air borne and infectious pathogens that are responsible for many respiratory illnesses
Have expectorant properties that help in dislodging mucus and phlegm form the nose, sinuses, bronchi and lungs
Opening up the respiratory tract
Relieving pain
Reducing inflammation of the respiratory system
Warming up the body and fighting cold temperatures which are the major causes of respiratory health problems
Combating allergies that lead to persistent sneezing and runny noses
And more
Below, take a look at some of the research carried out on essential oils for lung health and respiratory problems:
Research on Essential Oils for Lung Health
#1 Study on Lavender Oil for Asthma: A study showed that inhalation of lavender essential oil suppresses allergic airway inflammation and asthma. (1)
#2 Study on for Essential Oils for Pneumonia: At the Weber State University, US, scientists found that some essential oils, the most potent ones: oregano, thyme, clove, cinnamon, rosewood prompted autolysis (self – digestion or self – destruction) in Streptococcus pneumonia, a type of bacteria that causes pneumonia and other lung diseases.
#3 Study on Eucalyptus for Bronchitis: Eucalyptus oil has been shown to eliminate various strains of Staphylococcus aureus, Streptococcus pneumoniae and Haemophilus influenzae that can cause bronchitis, according to research found in the Clinical Microbiology and Infection (3)
#4 Study on Black Pepper for Lung Health: Black pepper oil is healing for many respiratory and lung conditions such as colds, sinuses, asthma, bronchitis and more. (4)

#5 Study on Thyme for Respiratory Tract: Researchers found that thyme oil has relaxing effects on the respiratory tract which promotes easy, clear and deep breathing. (5)
Common Lung Problems and Essential Oils that Help
Here's a list of the most common health conditions affecting the lungs and the top four to use for each:
1. Asthma
Lavender, peppermint, eucalyptus, roman chamomile
Read more: Essential Oils for Asthma
2. Bronchitis
Ginger, black pepper, cinnamon, thyme
Read more: Essential Oils for Bronchitis
3. Breathing Difficulties
Eucalyptus, thyme, rosemary, ginger
Read more: Essential Oils for Breathing Difficulties
4. Cough & Colds
Lemon, ginger, black pepper, oregano
5. Pneumonia
Oregano, thyme, rosewood, clove
Read more: Essential Oils for Pneumonia
6. Lung Cancer
Thyme, clary sage, frankincense, lavender
Read more: Essential Oils for Lung Cancer
8. Wheezing
Eucalyptus, Lavender, Roman chamomile, Bergamot
Read more: Essential Oils for Wheezing
A Selection of 3 Most Effective Essential Oil Recipes for Lung Health
Below, find 3 most effective essential oil recipes you can whip up in the comfort of your own home to support lung health naturally:
1. Homemade Vapor Rub
What you need
Method
In the double boiler, melt all ingredients to liquid form.
Leave the melted oils to cool before adding the essential oils then stir with a disposable chopstick to combine.
Let it set for an hour before using then apply on chest, back and soles of feet for relief. The shelf life of this vapor rub lasts more than a year or two. Remember to keep it away from water and other contaminants to prolong its shelf life.
2. Steam Inhalation
What you need
Method
Boil the pot of water till it gets very steamy.
Remove from heat and carefully place it on a table over a place mat.
Sit in front of the pot, positioning your face in a way that the steam reaches it.
Create a tent over your head and the pot with the towel and sit in the steam for about 15 minutes.
You'll feel relieved afterwards and able to breathe properly. Do this about 4 times a day for relief.
3. Respiratory Support Diffuser Blend
What you need
Method
Add oils to diffuser, following manufacturer's instructions. Diffuse for 15 minutes to purify the air and promote easy breathing.

Essential Oil Safety Information
Always purchase 100% pure high quality essential oils from a reputed seller.
Before using essential oils for lung health or any other use, please first perform a patch test by applying a mixture of 1 drops of the essential oil of choice in 1 tsp of carrier oil. Wait for 1 – 2 hours. If you notice any allergic reactions, immediately wash the area with soap and warm water and do not use the essential oil.
Keep essential oils away from children and pets.
Refrain from using essential oils during pregnancy.
Avoid ingesting essential oils.
If suffering from severe and chronic health conditions such as hypertension or epilepsy, refrain from using essential oils without first consulting your doctor.
References
(1) https://ncbi.nlm.nih.gov/pubmed/24909715
(3) http://onlinelibrary.wiley.com/doi/10.1111/j.1469-0691.2005.01284.x/full
(4) www.pjps.pk/wp-content/uploads/pdfs/CD-PJPS-19-3-06/Paper-8.pdf
(5) https://www.ncbi.nlm.nih.gov/pubmed/16397917