Plagued by dark spots on your skin, a.k.a melasma? Try naturally fading them away using these top 7 essential oils for melasma!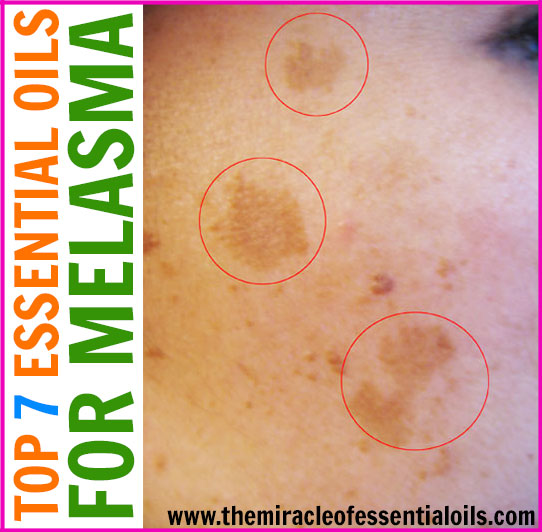 Melasma is a skin discoloration which causes irregular dark, muddy looking patches to appear on the skin, usually the face. It is derived from the Greek word melas meaning black. Melasma affects more women compared to men.
This skin condition is said to be brought about by the stimulation of melanocytes, which are cells in the epidermal layer of skin that produce melanin, by the female sex hormones estrogen and progesterone to produce more melanin pigments when the skin is exposed to sun.
Causes of Melasma
The major cause of melasma is hormonal fluctuation and imbalances.
Women who take oral or patch contraceptives and also hormone replacement therapy (HRT) medications are also prone to developing melasma, which comes on gradually.
Thyroid disease
People with olive or light brown skin types living in areas with intense sun exposure
Melasma can also form during pregnancy, in which case it is known as 'the mask of pregnancy.' This kind of melasma usually dissipates after pregnancy.
Top 7 Essential Oils for Melasma
Melasma can be naturally faded away and lightened using certain essential oils with skin regenerating and skin lightening properties. The top 7 essential oils for melasma include:
How to Use Essential Oils for Melasma
The best way to use essential oils for melasma is by mixing it with skin healing carrier oils. Natural oils such as castor oil and sea buckthorn oil are excellent at fading away melasma, reducing inflammation and soothing skin. Here's a simple but very effective recipe using essential oils for melasma:
What you need
Directions
Using a small funnel, pour 2 tbsp each of castor oil, sesame oil and argan oil into the amber dropper bottle.
Next add 1 tsp of sea buckthorn oil and carefully add the drops of essential oils required.
Close the bottle and shake gently to combine all the oils together.
To use, massage 4 drops all over your clean face. This DIY melasma blend is best used at night time because this is when the skin regenerates and repairs itself.
If you have acne prone skin, then use this blend as an Oil Cleansing Blend. This will prevent the oil from staying on your face and clogging up pores. To find out how to do the Oil Cleansing Method, please visit this post: How to Do Oil Cleansing with Essential Oils
Have you ever used essential oils for melasma? Which ones were the most effective for you? Please share below