Calm yourself naturally using one or more of these essential oils for panic attacks.
What are Panic Attacks?
Increased heart rate, hyperventilation, heart-pounding terror…you know the drill – a panic attack's coming on.
According to the National Institute of Mental Health, about 2.4 million Americans aged between 18 to 54 have a panic disorder. When a panic attack happens, the victim feels very terrified and experiences a whole host of symptoms including increased heart rate, shortness of breath, sweating, turning pale and others. Individuals report feeling heart-pounding terror, losing control and feeling as if they're going crazy or having a heart attack. Panic attacks can strike without a clear reason and without warning.
Panic attacks are different from anxiety attacks. Anxiety attacks can happen due to a reason such as right before an exam or public speaking. Anxiety attacks are less intense, can last for a longer time and occur more gradually. A panic attack, however, comes on abruptly, has intensified symptoms and lasts an excruciatingly unbearable short while.
Symptoms of a Panic Attack
What brings on a panic attack? Well, panic attacks come as a result of the body's 'flight or fight' reaction happening at the wrong time. This reaction is an involuntary psychological body response. Normally, when facing any kind of dangerous situation, the 'flight or fight' reaction kicks in, increasing stress which in turn raises adrenaline that helps an individual act fast to solve the danger. However, in a panic attack, this reaction happens without there being any form of obvious danger and it happens abruptly. Panic attack symptoms reach their fullest intensity within a few minutes and gradually disappear within 20 minutes. Some of the symptoms of a panic attack include:
Increased heart rate
Hyperventilation, difficulty breathing or chocking
Chest pain
Shaking or trembling
Becoming pale
Sweating or cold or hot flushes
Nausea or vomiting
Feeling dizzy or faint
Numbness or tingling
Feeling detached from yourself
Fear of losing control of yourself, going crazy or dying
How do Essential Oils Help Panic Attacks
Essential oils are highly concentrated liquid plant extracts. They are extracted through steam distillation or cold compressing of aromatic plant material. A lot of plant material is used to produce a small amount of essential oil. This shows that essential oils are very concentrated and potent. A little goes a long way.
The powerful therapeutic properties of essential oils make them beneficial for preventing and calming down panic attacks. Essential oils oxygenate the brain, soothe the mind, promote blood circulation, alleviate fears and negative emotions, promote easy breathing, curb nausea, promote stability in the entire body and relieve agitation.
For example, essential oils of lavender and ylang ylang soothe the mind and relieve agitation. Essential oils of bergamot curb nausea, bring back stability to the body and promote positive feelings. Essential oils for vetiver and cedarwood oxygenate the brain, soothe the mind and enable it to function properly and promote rational thoughts. Peppermint essential oil helps with easy breathing, sharpens & soothes the mind. Sandalwood and frankincense oils increase spirituality, keep you grounded, stabilize the body and enable you to be firm instead of panicky.
Below are the best essential oils for panic attacks:
Top 7 Essential Oils for Panic Attacks
1. Lavender Essential Oil
2. Ylang Ylang Essential Oil
3. Peppermint Essential Oil
4. Sandalwood Essential Oil
5. Frankincense Essential Oil

6. Bergamot Essential Oil
7. Vetiver Essential Oil


How to Use Essential Oils for Panic Attacks
The following are ways to use essential oils for panic attacks:
Diffusing – Get a high quality diffuser and diffuse 6 drops of any of the essential oil(s) above for an hour every day.
Aromatherapy inhaler – Put one or more essential oils in an aromatherapy inhaler and use it right before a panic attack to stop it or reduce its intensity.
Roller blend – Add any of the above essential oil(s) in a roller bottle then top with a carrier oil. Roll the blend on your wrists, behind ears, temples, neck, collar bones and other pulse points.
Bath blend – Mix a few drops of essential oils in Epsom salts and disperse them into a warm bath.
Massage blend – Make a relaxing massage blend and get a partner to massage your back, feet, hands or full body. You can also massage your own shoulders, hands and feet.
Below is a good aromatherapy inhaler recipe for panic attacks. You can use it to get rid of a panic attack or at least reduce its intensity.
DIY Aromatherapy Inhaler for Panic Attacks
What you need
Aromatherapy inhaler
2 drops peppermint
2 drops lavender
2 drops bergamot
1 drop ylang ylang
1 drop frankincense
Directions
Remove the wick from the personal inhaler and add all the drops of essential oils: 2 drops each peppermint, lavender and bergamot and 1 drop each ylang ylang and frankincense.
Now replace the wick and put back the cap of the inhaler.
Inhale deeply when needed.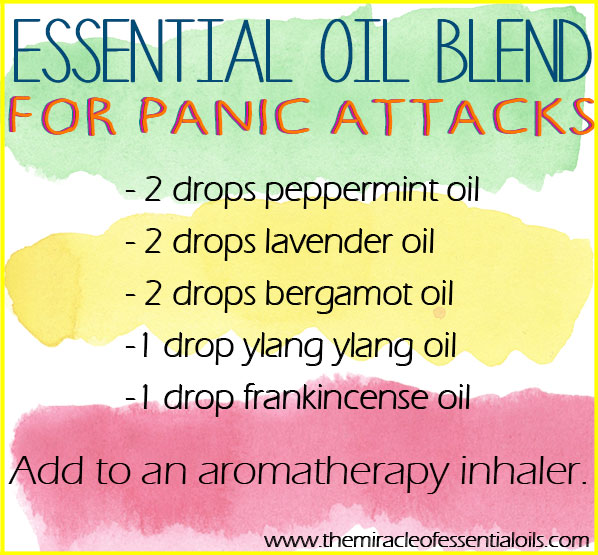 Tips for Handling Panic Attacks
Don't be scared. You're not going crazy. You're not going to die. This is all temporary. You've done it before, you can do it again. Before you know it, it'll be over. Your mind and body are too powerful. This is nothing.
Breathe. Try to breathe fully. You can do it.
Move. Take a walk, pace in your room or move around the house. Moving keeps your body working and takes your mind off being panicky.
Feel empowered. You're a human being made from a gazillion million cells and components. A 'mere' panic attack is not going to take you down. You're made of stronger stuff. NOTHING'S going to stop you from living your life with zest every single day.
Caution