Support your circulatory system and promote proper blood flow by using these essential oils for poor circulation.
What is Poor Circulation?
Poor circulation is when there is lack of proper blood flow throughout the body. Proper blood circulation is very important for the well functioning of the overall body. Blood brings very many beneficial nutrients to the tissues and organs as well as oxygenates them. It also warms up the body.
The circulatory system is designed in such a way that the heart keeps pumping blood that reaches the whole body. In poor circulation, however, the blood doesn't reach its destination because of some kind of blockage. Causes of poor circulation may include health problems, lack of exercise, extremely cold temperatures and others.
Symptoms of Poor Circulation
Below are some of the symptoms of poor circulation in individuals:
Cold hands and feet
Muscle cramps
Fatigue
Headaches
Varicose veins
Dizziness
Tingling or numbness in limbs
Joint pain
And more
How Essential Oils Assist in Proper Circulation
Essential oils are amazing. They are highly concentrated liquid plant extracts. Two special processes are used to extract essential oils: steam distillation and mechanical compression. Most essential oils are extracted through steam distillation while mechanical compression is reserved for only citrus essential oils such as lemon, orange, lime, bergamot and more. What makes essential oils special is their unique chemical constituents that give them their different therapeutic properties.
For proper circulation, we shall be using essential oils that are warming in nature. These essential oils enhance blood flow, acts as vasolidators which increases the size of blood vessels, reduce inflammation and promote overall healthy circulation of blood in the body. Check out the top 7 essential oils for poor circulation below:

Top 7 Essential Oils for Poor Circulation
1. Cypress Essential Oil
2. Ginger Essential Oil 
3. Black Pepper Essential Oil
4. Rosemary Essential Oil
5. Coriander Essential Oil
6. Frankincense Essential Oil
7. Geranium Essential Oil
How to Use Essential Oils for Poor Circulation
The best way to use the above essential oils for poor circulation is by combining them in a carrier oil and using it as a massage oil. Some carrier oils you can use are jojoba oil, sesame oil and olive oil. Check out the DIY essential oil blend for poor circulation below:
DIY Essential Oil Blend for Poor Circulation
What you need
1 cup of pure sesame oil
5 drops ginger essential oil
5 drops black pepper essential oil
5 drops cumin essential oil
5 drops coriander essential oil
10 drops geranium oil
10 drops rosemary essential oil
10 drops frankincense essential oil
10 drops cypress essential oil
Small funnel
8 oz amber glass bottle
Directions
Using a small funnel, pour 1 cup sesame oil into your amber bottle.
Carefully add all the essential oils.
Screw on the cap and shake gently to combine everything.
To use, place 1-2 tbsp of the blend (you don't need a lot) in a non-food use bowl. Firmly massage the oil on your whole body, avoiding the sensitive areas. Allow the oil to sink in for 10 minutes then you can take a warm shower or bath.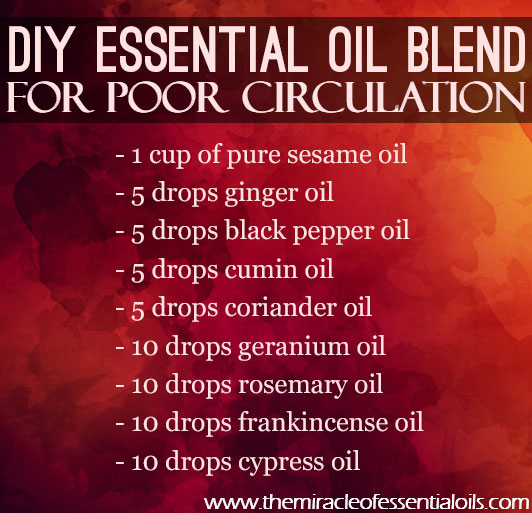 Caution
Do a patch test with the above blend by applying a drop on your inner elbow. Monitor the area for 1-2 hours. If there's no irritation within that time, then the blend is safe for you to use!
Keep essential oils away from children and pets.
If you're new to essential oils, please first read Caution & Safety when Using Essential Oils