Did you know that PTSD affects around 8 million adults in the United States? Treatment options for PTSD also still seem limited today. Natural therapy and remedies such as essential oils for PTSD work holistically to heal the mind and bring back inner peace.
What is PTSD?
Short for Post Traumatic Stress Disorder, PTSD is a mental health condition that arises after one goes through a traumatic experience in their life. Anyone can suffer from PTSD including children. It is a complex disorder and someone who is suffering from PTSD direly needs space, time and therapy for recovery to take place.
When humans are in danger, we experience the adrenaline 'fight or flight' response which enables us to try to get out of the danger. For people suffering from PTSD, the 'fight or flight' response remains even when they are out of danger.
PTSD is diagnosed after an individual experiences symptoms for at least one month following a traumatic event. However, symptoms may sometimes not appear until several months of even years later.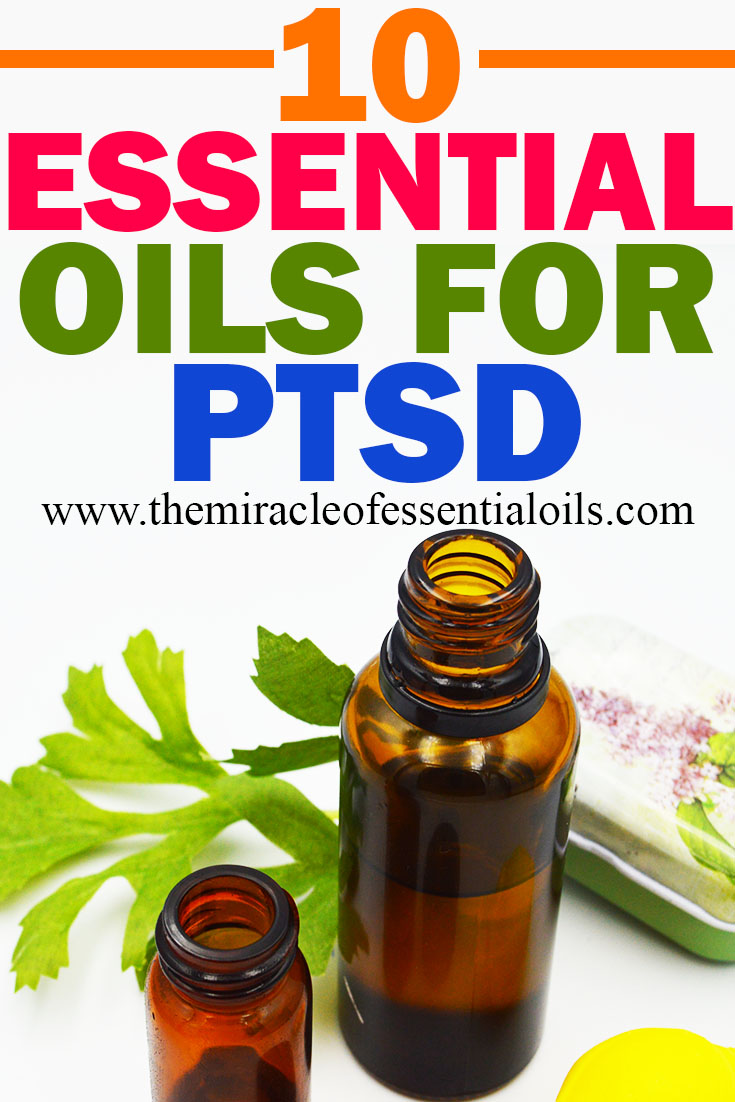 Symptoms of PTSD
Everybody is different and experiences PTSD in various wrays. Some of the symptoms of PTSD include:
Behavioral: being reclusive, feeling low all the time, emotional outbursts, irritability, hostility, hypervigilance, self-destructive behavior, loss of interest in activities
Mental: nightmares, overthinking, unwanted thoughts, negativity, guilt, self-hate, difficulty concentrating
Psychological: frightening thoughts, flashbacks, severe anxiety, mistrust, emotional numbness
Physical: shaking, erratic heartbeat, loss of breath, body aches, chest pain, feeling jumpy, nausea, stomach upsets
Apart from the above symptoms, there are many others an individual can experience when suffering from PTSD.
Let us now look at the top 10 essential oils for PTSD and how you can use them to find relief.
Essential Oils for PTSD
Essential oils are highly concentrated liquids extracted from aromatic parts of plants. They have therapeutic properties, which makes them incredibly healing on a holistic level.
Inhaling the aromas of essential oils transports the tiny essential oil molecules right into your bloodstream through the olfactory senses. From here, signals are sent to the brain according to the essential oils' therapeutic properties. For example, lavender is calming, orange is uplifting, etc.
Essential oils can also be applied on the skin, diluted with a carrier oil or other base such as lotion.
Top 10 Essential Oils for PTSD
Below, we shall explore the top 10 essential oils for PTSD:
1. Lemon Essential Oil
A clean sweet citrus essential oil that smells just like lemons, lemon essential oil is another great choice for PTSD. It has a cheery scent that helps put a smile on your face. It alleviates feelings of sadness and negativity. You can inhale lemon essential oil to help curb negative feelings.
How to Use Lemon Essential Oil for PTSD:
Place 6 drops of lemon essential oil in a spray bottle containing ½ cup of water. Shake well. Spritz this around you frequently to create happiness around.
2. Cistus Essential Oil
Also known as rockrose, cistus essential oil is extracted from the beautiful cistus flower. In ancient times, cistus oil was used spiritually, burned as incense during meditation. Diffusing or inhaling it helps heal emotional wounds and trauma.
How to Use Cistus Essential Oil for PTSD:
Diffuse 3-6 drops of cistus essential oil in a cold-air diffuser for 15 minutes.
3. Rose Otto Essential Oil
Rose otto is a wonderful essential oil for healing broken hearts. It Is a comforting oil that also smells luxurious. You can mix 2-3 drops with ½ tsp of unscented lotion or coconut oil and rub it over your heart, or add it to your bath – instructions below:
How to Use Rose Otto Essential Oil for PTSD: Mix 15 drops of rose essential oil in 1 cup of Epsom salts, ½ cup milk powder (optional) and ½ cup of rose petals. Run a warm bath and while the water is running, add the mixture. Soak in the bath for 15 minutes.
4. Lavender Essential Oil
Lavender essential oil is probably the most popular essential oil in the planet. It is well known for its calming properties. Lavender helps promote good sleep, calms frayed nerves, quells anxiety and helps relieve panic attacks.
How to Use for Lavender Essential Oil:
Place a few drops of lavender essential oil in a hanky. Inhale deeply when needed.
5. Frankincense Essential Oil
Since olden days, frankincense has been used for purification of the home as well as mind, body and soul. It is popularly burned as incense in the Middle East for its purifying properties. Diffusing or inhaling frankincense helps stimulate a specific part of the brain: the limbic region, which handles emotions.
How to Use Frankincense Essential Oil for PTSD:
Diffuse 3-6 drops of lavender essential oil in a cold-air diffuser, especially when you are meditating.
6. Ylang Ylang Essential Oil
Ylang ylang essential oil has a bubbly sweet scent. It is an exotic essential oil originating from the Far East. Ylang ylang creates peace and harmony. It improves mood and stimulates relaxation within the mind and body. It helps with PTSD symptoms such as stress, insomnia, flashbacks and depression.
How to Use Ylang Ylang Essential Oil for PTSD: Add 15 drops of ylang ylang essential oil into 3 oz of unscented body lotion. Use this on your body.
7. Roman Chamomile Essential Oil
Just like rose otto and lavender essential oils, roman chamomile essential oil is calming. It helps ease a restless mind, calm frayed nerves and relieve stress. Use chamomile essential oil to restore inner peace in your mind.
How to Use Roman Chamomile Essential Oil for PTSD:
Mix 10 drops of chamomile essential oil in 2 tbsp of coconut oil and add it to a warm bath. Soak for 15 minutes. Be careful when getting out of the bath as it will be slippery.
8. Vetiver Essential Oil
Vetiver has an exquisite scent that is popularly used in perfumery. It also has the ability to ease the mind. Vetiver oil is composed of about 50% Sesquiterpenes and around 20% Sesquiterpenols, which makes it a relaxing and grounding essential oil. It is best used for emotional and spiritual application. Vetiver essential oil is useful for PTSD healing because it helps anxiety, cool down angry outbursts, fights burnout/exhaustion as well as coping with fear and feelings of unsafeness/insecurity. Inhaling vetiver essential oil can help a PTSD sufferer feel safe and warm.
How to Use Vetiver Essential Oil for PTSD:
Make a warm grounding bath oil by mixing ¼ cup of castor oil with 20 drops vetiver, 20 drops patchouli and 20 drops cedarwood essential oils. Mix in 10-20 drops in a warm bath.
9. Bergamot Essential Oil
Another citrus essential oil, bergamot is also great for helping with PTSD symptoms. It has a sharp, refreshing, citrus scent that helps improve concentration, uplifts a dull mood and combats anxiety, sadness and depression.
How to Use Bergamot Essential Oil for PTSD:
Diffuse bergamot essential oil (about 6 drops) in a cold air diffuser to uplift dark moods.
Essential oils are a great choice for PTSD sufferers because there are no side effects when used correctly. Please read: Caution and Safety when Using Essential Oils. You also have the ability to choose an oil for a specific symptom. Most of the essential oils for PTSD mentioned above are versatile and can be used for a number of symptoms in various ways.
10. Sweet Orange Essential Oil
Sweet orange essential oil is one of the top essential oils for PTSD. A study  shows that passively inhaling orange essential oil could potentially assuage PTSD symptoms such as fear and anxiety in humans. This fruity essential oil has an uplifting scent that brightens a dull mood and creates feelings of happiness.
How to Use Sweet Orange Essential Oil for PTSD:
Diffuse 6 drops of sweet orange essential oil in a cold-air diffuser for 15-30 minutes.