You can use essential oils for second degree burns that are small to help heal them faster without any infection or scarring. This article will show you which oils are the best and how to use them to make safe and effective DIY burn treatments!
Did you know that the knowledge of essential oils was forgotten for a long time and only recently rediscovered by accident when a chemist got his hand burned?! Yup, you read that right! When French chemist, Rene Maurice Gattefosse was working in his lab one day in the early 1900's, he suffered a severe burn.
Immediately, he immersed his hand in a nearby vessel containing none other than…lavender oil! Gattefosse found that over the course of a few days, his hand not only felt much better but also didn't scar and healed faster. This is how he started researching more on aromatherapy and essential oils and brought the long-lost knowledge out to the open again.
What are Second Degree Burns?
There are three types of burns:
First degree burns which are mild and only affect the top layer of skin. The skin is dry with no blisters but experiences pain, redness and minor swelling.
Second degree burns which are more serious and involve the skin layers below the top layer of the skin. They produce severe pain, redness and bring blisters. Medical treatment should be sought but if it's a small second degree burn, you can use natural remedies to treat it under the careful supervision of your doctor.
Third degree burns which are very severe and affect all layers of skin and go deeper to underlying tissue, nerves and bone. This type of burn is very dangerous and the individual must immediately be rushed to the hospital.
How do Essential Oils Help Second Degree Burns?
Essential oils help treat second degree burns in the following ways:
Fighting infections
Cooling and soothing the burn
Preventing blistering
Reducing or preventing scarring
Reducing inflammation
Relieving pain
Speeding up the rate at which the burn heals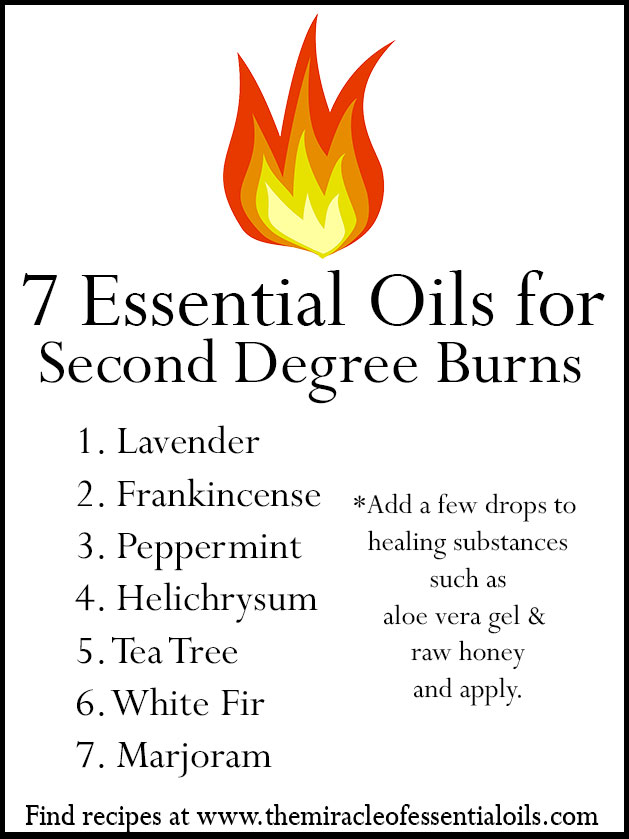 Top 7 Essential Oils for Second Degree Burns
3 Essential Oil Recipes for Second Degree Burns
Note: Second degree burns usually get blisters. Whatever you do, do not burst that blister because the water in there is the body's way of healing the burn. Just apply the 3 treatments below over the blister. Also, ensure to drink a lot of water and get some rest to heal the burn faster.
1. Cooling & Healing Burn Treatment

What you need
Method
Whisk the ingredients together to form an emulsion.
Transfer it to an amber glass jar. Amber protects the aloe vera gel from light which makes it spoil faster.
Very gently spread over the burn as soon as it happens.
Store the gel treatment in the refrigerator.
2. Cooling Spray for Immediate Relief

What you need
Method
Add the ingredients together in a spray bottle and shake very well to combine.
Spray onto the burn many times throughout the day. Store in the refrigerator for more cooling action.
3. Burn Salve

What you need
Method
Mix up the essential oils in the raw honey and store in a cool dry place.
To use, spread lightly on the burn and wrap a gauze around it.
Apply thrice a day, keeping it on for at least 30 minutes.
Caution
Small second degree burns can be treated at home but if you have a large burn, then please seek professional medical help.
Do not use essential oils unless after consulting your doctor.
If you're new to essential oils, please read this first: Caution & Safety when Using Essential Oils