The calming scents of some specific essential oils help relax the body and promote sleep. Discover the 11 best essential oils for sleep and relaxation in this article.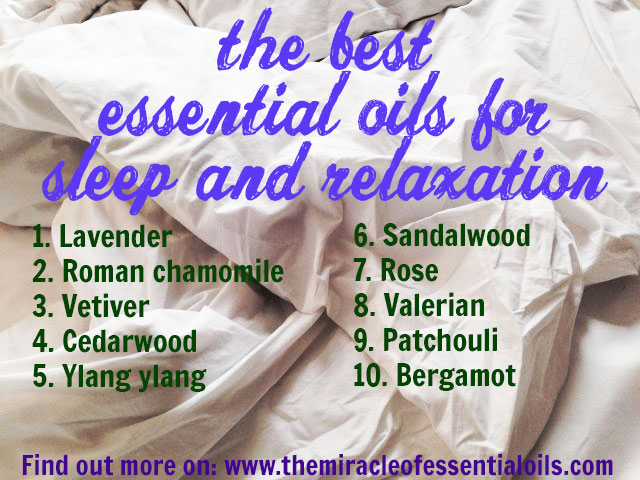 A full night's rest of sleep and full body relaxation is very vital for us to maintain optimum body health. According to SleepFoundation.org, babies need about 11 to 14 hours of sleep at night while school-aged children need 9 to 10 hours and adults need at least 6 hours.
A psychiatric study at the University of California, San Diego found that people who live the longest self-report sleeping for six to seven hours every night. (1)
Sleep deprivation not only makes us feel groggy and irritable but also affects the immune system negatively – it actually reduces the white blood cell count in the blood. When we sleep, our body including the skin, uses this time to heal and regenerate itself as well as heal from wounds.
Below, let's look at a few studies that show that essential oils help sleep and relaxation:
Research on Essential Oils for Sleep and Relaxation
Study One: A study showed that lavender oil inhalation increases the percentage of deep or slow wave sleep (read more)
Study Two: Research carried out showed that rose oil aromatherapy can significantly improve the sleep quality of patients (read more)
Study Three: One study conducted on cedarwood oil proved that it has sedative effects when inhaled, which promotes deep sleep (read more)
11 Best Essential Oils for Sleep and Relaxation
A calming and soothing oil, lavender is the most researched essential oil for sleep and it is proven to have strong sleep-inducing effects. Inhaling lavender before sleep calms the mind, reduces anxiety, alleviates stress and promotes feelings of tranquility.
Another very relaxing oil, cedarwood also has sedative effects when inhaled through diffusion. It has a fresh woody scent that relaxes the mind and dispels stress. It can help you unwind and promotes good quality sleep when diffused with lavender.
With its pleasant moist and earthy scent, vetiver promotes relaxation and is a good oil for grounding. It also relieves stress and quells anxiety, thereby enabling your mind to go calm down and get some deep sleep.
When inhaled, ylang ylang with its exquisite flowery and bubble gum-like scent is known to calm nerves and reduce tension. It helps reduce irritability and stress, which are two factors that cause sleep deprivation.
Chamomile has always known to calm the mind and body. Sipping chamomile tea promote peacefulness and aids in sleep while diffusing or topically applying the oil has sedative effects. It can be added to a warm bath before sleeping to de-stress the entire body.
Other Essential Oils for Sleep and Relaxation
Essential Oil Recipes for Sleep and Relaxation
Using essential oils, you can make your own sleep blend recipes including a pillow mist, soothing bath, foot blend, diffuser blends, liquid sleep roll-on, bath salts, sleep cream, massage oil, scented sheets and others. Below, I've listed two links on the site for essential oil recipes for sleep and relaxation:
References
(1) Rhonda Rowland (15 February 2002). "Experts challenge study linking sleep, life span". CNN. Retrieved 29 October 2013.
(2) https://www.ncbi.nlm.nih.gov/pubmed/16298774
(3) https://www.ncbi.nlm.nih.gov/pubmed/25129884
(4) https://www.ncbi.nlm.nih.gov/pubmed/12898420