Discover 5 soothing and calming essential oil sleep blend recipes for a peaceful night of good quality rest in this article!
Can't sleep? Diffuse essential oils! One of the most popular ways to use essential oils for sleep is by diffusing them. Diffusing essential oils through a cold air diffuser helps disperse the essential oil molecules in the air using water, unlike an aroma burner or lamp, which uses heat.
Cold – air diffusers are better than aroma lamps because the heat from burning the essential oil actually destroys many of the properties of the essential oil. When purchasing an essential oils diffuser, ensure to get one that is a non – plastic cold air diffuser for best results.
Before we look at the essential oil sleep blend recipes, first take a look at the top 15 essential oils for sleep:
Top 15 Essential Oils for Sleep
5 DIY Essential Oil Sleep Blend Recipes
If you're new to essential oils, please first read: Caution and Safety Information when Using Essential Oils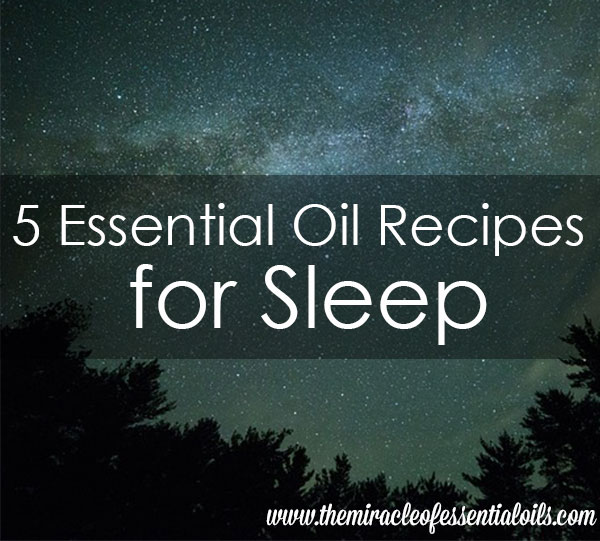 1. Sleep Tight Diffuser Blend

What you need
2 drops lavender
1 drop sweet marjoram
1 drop of patchouli
1 drop ylang ylang
High quality diffuser (where to get it)

Method
Add the oils, together with the required amount of water (about 70 – 100 ml) in your cold air diffuser, following the manufacturer's instructions.
2. Homemade Sleep Cream

What you need
Method
Melt the shea butter and coconut oil in a double boiler.
Once melted, remove from heat and allow it to cool for a few minutes before adding the essential oil drops.
Give it a quick stir to mix up the oils then place it in the refrigerator for about 15 minutes for it to partially solidify for easy whipping with the hand mixer.
When the time is up, whip the mixture using the hand mixer until you get a thick white cream.
Transfer to an amber glass jar and store in a cool dry place.
To use, rub all over the body after a night time bath or shower. This sleep cream can be used for kids as well.
3. Instant ZZZ's Pillow Mist

What you need
Method
Combine the distilled water, witch hazel plus lavender and cedarwood oils in a glass spray bottle.
Shake well to evenly mix up the ingredients.
Store in a cool dry place.
To use, mist on your pillows, sheets and around the room before you tuck in.
4. Soothing Bath Blend

What you need
2 cups Epsom salts (where to get it)
20 – 25 drops lavender oil
10 drops cedarwood oil
½ cup whole milk

Method
Run a hot bath and while the water is running, throw in the Epsom salts and let them disperse.
When the bath is drawn, in a pyrex measuring cup add ½ cup of whole milk then add the essential oils drop by drop.
Add this mixture to the bath and immediately get in.
Relax for 15 minutes.
5. Nighty Night Roller Recipe for Feet

What you need
Method
Using the tool, remove the roller ball from the roller bottle and add the essential oils drop by drop.
Top with fractionated coconut oil, firmly push back the roller ball and screw on the cap.
Shake well to combine.
Apply to feet before hitting the sack.
Which essential oil sleep blend recipes are you going to try out?