Find quick relief by using any of these top 7 essential oils for sore throat!
What is Sore Throat?
Also known as throat pain, sore throat is pain or irritation of the throat. It is usually caused by inflammation of the throat (pharyngitis) or inflammation of the tonsils (tonsillitis). About 80% of sore throats are caused by acute viral pharyngitis which is a viral infection of the throat. In children, streptococcal pharyngitis, which is a bacterial infection of the throat, is the cause of 37% of sore throats.
Other causes of sore throat include trauma, tumors and acid reflux. Sore throat especially those caused by viral infections are usually are the first signs of tonsillitis, cough or colds. Some of the symptoms associated with sore throat include:
Cough
Difficulty breathing
Difficulty swallowing
Cold
Swollen neck glands
Fever
Fatigue
Below, let's find out the best essential oils for sore throat and how to use them:
Top 7 Essential Oils for Sore Throat
1. Tea Tree Essential Oil
2. Wild Oil of Oregano
3. Thyme Essential Oil
4. Black Pepper Essential Oil
5. Lavender Essential Oil
6. Clove Essential Oil
7. Lemon Essential Oil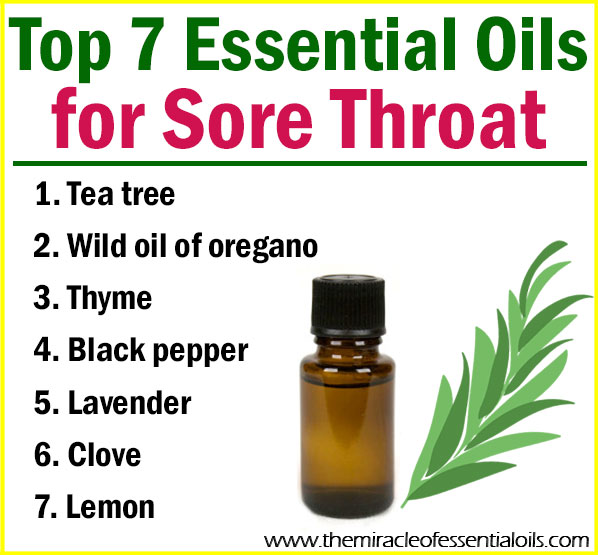 How to Use Essential Oils for Sore Throat
Below, I'll show you how to use essential oils for sore throat in 6 recipes. These recipes will provide quick relief to sore throat symptoms and help you heal faster.
Steam inhalation
DIY Vapor Rub
Roller Blend
Diffusing – Try any of these 5 Essential Oil Blend for Sore Throat
Wild Oil of Oregano Capsules – Take 2 oregano capsules a day after food to fight off the virus or bacteria causing the sore throat.
Warm-Water Salt Gargle – Get a cup, add 1 tsp of salt and 1 drop tea tree essential oil and 1 drop lavender essential oil. Fill the cup with very warm water. Use it to gargle about 4-7 times a day for relief.
Below, you'll find three recipes for steam inhalation, DIY Vapor Rub and a roller blend for sore throat:
1. Steam Inhalation with Essential Oils for Sore Throat
What you need
4 cups of water
Pot
Heat source
2 drops tea tree oil or any of the above oils
Directions
Boil 4 cups of water in a pot for about 7 minutes or until the water gets very steamy.
Remove from heat and carefully carry the pot to a table. Put a place mat under then place the pot on top.
Get a thick towel and sit on a chair in front of the steaming pot. Be careful not to touch the pot so that you don't get hurt.
Now add 2 drops of tea tree essential oil.
Get the towel and create a tent, enclosing your head and the pot inside so it traps steam. Your face should be right over the steam. Keep your eyes open.
Steam for 15 minutes or until the steam is no longer strong. You can come up from the tent every once in a while to get a gulp of fresh air. But don't do it too often because you want the tea tree oil -infused steam to reach your eye properly and for as long as possible.
Once you're done steaming, discard the water and wash your face.
2. DIY Vapor Rub
What you need
¼ cup shea butter
¼ cup coconut oil
10 drops tea tree oil
7 drops lavender oil
5 drops thyme oil
5 drops clove oil
Double boiler
Small glass jar
Directions
Melt ¼ cup of shea butter and coconut oil in a double boiler.
Once melted, let it cool down for 2 minutes then stir in the essential oils with a stainless steel rod.
Pour the mixture into a glass jar and refrigerate it for 30 minutes so that it sets.
Apply on throat, chest, back and soles of feet.
3. Sore Throat Relief Roller Blend
What you need
10 drops tea tree oil
10 drops lavender oil
7 drops lemon oil or rosemary oil
5 drops thyme oil
3 drops black pepper oil
Fractionated coconut oil
10 ml roller bottle
Directions
Remove the roller ball from the bottle using the roller ball remover tool.
Now add each of the essential oils carefully and top the bottle with fractionated coconut oil.
Put the roller ball firmly onto the roller bottle. Close the bottle and shake well.
Roll onto your throat, chest and back. Also roll on the soles of your feet and cover with socks. Since this blend contains lemon oil, do not expose the skin where the blend is applied to sunlight. If you can't help going into the sun, then leave out lemon oil in your recipe and replace it with rosemary oil.
Caution