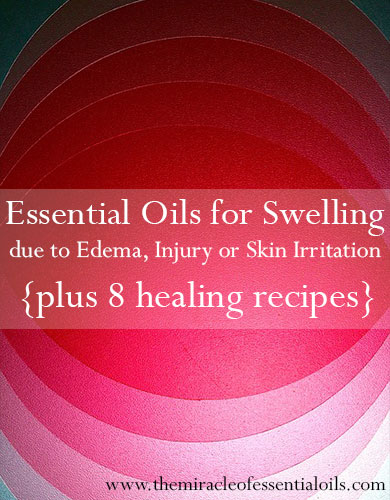 Swelling is one of the five symptoms of inflammation: the other four being pain, redness, heat and loss of function of the body part affected. A body part may become swollen due to injury, disease or infection. Some specific causes of swelling include:
Pregnancy
Varicose veins
Celiac disease
Thyroid condition
Eczema
Bug bites
Hives
Parasitic infection
Cellulitis
Contact dermatitis
Skin infection
Premenstrual syndrome (PMS)
Kinds of Swelling, Essential Oils to Use & How to Apply them
Below are the three most common reasons for swelling, specific essential oils to use for each of them and effective essential oil-based remedies!
1. Edema
This kind of swelling happens when excess fluids with nowhere to drain out, collect in the body tissue found in the legs and feet, causing them to become swollen. Edema affects those pregnant, those with premenstrual syndrome, those with certain diseases and those with insufficient movement due to injury, among others.
Essential Oils that Help:
grapefruit, geranium, rosemary, cypress, lemongrass, juniper berry
How to Use:
Recipe #1: Relieving Foot Soak

Swollen ankles and feet can be extremely uncomfortable, especially during pregnancy. Try using foot soaks with Epsom salts and a few drops of essential oils. Caution: If pregnant, consult your doctor before using essential oils. Only a specific oils can be used safely in this delicate time period. Read: Which Essential oils are Good for Pregnancy to see which ones to add to your foot soak. Rosemary and cypress are not to be used during pregnancy.
What you need
Method
Disperse a handful of Epsom salts in a tub of hot water.
Once dissolved, add the drops of essential oils.
Stir well with your hand then immerse your legs slowly. Remember to keep a towel nearby to dry your feet when you're done soaking.
Recipe #2: Stimulating Massage Oil
Help drain out the excess fluids in your body and bust cellulite by rubbing this stimulating massage oil deeply on the affected area towards the inside of your body, for example, if you have swollen ankles, massage the oil upwards and not downwards.
What you need
Method
Mix ¼ cup of olive oil with 5 drops grapefruit oil and 5 drops lemongrass oil.
2. Injury
Sports injuries, bruises and falls end up as swollen areas due to inflammation. Essential oils used on bruises can also help reduce the discoloration and speed up healing in addition to decreasing swelling.
Essential Oils that Help:
peppermint, eucalyptus, frankincense, marjoram, vetiver, lemongrass, thyme, wintergreen, rosemary
How to Use:
Recipe #1: Roll – on Application
This roll-on recipe is extremely easy to use and apply without being messy or exerting too much pressure on the painful and swollen injury.
What you need
Method
Remove the roller ball from the roll – on bottle.
Add the drops of essential oil one by one.
Then top up with fractionated coconut oil or any oil you have oil hand, like olive oil.
Fix the roller ball back on then shake the bottle to mix up the oils.
Gently roll onto the affected areas.
Recipe #2: Pain Cream
A homemade pain cream is incredibly easy to make when you have essential oils in your midst! All you need is a solid fat like shea butter, mango butter or coconut oil so you can get a cream-like consistency.
What you need
Method
Melt the beeswax, coconut oil and shea butter in a double boiler.
Once melted, remove from heat and let it cool down for 2 minutes.
Then stir in the essential oils.
Now all you need to do is let the oils cool down to a creamy form by placing it in the refrigerator for 20 minutes.
It lasts for a good long while – more than a year or two!
Recipe #3: Hot Compress
Hot compresses greatly reduce swelling by introducing damp heat to the area, which stimulates circulation and eases pain. When essential oils are added, it boosts the healing power of the compress by miles!
What you need
Method
Fill a bowl with hot water then add the essential oils and mix well.
Wring out the washcloth in the hot water and hold it to the swelling for some time.
Repeat until the swelling and pain reduces, which is after about 3 – 5 compresses, yeah it's really that effective!
3. Skin Irritation
Allergies such as poison ivy stings, skin rashes and hives as well as bug bites like mosquito bites and bee stings can lead to skin appearing swollen in addition to red and inflamed.
Essential Oils that Help:
lavender, chamomile, eucalyptus, marjoram, tea tree, frankincense, myrrh, basil, lemon balm, thyme, clove, rosemary, vetiver
How to Use:
Recipe #1: Bug Bite / Bee Sting Balm
Make this soothing balm to instantly help bug bites and bee stings!
What you need
Method
Using a double broiler, melt the shea butter and beeswax pastilles. If you don't want to use a double broiler, you could simply use a non-stick pan over low heat, but make sure you keep a keen eye over it to prevent it from burning or smoking!
Once fully melted, take off the heat and allow to cool just a bit.
Pour the melted mixture into a suitable balm container and add in your essential oils.
Use a toothpick to stir all the ingredients together.
Now place your container in the refrigerator to set overnight. Voila! Your soothing bug bite/bee sting balm is ready!
This balm will last over 2 years.
Recipe #2: Soothing Spray
An easy treatment for skin allergies that are painful to the touch is using an essential oil spray. Try this one out – it gives super sweet relief!
What you need
Method
Add all the ingredients to the spray bottle and shake well to mix them up.
Spray on poison ivy stings, skin rashes, hives, bug bites and more to soothe it immediately. Store in refrigerator for longer shelf life
Recipe #3: Cooling Gel
When your skin is hot and irritated because of an allergic reaction, this cooling gel can literally be a lifesaver. It can also be used to quickly treat sun burns and razor burn as well!
What you need
Method
Add the aloe vera gel to the container followed by the essential oils.
Stir vigorously using the back of a long spoon to combine them thoroughly.
Apply on affected areas. Store in the refrigerator or cool dark and dry place, where it'll last you more than 3 – 6 months.
Read more: