Use essential oils for thrush as a natural treatment option or in conjunction with conventional medicine for quick relief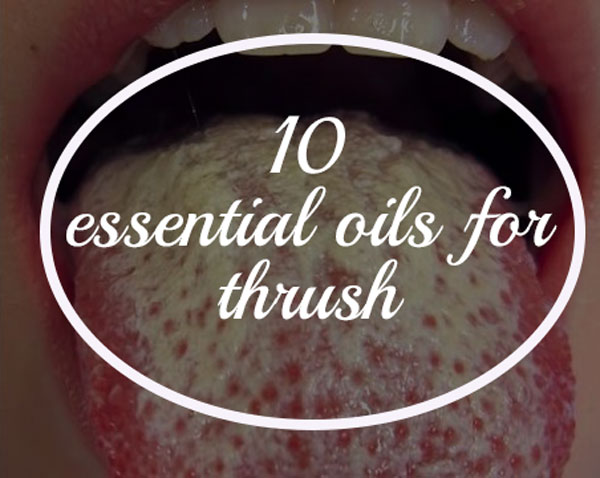 What is Thrush?
Thrush is a fungal infection caused by a type of yeast called Candida. There are two types of thrush: oral rush, which is also known as oral candidiasis and vaginal thrush, also known as candidal vulvovaginitis.
Thrush is the name given to oral candidiasis in particular while vaginal thrush is more commonly known as a yeast infection.
Oral thrush is caused by an overgrowth of candida albicans in the mouth. Candida exists naturally in the mouth of healthy individuals but an overgrowth is what causes it to form oral thrush. Symptoms of oral thrush include creamy white coating on the tongue, oral inflammation, difficulty swallowing, loss of taste and oral mucus, among others.
The root causes of oral thrush include a weak immune system, dentures, diabetes, cancer treatments and medications such as birth control pills that cause hormonal imbalance.
Oral thrush is communicable and can spread from one person to another easily.
How Do Essential Oils Help Thrush?
Many strains of candida have become drug-resistant which means they don't respond to anti-fungal medications. However, many studies show that essential oils are useful against such resistant candida. Essential oils work because no two batches of the same essential oil are the same in their chemistry.
A bottle of tea tree oil from one tree is different from a bottle of tea tree from another tree because of subtle differences in the plant chemistry. This makes it hard for the candida to adapt themselves to be resistant to the essential oils.
Essential oils such as the ones listed below help treat oral thrush because they contain powerful anti-fungal properties that fight off candida and other types of yeast.
Research on Essential Oils for Thrush
Below are just a few studying showing that essential oils are effective against candida:
Study one: Essential oils of clove, tea tree, peppermint, thyme and lavender have been shown to be effective in the treatment of oral pathogens including candida albicans (1)
Study two: Lemon essential oil has a powerful effect on the growth of candida strains (2)
Study three: Essential oils of oregano, ginger, german chamomile, myrtle and ajowan have strong anti-fungal effects against candida albicans (3)
Study four: Tea tree oil has potent anti-fungal properties that are effective in killing drug-resistant candida (4)
Top 10 Essential Oils for Thrush
Note: For thrush in babies, please visit Essential Oils for Diaper Rash in Babies and for vaginal yeast infections, please visit 5 Powerful Essential Oils for Yeast Infections/Candida
How to Use Essential Oils for Thrush
Below are two DIY essential oil recipes for oral thrush:
1. Coconut Oil Pulling
What you need
Method
Mix and mash the clove oil in coconut oil until it gets creamy.
Take a mouthful of the mixture and swish it for about 10 minutes.
Spit it out in the trash and rinse your mouth well.
2. Anti-Fungal Mouthwash

What you need
Method
Mix up the essential oils in the salt then stir it in the warm water until dissolved.
Use it as a mouthwash. Do not swallow.
References
(1) https://www.ncbi.nlm.nih.gov/pmc/articles/PMC4054083/
(2) https://www.ncbi.nlm.nih.gov/pmc/articles/PMC3915084/
(3) https://www.ncbi.nlm.nih.gov/pmc/articles/PMC4877960/
(4) https://www.ncbi.nlm.nih.gov/pmc/articles/PMC1637110/