Find out how to use essential oils for wart removal as a natural remedy!
Warts are benign growths on the skin. There are different types of warts such as plantar warts, genital warts and common warts, among others. They are all caused by different viruses in the HPV (Human Papilloma Virus) family. This HPV virus gets into the human body via cuts then stays dormant for about 1-2 months. After this time, it starts acting up by forming warts on the skin. Warts are commonly found on the fingers, feet and face.
Types of Warts
First things first, you'll want to know what kind of wart you're dealing with before treating it. Here are the different types of warts and they're symptoms:
Common Wart: Commonly appear on the back of hands, toes and fingers. They are small rough bumps that are slightly grey in color. They can have black dots in the center, which is the root of the wart.
Plantar Wart: These only appear on the soles of the feet. They look like a small hole surrounded by hardened skin. They can also contain black dots in the center. Plantar warts form in clusters or individually. They're painful especially when walking.
Flat Warts: They are 'flat' in appearance and smoother. They can appear anywhere in the body but most commonly the face, thighs and arms. They usually form in clusters but can appear as a single flat wart.
Filiform Warts: They appear on the face, near the mouth, eyes, nose, chin and neck. They're small in size and resemble skin tags. They have small threads or 'fingers' that extend out from the base of the wart.
Although they're harmless, warts can be extremely painful and also unsightly. That's why many people want to know how to get rid of warts, and using cheap home remedies. Home remedies really do work wonders in getting rid of warts. One such home remedy is essential oils!
Let's check out the top 5 essential oils for wart removal:
Top 5 Essential Oils for Wart Removal
If you have plantar warts, check out Essential Oils to Use for Plantar Warts & How to Use them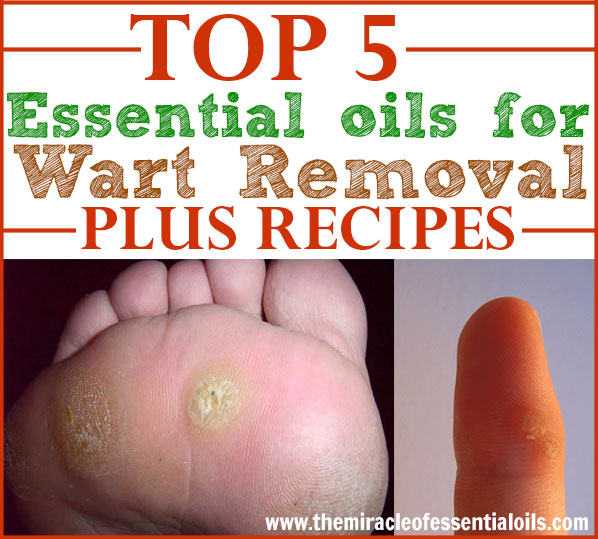 How to Use Essential Oils for Wart Removal
Before using the treatments below, it helps to first wash your feet properly in warm water then scrape the wart(s) using a Pumice stone to remove the excess dead skin. This is so that the essential oils can penetrate deep into the wart and take serious action. You can also do a foot soak by filling a foot soak tub with hot water , ¼ cup of sea salt and ¼ cup of apple cider vinegar. Soak your feet for 15 minutes then use a Pumice stone and soap to scrape the warts.
Okay, here are the essential oil remedies for wart removal:
Essential Oil on a Cotton Ball. This is direct application of essential oils right on the wart. First start by protecting the healthy skin around the wart by applying Vaseline. Now place 1-2 drops of any of the above essential oil on a cotton ball. Tape the cotton ball onto the wart using a band-aid. Leave overnight for every night until the wart recedes.
War on Warts Blend. If you have clusters of warts on your skin, use this powerful War on Warts Blend: In a 2 oz amber glass dropper bottle, add 20 drops frankincense oil, 20 drops tea tree oil, 20 drops oregano oil. Now add 1 oz of raw organic apple cider vinegar and 1 oz of fractionated coconut oil. Close the bottle and shake it well. To use, place 1-3 drops of this mixture on a cotton ball and apply it on your warts every night without fail until the wart has gone.
Apple Cider Vinegar Potion. Combine 2 tbsp of organic apple cider vinegar with 10 drops of essential oil(s) for wart removal. Apply to the affected areas and cover with a bandage or cotton gauze. The reason for covering the warts is to deprive them of oxygen. Warts need oxygen to survive so get your hands on band-aids, duct tape and cotton gauzes. Some people even put nail polish on their warts to starve them of oxygen.
Caution
If you're new to essential oils, please read Caution & Safety when Using Essential Oils
For warts on sensitive places like eyelids, be careful. Essential oils should not enter your eyes. Seek a professional for help here.
Also if you have genital warts or warts around the anal region, then it's best to seek medical help. Do not get essential oils on mucous membranes including the genitals and anal region. If using essential oils in this area, dilute it properly because you don't want to get chemical burns especially in those regions. Use a 0.5% or 1% essential oil dilution rate if you must use essential oils for genital warts but take all precaution. Read: How to Dilute Essential Oils