Got wisdom tooth pain! Ouch! Use these fast-acting essential oils for wisdom tooth pain relief!
Wisdom teeth are also known as third molars. They are the last molar teeth that grow at the back of your gums. Because they come in so late, they find limited space in the gums. That's why they mostly grow wrongly, at weird angles and pushing against the teeth near them.
Although their called wisdom teeth, they might not have anything to do with wisdom. They are called so because they appear when an individual is older (17 to 25 years or more) and hence, more mature.
An impacted wisdom tooth can cause excruciating pain, swelling, inflammation, difficulty chewing and even headaches. Sometimes the growing wisdom tooth can even have a cavity on it. While the wisdom tooth is growing, it may cut the gum and cause an infection.
For some people wisdom tooth pain can be treated at home. If you don't have that much pain or can't afford to go to the dentist, then you might want to try natural home remedies. There are quite a lot of natural remedies for wisdom tooth pain. One of the best natural remedies that always works wonders is essential oils!
Let's check out the top 5 essential oils for wisdom tooth pain below:
Top 5 Essential Oils for Wisdom Tooth Pain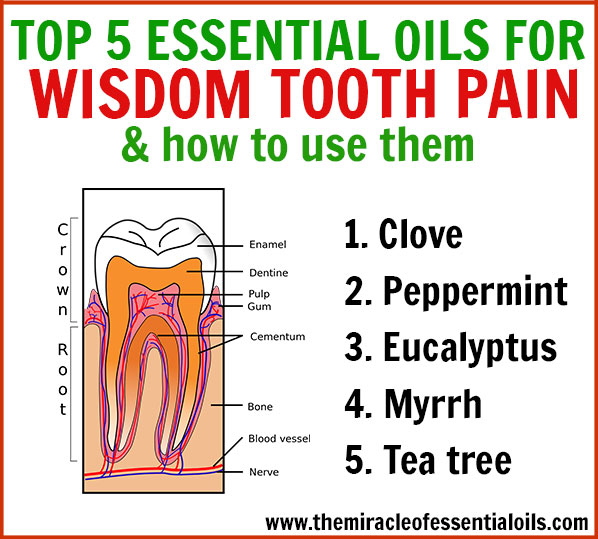 How to Use Essential Oils for Wisdom Tooth Pain
Essential Oil on Cotton Ball. This is direct application of essential oil onto your painful tooth. Simply choose any of the above essential oils like peppermint or clove. Now place 1-2 drops on a clean cotton ball. Put it right on the affected tooth. Keep it there for at least one hour.
Pain Relief Salve. Melt 3 tbsp of shea butter in a double boiler till it turns liquid. Turn off the heat and let it cool off for 2 minutes then stir in 5 drops clove essential oil, 3 drops peppermint essential oil and 3 drops tea tree essential oil. Pour it into a glass jar. Let it harden in the refrigerator for 30 minutes. Scoop out a suitable amount and gently rub onto the gum of the affected tooth. Do not swallow.
Mouth Rinse. Get a bottle or mason jar and add about 1 cup of warm water. Now dissolve 1 tsp of sea salt and add 5 drops of any of the above essential oils. Close the bottle and shake well. Store in your bathroom cabinet. Use as a mouth rinse several times a day.
Warm Salty Water. Salt and warm water mouth rinses are a gem for wisdom tooth pain. Now add essential oils and get even more help! Simply get a cup of warm water then dissolve a tsp of salt in it. Add 1-2 drops of any of the above essential oils. Take a mouthful of the water and hold it in your mouth for about 2 minutes. Spit it out. Do not swallow. Repeat several times a day.
Caution
If you're new to essential oils, please read Caution & Safety when Using Essential Oils
If your pain is unbearable, don't suffer! Book an appointment with a dentist to get your tooth checked. You might need it removed.
What essential oils for wisdom tooth pain have you used with success? And what other home remedies have you tried for wisdom tooth pain? Please share so we can all benefit!