Here's a list of the top 8 essential oils that clear hyperpigmentation naturally and how to use them all in an effective DIY hyperpigmentation serum!
What is Hyperpigmentation?
Hyperpigmentation is the darkening of an area of skin caused by increased production of melanin. Melanin is a class of pigment responsible for producing color in the body such as the eyes, skin and hair. People with low amounts of melanin have lighter skin, hair and eyes while people with high amounts of melanin have darker skin, hair and eyes. People with darker skin tones are more susceptible to hyperpigmentation, especially after prolonged sun exposure.
Below are some of the most common causes of hyperpigmentation:
Causes of Hyperpigmentation
Too much sun exposure
Post inflammatory hyperpigmentation caused by acne scarring
Exposure to certain chemicals in beauty products such as salicylic acid
Skin injuries or trauma
Certain diseases
And more
Most people suffer from hyperpigmentation caused by too much sun exposure and acne scarring. Fortunately, you don't have to use dangerous skin lightening creams containing hydroquinone or go for professional dermabrasion and fraction lasers that can leave your skin feeling even more sensitive and inflamed. Instead, you can use natural remedies to soften hyperpigmentation! Yes, and they really do work. One very effective remedy for hyperpigmentation is essential oils. How do they help? Read on…
How Essential Oils Soften Hyperpigmentation
Essential oils are potent plant extracts in liquid form. They are obtained by pressing aromatic parts of plants using two special processes: steam distillation and mechanical compression. Most essential oils are extracted using steam distillation while citrus essential oils such as lemon, sweet orange, bergamot, etc are extracted using mechanical compression.
What makes essential oils good for clearing hyperpigmentation is their skin lightening properties, cicatrisant properties and anti-inflammatory effects. Lemon essential oil for example is rich in limonene which reduces inflammation and brightens the skin. Essential oils nourish the skin, promote cell renewal and regeneration as well as boost collagen production, all of which contribute healthy skin.
Top 8 Essential Oils that Clear Hyperpigmentation
1. Lemon Essential Oil
2. Sandalwood Essential Oil
3. Carrot Seed Essential Oil
4. Rose Essential Oil
5. Frankincense Essential Oil
6. Geranium Essential Oil
7. Chamomile Essential Oil
8. Lavender Essential Oil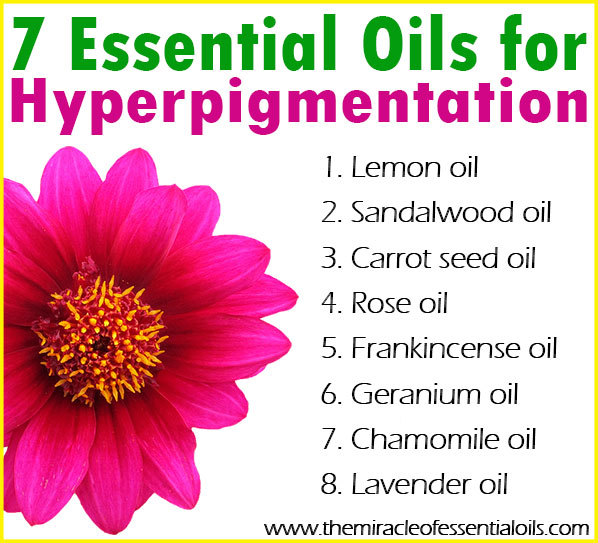 Note: Lemon essential oil is photosensitive. This means it reacts with sunlight. Do not wear lemon essential oil on skin that's going to be exposed to sunlight. Use it only at night time. If you're combining lemon oil with other essential oils and carrier oils, then use the preparation only at night time.
How to Use Essential Oils that Clear Hyperpigmentation
The best way to use the above essential oils that clear hyperpigmentation is to make a DIY Essential Oil Blend for Hyperpigmentation. This is a synergistic blend that combined all the above oils in a carrier oil. You can use any carrier oils of your choice but the top choices for hyperpigmentation are argan oil, evening primrose oil, tamanu oil, sesame oil and more. See: Top 7 Carrier Oils for Hyperpigmentation. Okay, now onto the recipe:
DIY Essential Oil Blend for Hyperpigmentation
Only use this blend at night time because it contains lemon essential oil that reacts negatively in sunlight.
What you need
¼ cup argan oil
¼ cup tamanu oil
7 drops rose essential oil
7 drops frankincense essential oil
7 drops lavender essential oil
5 drops lemon essential oil
5 drops sandalwood essential oil
5 drops carrot seed essential oil
5 drops geranium essential oil
5 drops chamomile essential oil
Small funnel
4 oz amber glass dropper bottle
Directions
Using a small funnel, pour ¼ cup each of argan and tamanu oil into your amber bottle.
Carefully add all the essential oils.
Screw on the cap and shake gently to combine everything.
To use, place 3 drops on your palm, rub both palms together and gently dab them on your face. Use only at night time since lemon oil is photosensitive (reacts with sunlight).
Caution
Do not use wear lemon oil then expose your skin to sunlight. That's why it's advised to use it at night time. Maybe if you're staying indoors then it's fine. Just don't head out into harsh sunshine with lemon oil on.
Keep essential oils away from children and pets.
If you're new to essential oils, please first read Caution & Safety when Using Essential Oils