When I first heard that you can add essential oils to mascara, I was super excited! I'm always looking for ways to grow longer and fuller lashes naturally – castor oil for eyelashes, anyone?! And adding essential oils to mascara is a really easy, quick and cheap way of getting beautiful lashes! I mean, if you wear mascara every day for school/work, then you might as well help them grow healthy, long and full by adding essential oils, right?
So start adding essential oils to your mascara now! Honestly, it's such a fun and creative way to get lovely lashes.
Why Add Essential Oils to Mascara
Okay, if you're new to all this essential oil stuff, you might be wondering why the heck would anyone add essential oils to mascara? I've already said above – you'll get healthier, longer and fuller eyelashes! How? Well, the essential oils good for mascara we shall look at below have the following properties:
Boost eyelash growth
Strengthen your eyelashes so they don't fall out easily
Condition your eyelashes
Fight off germs that can cling onto your lashes and cause eye infections (tea tree oil is great for this!)
Deter eyelash mites
Get rid of dandruff (yes, people, eyelash dandruff exists!)
Yup, those are the amazing benefits! I'm sure you want to add essentials oils to your mascara now, don't you? 😀
So now let's check out the best essential oils to add to mascara below:
4 Essential Oils to Add to Mascara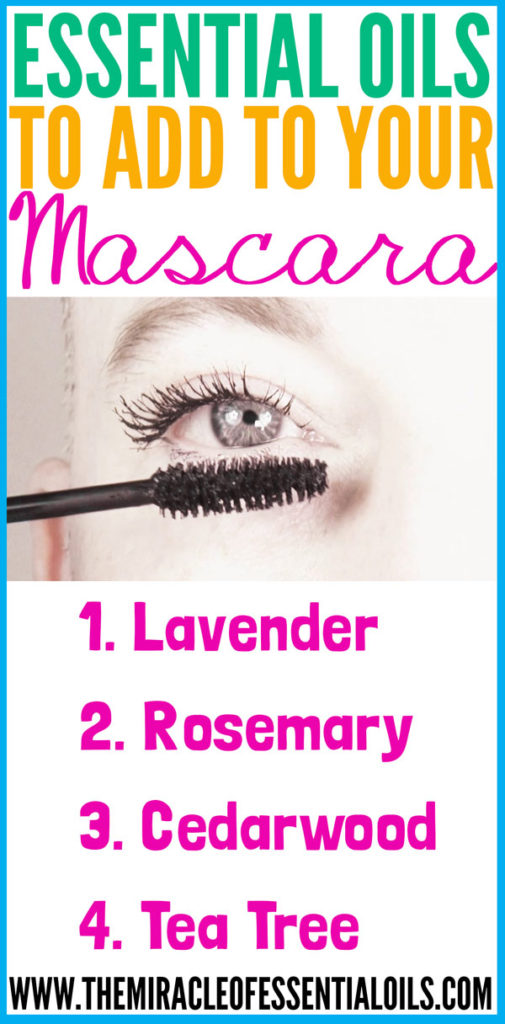 1. Lavender essential oil (where to get it)
2. Rosemary essential oil (where to get it)
3. Cedarwood essential oil (where to get it)
4. Tea tree essential oil (where to get it)
How to Add Essential Oils to Your Mascara
Get a fresh tube of mascara and add 2 drops of essential oils. Mix everything well by tipping the tube back and forth and also moving the mascara wand up and down in the tube to distribute the essential oils thoroughly.
That's it!
You can use lavender + rosemary, lavender + cedarwood and other combinations. You can even just add two drops of lavender alone.
2 Best Natural Mascaras to Use
So now we're on the topic of mascaras, I just wanted to know – do you guys really care about the amount of chemicals you're applying on your body every day?
If you do, then you're probably already antsy about using store-bought mascara on your eyelashes. I mean, who knows what kind of chemicals are in there, right? If you want to use natural mascaras but don't know where to begin searching for them, then good news! I'm going to share my two best natural eco-friendly, cruelty-free mascaras that you can try out!
1. Natural Organic Mascara by Endlessly Beautiful, Black – Vegan & Gluten Free

2. Physicians Formula Organic Wear 100% Natural Origin Mascara

Caution
Do not apply undiluted essential oils to your eyelashes!
Do not drop essential oils into your eyes!
Keep essential oils away from children and pets!
If you're new to essential oils, please first read Caution & Safety when Using Essential Oils – you'll find more safety tips here!