Let me let you in on the easiest, and coolest trend to hit the essential oil world – add essential oils to your shampoo! Making your hair long and lustrous couldn't get any easier!
Perk Up Your Shampoo with Essential Oils!
It doesn't matter whether you're using store-bought shampoo or making your own DIY shampoo, you need to experience the benefits of adding essential oils to your hair wash routine!
Here's the thing – essential oils are natural, concentrated plant extracts that are jam-packed with amazing antioxidants and other compounds that are healing, restorative and stimulating.
But let's face it, sometimes it can be overwhelming trying to incorporate essential oils into your life. Some of us just don't have the time, right? Well, with this simple method, you can enjoy the benefits of essential oils for your hair, without a fuss!
Don't Miss: Our Essential Oil Ebooks
Why Add Essential Oils to Your Shampoo?
When you add essential oils to your shampoo, you gain so many benefits. Here are some of the ways essential oils can help your hair:
Stimulates hair growth
Strengthens hair follicles
Reduces hair fall
Repairs damaged hair
Elimination of dandruff
Fights scalp acne
Oil control
Moisturizes dry hair
Prevents premature graying of hair
Kills lice
Fights ring worms and fungal infections on the scalp
And more!
How to Add Essential Oils to Shampoo
Adding essential oils to your shampoo is easy. You simply have to open your shampoo bottle and add some drops of your essential oil of choice!
Keep in mind the basic rule: For every 10 ml of shampoo, add 10 drops of essential oil.
If you have sensitive skin, reduce the amount of essential oil. You can add 5 drops of essential oil for every 10 ml of shampoo.
Avoid adding essential oils to shampoo for babies and kids below 6 years of age. For more information, read: Essential Oils for Babies
Top 7 Essential Oils to Add to Your Shampoo
Here are the best essential oils you can add to your shampoo to heal, repair and restore your hair:
1. Tea tree Essential Oil (where to get it)
2. Rosemary Essential Oil (where to get it)
3. Lavender Essential Oil (where to get it)
4. Clary Sage Essential Oil (where to get it)
5. Lemongrass Essential Oil (where to get it)
6. Cedarwood Essential Oil (where to get it)
7. Chamomile Essential Oil (where to get it)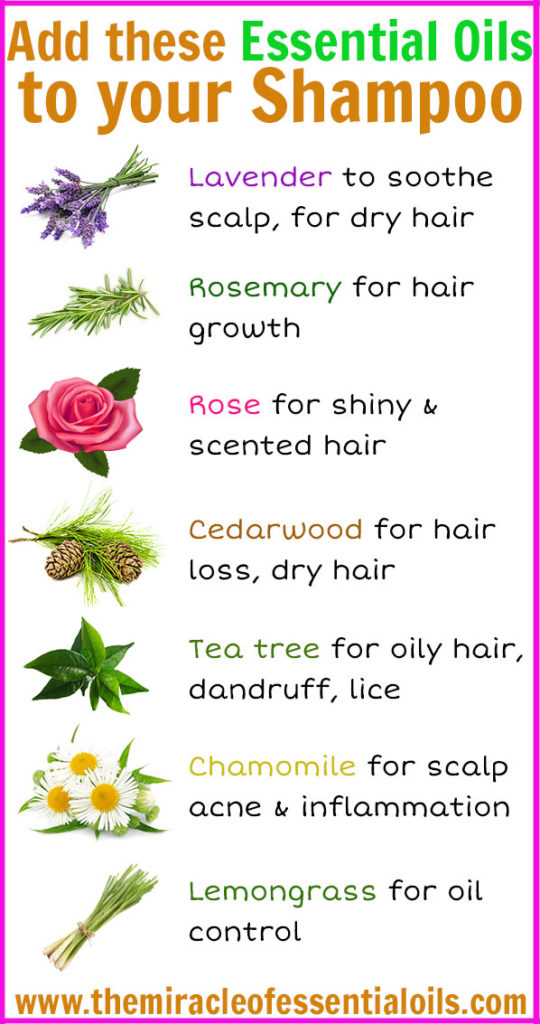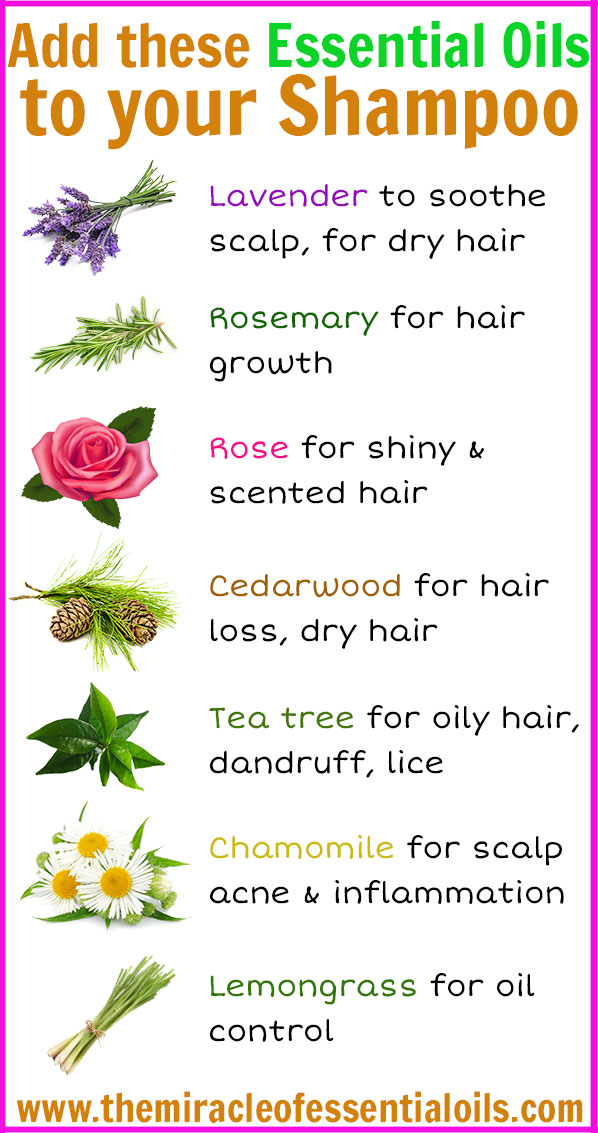 What Essential Oil Does Your Hair Need?
Everyone's hair is different. Depending on your hair problems, you can select the best essential oil for your hair. Here's a list of the best essential oils for different hair problems:
For Dandruff: Tea tree, Lavender, Lemon, Neroli, Chamomile
For Hair Growth: Peppermint, Cedarwood, Lavender, Thyme, Rosemary, Tea tree
For Odor Removal: Rose Otto, Lemongrass, Peppermint, Lemon
For Oil Control: Peppermint, Cypress, Lemon
For Dry Hair: Cedarwood, Sweet Orange, Ylang ylang
For Scalp Acne: Tea tree, Lavender, Chamomile, Lemon, Helichrysum
For Reducing Hair Fall: Rosemary, Lavender, Clary Sage, Frankincense
To Kill Lice: Tea tree, Lavender, Citriodora, Lemongrass, Peppermint

What essential oils will you be adding to your shampoo? Let us know in the comments below!