Pregnancy is a delicate period in both the mother and the fetus's life. Therefore please be aware of the list of essential oils to avoid in pregnancy, to ensure the best health for yourself and your baby.
Are Essential Oils Dangerous?
Essential oils are natural substances extracted from plant material by cold pressing or distillation. It can take many kilos of plant material such as flowers to produce just a few drops of essential oil.
Being so concentrated, essential oils are potent and powerful. This is why great caution must be exercised when using essential oils, whether you are pregnant or not.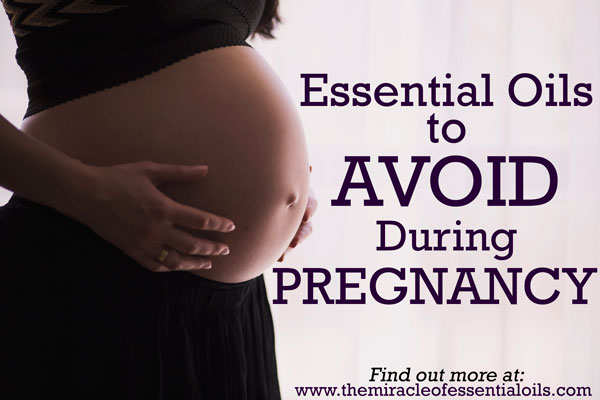 Why All the Fuss Regarding Essential Oils and Pregnancy?
Pregnancy is a sacred and delicate time in a woman's life. There is a whole new, precious being (or beings) growing within your body.
Essential oils are very small molecules, which are permeable when applied on the skin, and can easily enter into the bloodstream. The mother's blood, filled with nutrients and oxygen is constantly traveling to and from the fetus growing within her uterus.
The mother's blood can also carry harmful substances such as nicotine from tobacco and alcohol, which can damage and harm the fetal organs. This is the reason why mothers are advised to stop smoking and drinking during pregnancy.
The same concept holds true for essential oils. The concentrated compounds found in essential oils can travel through the mother's blood stream and get into the baby's system, disrupting the growth and formation of the fetus.
What Essential Oils Are Good For Pregnancy?
While you must be wary of using essential oils in general during pregnancy, this does not mean you have to shut them out of your life completely.
There are several safe essential oils that you can use to make your pregnancy more bearable and beautiful. Certain essential oils can help relieve so many of the discomforts experienced during pregnancy, such as nausea, back pain, edema, headaches and more.
For more information, read: What Essential Oils are Good for Pregnancy?
Reasons to Avoid Essential Oils in Pregnancy
What makes some essential oils dangerous to use in pregnancy? It is the components and properties contained within some essential oils that make them harmful or best avoided during pregnancy.
Some of the reasons you should avoid essential oils in pregnancy are:
Estrogenic properties: Some essential oils, such as clarysage and thyme, are speculated to have estrogenic properties or exhibit hormone-mimicking behavior. This can cause serious hormonal imbalances and disturbances during pregnancy.
High toxicity: There are certain essential oils that have a high toxicity index, such as bitter almond, mugwort and camphor. These oils can pose serious harm the fetus and new born babies.
Abortive effects: Certain essential oils, like jasmine and rosemary, have potent emmenagogue properties. This means that they stimulate menstrual flow, which is very dangerous during pregnancy because it can cause shedding of the uterine wall that can lead to full or partial abortion of the fetus in the womb.
List of Essential Oils to Avoid in Pregnancy
Remember the general rule of using essential oils during pregnancy: Essential oils are best avoided during pregnancy, except if they have been proven safe for use.
Here's the list of essential oils to avoid in pregnancy. If you have an essential oil that does not appear on this list, please do further research to check if it is safe to use in pregnancy before using it.
1. Aniseed
2. Angelica
3. Basil
4. Black pepper
5. Birch
6. Bitter almond
7. Bolodo leaf
8. Camphor
9. Calamus
10. Cassia
11. Cedarwood
12. Cinnamon
13. Chamomile
14. Clarysage
15. Clove
16.Elecampane
17. Fennel
18. Fir
19. Horseradish
20. Jabarandi leaf
21. Jasmine
22. Juniper
23. Marjoram
24. Melissa
25. Mustard
26. Mugwort
27. Nutmeg
28. Oregano
29. Peppermint
30. Pennyroyal
31. Pine
32. Rose
33. Rosemary
34. Rue
35. Sage
36. Sassafras
37. Stinging nettle
38. Tansy
39. Thyme
40. Wintergreen
If you have any question regarding essential oils to avoid in pregnancy, please ask in the comments below, and we'll try our best to answer.