Do you know that essential oils also have SPF? Yup, that's right! Find out the essential oils with SPF in this post!
What is SPF?
SPF means Sun Protection Factor and it is a relative measure of how long a sunscreen will protect you from UV B rays. What does an SPF rating on a sunscreen mean? Take for example you take 10 minutes to get sunburn when you're not wearing any sunscreen or any form of sun protection on your body. So an SPF 30 will give you 30 times that amount of sun protection, which means it'll take 300 minutes before you start to burn.
Essential Oils with SPF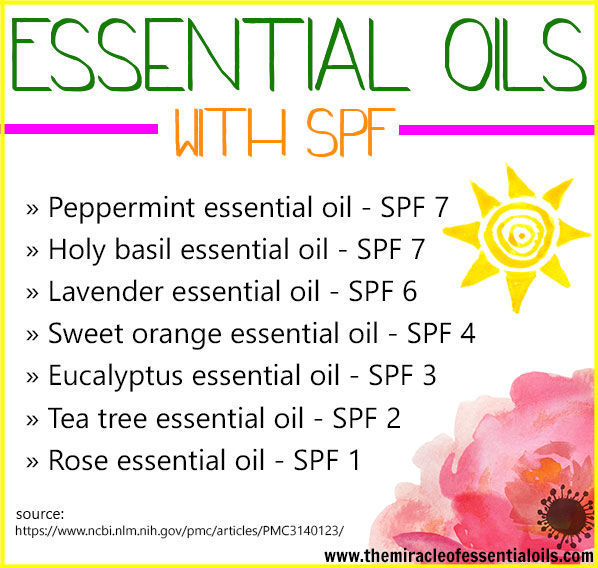 Though essential oils have low SPF ratings, when combined with your usual sunscreen or a DIY sunscreen, they can lend SPF and also provide nourishing benefits including anti-aging protection for the skin. Essential oils also contain powerful antioxidants that protect the skin from free radicals in UV rays that promote skin damage and premature aging.
Okay, here's a list of essential oils with SPF:
Carrier oils with SPF
It's best to mix essential oils with carrier oils. After all, carrier oils are called so because they 'carry' essential oils onto the skin. Essential oils cannot be applied undiluted to the skin. They need to be mixed in a medium such as carrier oils or lotion, etc before application. This is because they are very potent and can cause chemical burns if applied undiluted.
Can I Use Carrier Oils and Essential Oils with SPF as sunscreen?
Yes, if you have skin that doesn't burn but rather tans in the sun, you can use only carrier oils and essential oils with SPF as a sunscreen. Personally, this is what I do! Olive, light brown and dark brown skinned people can do this. Simply mix ½ cup of carrier oil with SPF of your choice (such as coconut oil or shea butter) with 15 drops of essential oil with SPF (such as peppermint & lavender). Do not use sweet orange essential oil as it's photosensitive. Apply on this on your skin before heading out. Be sure to also protect yourself by wearing hats, carrying umbrellas and covering up.
On the other hand, if you have pale white skin that burns in the sun, then do not use essential oils and carrier oils mixed together as a sunscreen. You need something stronger to protect your skin from sunburn.
Is Making Your Own Sunscreen Safe?
Making your own sunscreen is definitely much safer and healthier than buying a chemical-filled one at the store. However, if you're a person who easily burns in the sun rather than tans, you're better off using a professionally formulated sunscreen to protect yourself better. Look for natural sunscreen brands like Badger's Sunscreen. It's unscented so you can actually add a few drops of essential oils with SPF. In 1 tsp of sunscreen, add about 2 drops of essential oil.
How to Make a DIY Essential Oil Sunscreen
You can make your own DIY essential oil sunscreen containing the above essential oils & carrier oils and non-nano zinc oxide. Here's the recipe: DIY Essential Oil Sunscreen
Many people have been making their own DIY sunscreens with success. The key to making your own sunscreen is getting the zinc oxide to mix evenly and thoroughly without clumping so that when the sunscreen is applied, all of your skin is covered without any loopholes for the UV rays to reach. If you're doubtful and afraid to make your own sunscreen, then stick to natural sunscreens such as Badger's All Natural Sunscreen Lotion SPF 25. You can add a few drops of essential oils with SPF to that sunscreen if you want.

References
https://www.ncbi.nlm.nih.gov/pmc/articles/PMC3140123/