One of the best things about essential oils is that many of them have HEAVENLY scents – take a whiff of floral ylang ylang or exotic jasmine and you'll see what I mean! Today I'll be sharing with you a smooth and silky homemade body lotion with essential oils: ylang ylang and sweet orange, that together create a beautiful sweet fruity and floral scent. The sweet orange essential oil is totally optional if you'd like a floral-only scent.
This body lotion is not only about the scent though, it also has moisturizing and skin healing abilities! The natural ingredients used have different properties that promote healthy, soft and smooth skin. Read below to find out what each ingredient does.
Homemade Body Lotion with Essential Oils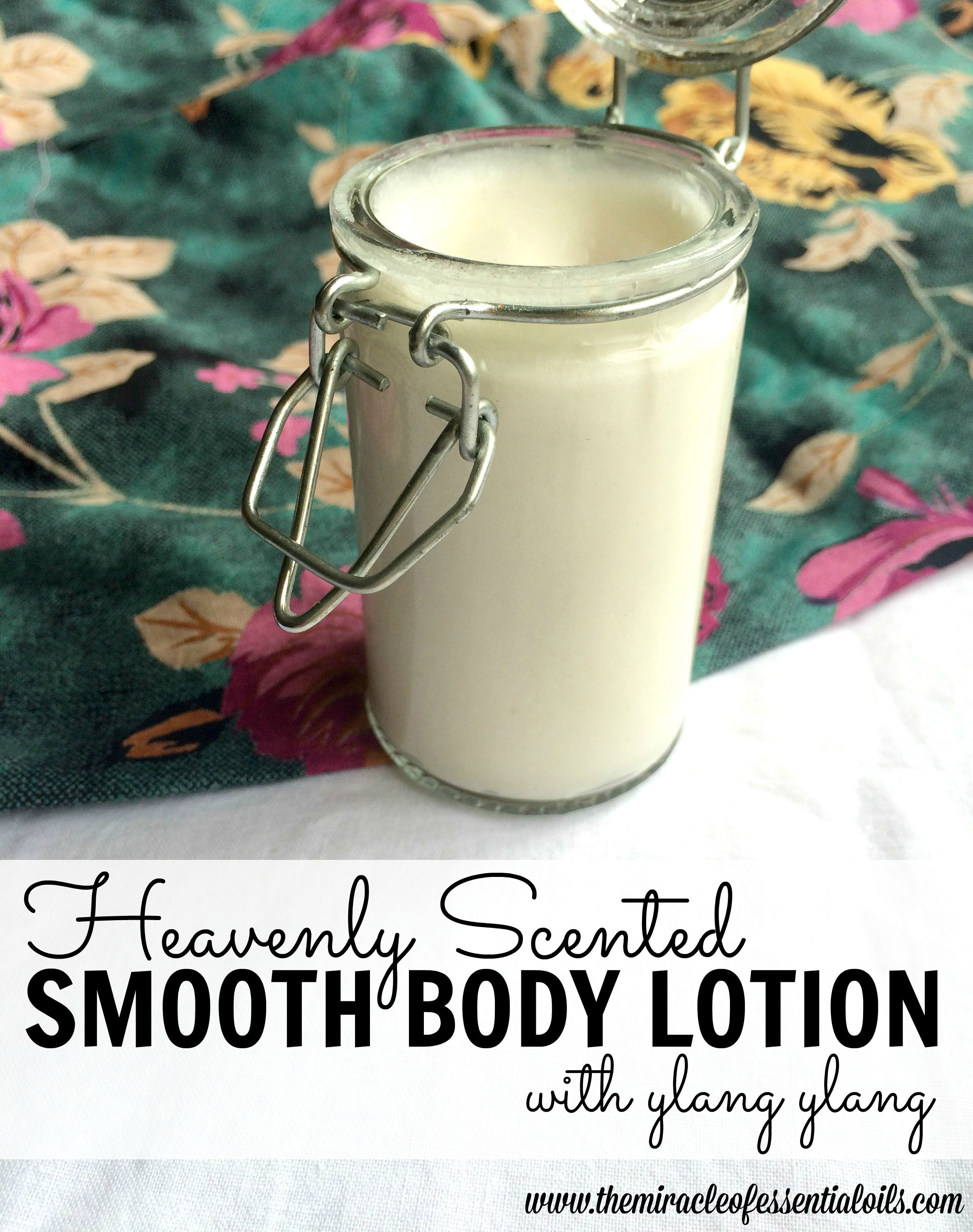 Tools Needed
Ingredients
Caution: Notice I didn't use a lot of essential oils and that's because a little goes a long long way with essential oils – ylang ylang smells heavenly but is powerful and can give you a headache if you use a lot. Same goes with sweet orange essential oil – use more than needed and you'll get a nauseating sickly sweet scent. However, if you feel the scent isn't enough for you, feel free to add a few more drops but don't go overboard is all I'm saying.
What Each Ingredient Does
» Coconut Oil – Extracted from the meat of ripe coconuts, this luxurious creamy oil offers lots of benefits for skin. It's a light moisturizer with a small molecular structure that enables it to easily penetrate into the skin without clogging the pores and greasing it up. It also contains potent antibacterial properties that fight off skin irritating microbes that cause irritations, rashes, skin inflammatory conditions, fungal skin infections, body acne, etc.
» Shea Butter – Rich in fatty acids as well as vitamins A, E and K, this intense plant butter does more than moisturize skin. It has been used since ancient times by African women to prevent and erase stretchmarks, heal a variety of skin conditions as well as keep skin supple and youthful. Its nourishing fatty acids form a protective lipid barrier that shields the skin from harsh winds and UV radiation that leave skin damaged.
» Aloe Vera Gel – Aloe vera gel is cooling and soothing when applied on skin and it also has astringent properties that tighten and tone skin. It also hydrates skin and has nourishing properties that revive dull skin. Another reason for adding aloe vera gel is to cut down the greasiness of this DIY body lotion.
» Raw Honey – Raw honey is a natural humectant which means it attracts moisture from the surroundings and locks it into the skin, helping it retain its natural hydration levels. It also has skin lightening properties that help with dark spots and discoloration and its antibacterial properties keep bacteria away. In this homemade body lotion recipe, raw honey also helps bind the ingredients together, creating a creamy lotion with a smooth consistency.
» Rose Water – A refreshing and cooling hydrosol, rose water is good for soothing irritated and sensitive skin. It's great for calming sunburns and tired skin while rejuvenating dry and parched skin. Rose water also has a beautiful scent and gives the body lotion a more liquid consistency that's makes it easy to penetrate into skin.
» Vitamin E Oil – Also known as the 'skin vitamin', vitamin E is a powerful antioxidant that protects the skin from scavenging free radicals that steal oxygen from healthy skin cells, thereby degenerating them and causing premature wrinkles. Vitamin E oil deeply moisturizes skin and assists in scar healing with its cell regeneration properties. Since it has a thick consistency, we'll only be using oil from one vitamin E capsule.
» Ylang Ylang Essential Oil – This floral essential oil is a powerful antioxidant that keeps skin healthy and youthful.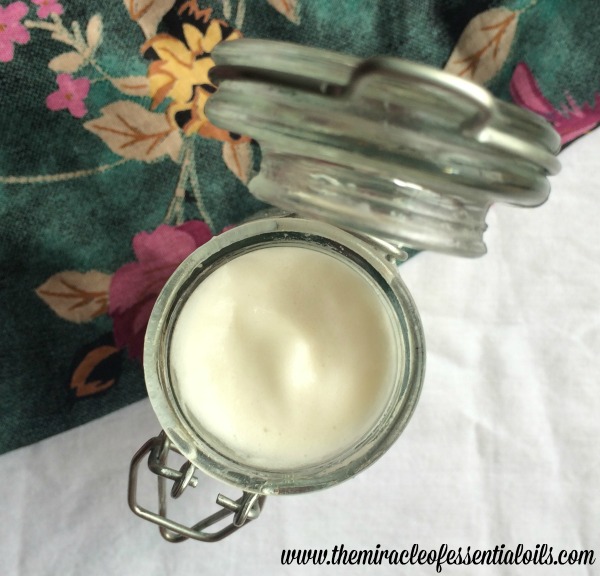 Directions
Add the shea butter and coconut oil in a double boiler. Let them gently melt down to liquid form over a medium-low flame.
Once melted down, remove from heat and stir in the honey and aloe vera gel vigorously with a spoon.
Now leave the mixture in the refrigerator for about 15 minutes so that when you get it out, it's partially solidified for easy whipping.
After 15 minutes, add the ylang ylang and sweet orange essential oil blend as well as the vitamin E oil (snip the end of the vitamin E capsule with a pair of scissors and squeeze out the oil).
Whip the ingredients using a hand mixer till it turns into a white cream.
Now place it in the refrigerator again for about 10 minutes and then get it out and whip it again using the hand mixer but this time, while slowly adding the rose water. Stop whipping when everything is well incorporated.
Transfer to a clean container and store in a cool dry place.
Your very own homemade body lotion with essential oils is complete! Enjoy applying the silky goodness on your skin!
Note: You can also try blending all ingredients all at once in a small blender for a couple of minutes, without having to melt the coconut oil and shea butter! An immersion hand blender can also be used to make this homemade body lotion. If using a blender, remember to blend for only a short time to prevent the heat from the motor melting the shea butter & coconut oil into a liquid instead of forming a thick cream.
How to Use

Apply this homemade body lotion right after a shower/bath for smooth, moisturized and heavenly scented skin! To use, scoop out a small amount using clean fingers and rub all over your whole body. As with any lotion, don't apply too much or you'll have oily looking skin.