Try this easy yet effective recipe for homemade liquid laundry detergent with essential oils!
Have you ever thought of making your own liquid laundry detergent? It's not only safer for your family (no toxic and chemical-filled ingredients involved) but also cheap! It uses common ingredients like borax, washing soda and unscented soap.
This DIY liquid laundry detergent contains fresh and clean smelling essential oils such as lavender and lemon. These essential oils leave your laundry smelling extra clean and lovely! They also have antibacterial properties that kill off germs and other nasties hiding in laundry.
Essential Oils for Laundry – 5 Combinations for Great Scent
There are more essential oil combinations you can use instead of lavender and lemon! Here are my favorite combinations:
Enjoy any of those combinations and share some of your favorites in the comments below!
Homemade Liquid Laundry Detergent with Essential Oils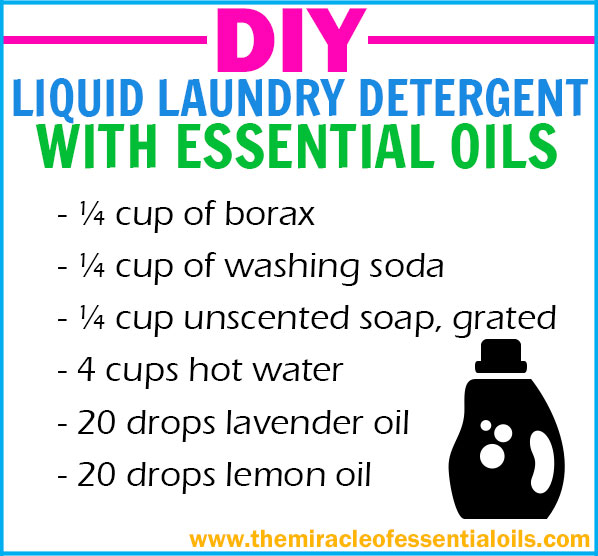 What you need
Directions
Begin by grating your unscented soap into a mixing bowl. Now into your mixing bowl, add the borax and washing soda.
Now add 4 cups of boiling hot water into the bowl and whisk everything together till well combined.
Let the soap and rest of the ingredients dissolve in the hot water.
Once dissolved, let it cool down completely then pour the mixture into an empty jug with the help of a funnel.
Carefully add 20 drops of lavender essential oil and 20 drops of lemon essential oil.
Close the jug and shake well to combine everything.
And your homemade liquid laundry detergent with essential oils is ready!
Store in a cool dry place. You can pour a smaller quantity into a flip top bottle or old shampoo bottle for quick and easy usage.
Use in place of your regular liquid laundry detergent. Shake before each use.
Enjoy clean and fresh smelling laundry!