Rose water is the most popular hydrosol in the world! It's not surprising when you take a look at rose hydrosol benefits, which are so numerous and versatile that you won't be able to imagine a day without it!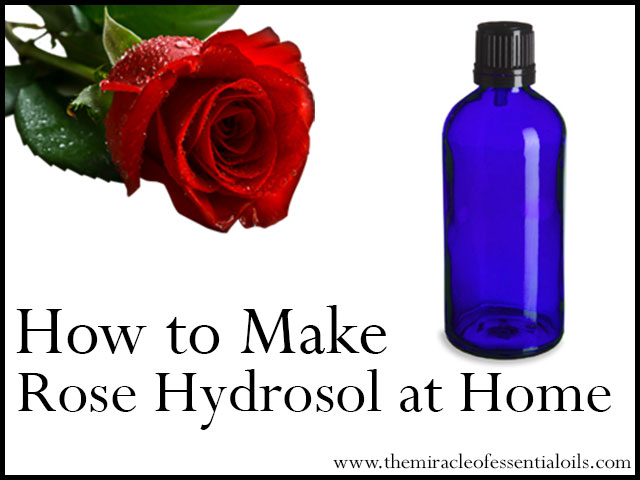 What is Rose Hydrosol?
Commonly known as rose water, rose hydrosol has been recognized since ancient times. The benefits of rose water are numerous, ranging from skin to hair, health, wellness and more!
Rose hydrosol smells incredible, with its romantic, floral scent comparable to none in the world. It's uses range from beautifying the skin to promoting hair growth, disinfecting wounds, deodorizing, boosting mood and libido, repelling bugs and many others!
For more benefits of rose hydrosol, read: Rose Hydrosol Benefits, Uses and More!
Why Make Homemade Rose Hydrosol?
The great thing about rose hydrosol is that it is one of the most commonly available hydrosols in the world. So why make rose hydrosol at home? There are several good reasons to make rose water at home! Here are just a few:
It is fun, easy and absolutely magical!
Homemade rose hydrosol is fresher, and smells better!
You can guarantee the purity of your hydrosol, since you are in control!
How to Make Rose Hydrosol at Home
Here are the steps and guidelines on how to make rose hydrosol at home:
Equipment needed:
Home distillation kit (where to get it) Getting your own home distillation kit is very handy if you're planning to be making hydrosols a lot or if you own a small natural herbal business. You can purchase the

PureStiller Lite Home Distillation Kit. All you need to do is load up your herbs, in this case cucumber slices, and water then place the equipment over a heat source! Since it's a transparent equipment, you can watch everything happening live! Obviously, this kit can also be used to distill essential oils at the same time. So it's a 2-in-one thing!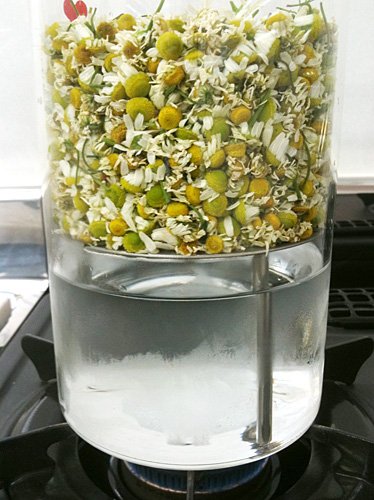 Or:
Method:

Note: If you have a home distillation kit, simply load up the plant materials chamber with the roses. You can leave the roses whole, or use only the petals – it won't matter!
Don't own a home distillation kit yet? You can still make rose hydrosol at home, using kitchen items. When you decide making hydrosols and even essential oils is useful for you, don't hesitate to buy a home distillation kit! Follow the steps below if you are not using a distiller:
Line your stainless steel pan with rose petals/whole roses.
Fill the bottom of the pan is enough water to only cover ¼ of the rose level.
Now place a brick at the center of the pan over the roses.
On top of the brick, place your heat-resistant bowl or pyrex measuring cup. This is where your hydrosol will be collected!
Now cover the sauce pan with your dome-shaped lid placed upside down. This convex shape will help allow the condensed hydrosol vapors to converge to the center and drip down more efficiently into the bowl.
Once the bowl is full, you can now harvest your beautiful rose water!
Allow your rose hydrosol to cool before transferring it into a suitable container. To learn more about how to store hydrosols correctly, read: Hydrosol Storage Tips and Guidelines
Tips
Keep an eye on the water at the bottom of the pan. If it dries up, your roses will stick to the bottom and get burned.
Remove the lid every 7 minutes to check on the water level below. Add more water as needed.
Make sure you have plenty of ice in stock, as you will need to replenish the ice as it melts.
The entire process may take 25 minutes.
How to Use Rose Hydrosol
Rose is one of the most versatile hydrosols, with a great range of health benefits and other uses. Looking for ways to use rose hydrosol? Read: 25 Ways to Use Hydrosols and Rose Hydrosol Benefits, Tips & How to Use
Don't Have Time to Make Your Own? Buy Here
Purchase organic and high quality rose hydrosol (250 ml) here. For cleaning and multipurpose & large scale use, get a 16 oz bottle of organic rose hydrosol here.