A simple tutorial showing you how to make cucumber hydrosol at home, plus tips, guidelines and usage ideas.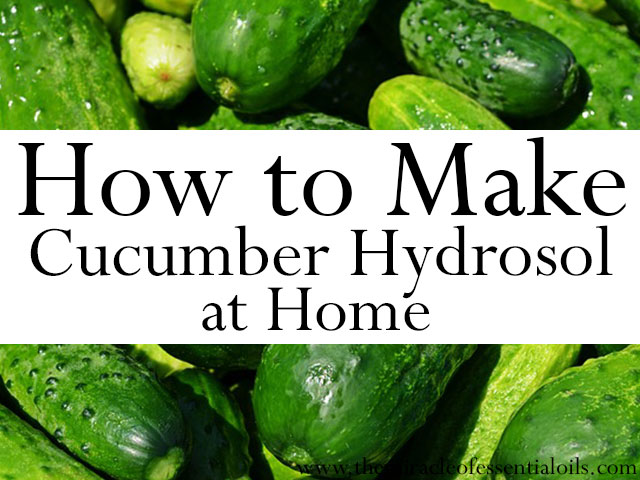 What is Cucumber Hydrosol?
Cucumber (Cucumis sativus) hydrosol is a distillate derived from steam distilling cucumber slices. Cucumber are made of over 90% water and the actual essential oil content in them is too minuscule for the essential oil to be commercially viable.
That's why you won't find cucumber essential oil on the market, but you will find the hydrosol!
The best part about cucumber hydrosols is that they can be made right at home! Even if you don't have a home distillation kit, you can still improvise with whatever pots and pans you have at home to make your own homemade hydrosol!
Why Make Homemade Cucumber Hydrosol?
The real question here is, why not?!
It's fun to make your own hydrosol at home. It's also delightfully simple!
Other than this being a productive science experiment with worthy results, cucumber hydrosol is also amazingly beneficial in many ways:
Reduces acne and pimples
Works as a cooling aftershave
Soothes skin ailments such as eczema, rosacea and psoriasis
Can be used as a refreshing body mist, deodorant and hair fragrance
Works as a air freshener and car freshener
Can be added to foot soaks and bath soaks
Great for sensitive skin and safe to use with babies
For more information on the benefits of cucumber hydrosol, read: Cucumber Hydrosol Benefits
How to Make Cucumber Hydrosol at Home
Here are the steps and guidelines on how to make cucumber hydrosol at home:
Equipment needed:
Home distillation kit (where to get it) Getting your own home distillation kit is very handy if you're planning to be making hydrosols a lot or if you own a small natural herbal business. You can purchase the

PureStiller Lite Home Distillation Kit. All you need to do is load up your herbs, in this case cucumber slices, and water then place the equipment over a heat source! Since it's a transparent equipment, you can watch everything happening live! Obviously, this kit can also be used to distill essential oils at the same time. So it's a 2-in-one thing!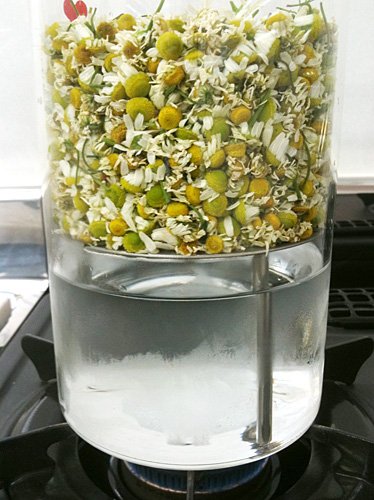 Or:
1.5 liter stainless steel sauce pan
Lid to cover above sauce pan
A brick or other non-heat conducting item
A heat safe bowl or pyrex measuring cup
Plenty of ice cubes
Zip lock bags
Raw materials:
10 medium sized cucumbers, chopped
Method:

Note: If you have a home distillation kit, simply load up the plant materials chamber with the sliced or chopped cucumbers. You may have to work in batches, depending on the size of your distillery equipment.
If you don't have a home distillation kit, you can always improvise! It may not be as efficient as a proper distiller, and it will be a bit messier and less productive, but it works fine for home use!
Begin by chopping up your cucumbers and layering them at the bottom of your stainless steel pot.
Pour in some water over the cucumbers to prevent the pan from burning (so you don't end up with roasted cucumber!). Remember only a little water is needed. Just pour water until only ¼ of the cucumbers are under water.
Now place a clean brick over the cucumbers, right in the center of the pan.
Place your heat-resistant bowl over the brick. This is where your hydrosol will gather and be collected.
Now turn on the heat and allow to simmer until you start seeing faint streams of vapor evaporating. This is when you put on the lid. Quickly place 2 or 3 zip lock bags filled with ice cubes or crushed ice over the lid.
Inside your pot is where the magic of rudimentary steam distillation is happening! The heat makes the water under the cucumber boil and release steam. This steam then passes through the cucumber slices and makes the pure plant water locked within the cells of the cucumber to be released. It then rises above until it hits the lid on top. Due to the ice ontop of the lid, the temperature of the lid is very low and this causes the vapor to instantly turn from gaseous state into liquid state. From here the cucumber water droplets collect and drip down into the bowl.
Once the bowl is full, you can now harvest your beautiful cucumber water!
Tips
Make sure the water at the bottom of the pan doesn't run out. If it does, the cucumber slices will stick to the pan and get roasted. It might be a big mess to scrub off!
You can periodically remove the lid to keep a check on the water level below, and add extra teaspoons of water if needed.
Use a glass lid if possible, so you can observe the condensation as it takes place – it's really awesome to see!
Keep plenty of ice in stock because you will find the ice melting so fast. You may have to replace the ice every 5 – 10 minutes.
How to Use Cucumber Hydrosol
There are so many ways to use cucumber hydrosol, from skin care to health and wellness. For more ideas on how to use cucumber hydrosol, read: 25 Ways to Use Hydrosols