Want to make your own healing hydrosol at home? It's simple! Learn how to make rosemary hydrosol at home!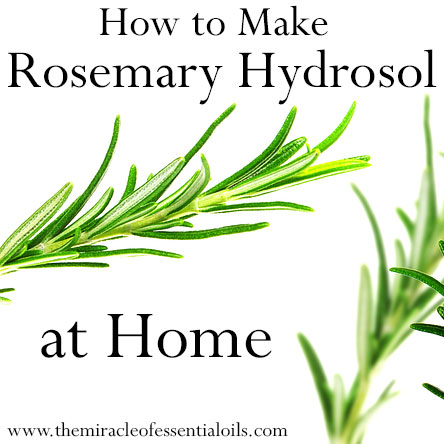 What is Rosemary Hydrosol?
Rosemary (Botanical name: Rosmarinus officinalis) hydrosol is the by-product of rosemary essential oil extraction. During the essential oil extraction, steam is passed through rosemary twigs, leaves and branches and the resulting vapor is condensed and collected. This condensed liquid contains both the rosemary essential oil and the distillate, which is referred to as rosemary hydrosol.
Incredibly aromatic and rich in healing properties, rosemary hydrosol is one of the best hydrosols that cannot be missed!
Its scent is woody and herbaceous, much like the essential oil itself.
Rosemary hydrosol has so many benefits including refreshing the mind and boosting memory, acting as a cleanser, toner and hair growth rinse, and many more.
How to Make Rosemary Hydrosol at Home
The great thing about hydrosols is that they can easily be made at home!
Equipment needed:
Home distillation kit (where to get it) Getting your own home distillation kit is very handy if you're planning to be making hydrosols a lot or if you own a small natural herbal business. You can purchase the

PureStiller Lite Home Distillation Kit. All you need to do is load up your herbs, in this case cucumber slices, and water then place the equipment over a heat source! Since it's a transparent equipment, you can watch everything happening live! Obviously, this kit can also be used to distill essential oils at the same time. So it's a 2-in-one thing!
Or:
Raw materials:
Method:
Buy organic fresh rosemary, gather fresh rosemary twigs from your garden or buy dried rosemary. If it's not dried, then chop them up into smaller pieces.
If you have a home distillation kit, load up the plant material chamber with the chopped up rosemary and turn on the heat source to begin the steam distillation process.
If you don't have a home distillation kit, you can still improvise using items you already have in your kitchen. Follow the steps below.
Get your sauce pan and line the bottom with your rosemary clippings.
Place a brick over the rosemary and place your heat-resistant bowl over the brick. Your hydrosol will drip down into this bowl.
Once this is set up, slowly pour about a quarter cup of water over the rosemary. This water is what will be heated at the bottom of the sauce pan, creating steam that will pass through the rosemary clippings.
Now turn on the heat source, keeping it at a medium flame.
Cover the pan with your lid.
Place zip lock bags filled with ice cubes on top of the lid. You may have to replace this ice as it melts, so keep more ice on standby in your freezer.
Wait for 20 minutes, as the processes of heating, evaporation, condensation and hydrosol collection take place within the sauce pan.
When your collection bowl is full, turn off the heat and remove the bowl.
Now transfer your lovely rosemary hydrosol into a glass bottle or directly to a spray bottle, ready for use!
How to Use Rosemary Hydrosol
Here are some ways to use rosemary hydrosol:
Add to Soups and Savory Dishes : A splash of rosemary hydrosol to your soups and other dishes for health and culinary benefits!
Hair Rinse : After washing your hair with a mild sulfate-free shampoo, rinse with a cup of rosemary hydrosol for hair strengthening effects!
Skin Toner : Dip a cotton ball into rosemary hydrosol and apply it all over your face and skin. This will help nourish your skin, prevent acne, reduce wrinkles and acts as an astringent!
Bug Repellent Spray: Put some rosemary hydrosol into a mist bottle and spray to repel bugs like mosquitoes and other bugs.
For more ideas on how to use rosemary hydrosol, read:
Where to Buy Rosemary Hydrosol
Want to buy high quality rosemary hydrosol? Here's where you can get it