Perhaps a slightly lesser known hydrosol, vetiver hydrosol is one of the most beneficial hydrosols for skin, hair, mental and physical health. Why not learn how to make vetiver hydrosol at home since iIt's not very readily available in the market.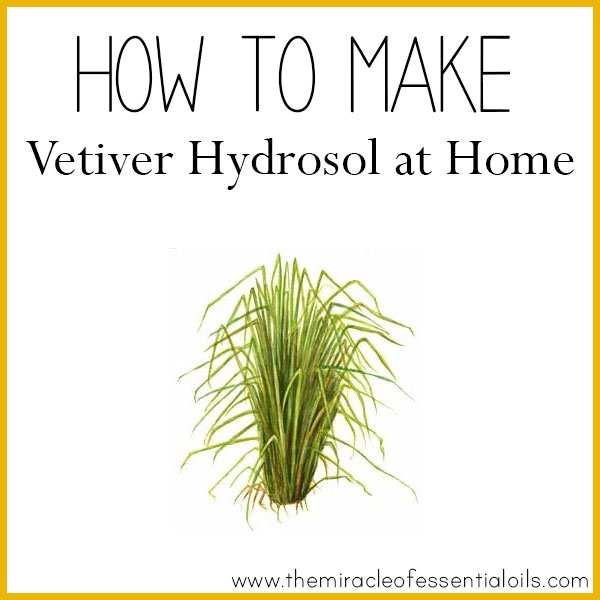 What is VetiverHydrosol?
Vetiver (Vetiveria zizanoides) hydrosol is distilled from the roots of the vetiver grass.
Although hydrosols are known as floral waters, they are not only extracted from flowers! As we can see in the case of vetiver, the hydrosol is extracted from the roots, which happen to be incredibly fragrant! It definitely is something to experience!
Vetiver hydrosol has a multi-layered complex aroma that has notes of woody, herbaceous, earthy, slightly spicy and smoky scents. The essential oil is certainly more concentrated and the hydrosol is much lighter and easier to take in.
In aromatherapy, vetiver is known for its calming and grounding effect. It improves ADHD, reduces anxiety and panic and it helpful for brain health.
Wondering how to use vetiver hydrosol? Apart from diffusing or spraying it into the air, there are so many creative ways to use this hydrosol. Read: 25 Ways to Use Hydrosols.
How to Make Vetiver Hydrosol at Home
Imagine my delight when my lovely mother got her hands on some vetiver root! It was unlike anything I had imagined. The thin and clean roots have a light orange-brown color and the scent – oh, the scent! Very complex and indescribable – I feel blessed to have experienced it.
Initially I was just steeping a few strands of the root in hot water and sipping it throughout the day. I also cooled the vetiver tea and used it as a hair rinse and face mist.
But teas and hydrosols are on different planetary levels – I just knew I had to have some vetiver hydrosol for my soul!
Equipment needed:
Home distillation kit (where to get it) Getting your own home distillation kit is very handy if you're planning to be making hydrosols a lot or if you own a small natural herbal business. You can purchase the

PureStiller Lite Home Distillation Kit. All you need to do is load up your herbs, in this case cucumber slices, and water then place the equipment over a heat source! Since it's a transparent equipment, you can watch everything happening live! Obviously, this kit can also be used to distill essential oils at the same time. So it's a 2-in-one thing!
Or:
Large sauce pan with lid
Brick
Heat-resistant bowl
Plenty of ice cubes
Zip lock bags to hold the ice
Raw materials:
Method:
If you have a home distillation kit, it couldn't get any easier. Simply stuff your vetiver roots into the plant materials chamber, turn on the heat source and let the steam distillation begin!
If you don't have a home distillation kit, you can still make vetiver hydrosol at home! Follow the steps below:
Layer your vetiver root in your large sauce pan, preferably stainless steel. Now pour just a little water (about ¼ cup) over the vetiver. The aim here is not to boil the vetiver but rather to boil the water below such that the steam will pass through the roots and distill the hydrosol.
Now place a brick over the vetiver, in the center of the sauce pan. Place your heat-resistant bowl on top of the brick. Your hydrosol will collect into this bowl.
Finally turn on the heat and cover your sauce pan with the lid. Hopefully your lid is convex-shaped/dome shaped, so turn it upside down and close. This will help the hydrosol converge to the middle of the lid and drip down straight into the bowl.
Place your zip lock bags filled with ice on top of the lid. Allow the process of steam distillation to occur within your sauce pan. It may take 20 – 30 minutes. Make sure you keep an eye on the water at the bottom, replenishing where necessary.
Once your bowl is filled with hydrosol, switch off the heat and allow your hydrosol to cool. After cooling, transfer your hydrosol to a spray bottle, ready to use!
How to Use Vetiver Hydrosol
Face mist: Pour some vetiver hydrosol in a portable fine mist spray and use it to spray on your face for a cooling and refreshing effect. You can also use this spray as a toner and to set your make-up.
Hair rinse: Vetiver has long been used in East Asian civilizations for promoting long, strong and thick hair. After shampooing your hair with a mild sulfate-free shampoo, rinse it by slowly pouring vetiver hydrosol all over your hair strands.
Diffuse: Diffusing vetiver hydrosol is one of the best ways to scent your air and enjoy the mental healing properties of vetiver. It helps release tension, anxiety and panic attacks. It also relaxes the brain and helps prevent brain degenerative diseases like Alzheimer's and Dementia.
For more ideas on how to use vetiver hydrosol, read: 25 Ways to Use Hydrosols