Diffusing essential oils in your office is an exciting way to boost productivity, improve your mood, refresh your mind and make the place smell pleasant.  By using some essential oil diffuser blends for the office, you can improve your office experience in many different ways.
Essential oils have popularly known for having concentrated aromas with therapeutic properties. There are several ways of benefit from their therapeutic aromas: you can smell the oils directly out of the bottle or drop them onto a cotton ball and keep it near you. But the best way to smell essential oils is by diffusing them.
In the office, diffusing essential oils helps in a variety of ways including:
Improving productivity
Increasing focus and concentration
Boosting your mood
De-cluttering your mind
Fighting stress
Relieving headaches
Helping with anxiety
and others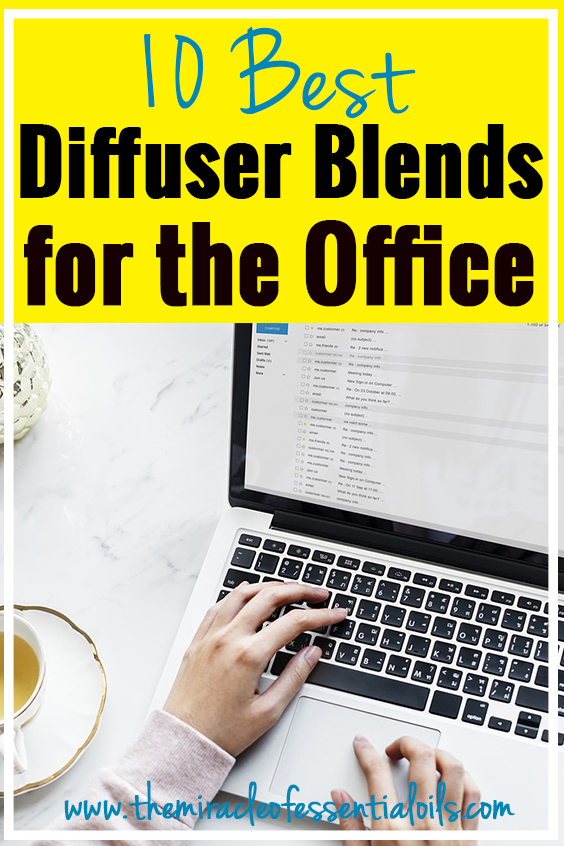 Top 5 Best Essential Oils for the Office 
Before we take a look at some excellent essential oil diffuser blends for the office, let's have a look at some of the best single essential oils to diffuse in your office: 
1. Rosemary Essential Oil
Scholars in ancient Greece actually used to hang rosemary wreaths on their doors. The sharp fresh and herbal scent of rosemary filled the air as they studied. This scent clears the mind and improves focus. Diffuse rosemary when you need to focus and complete a task effectively. It also boosts memory.
2. Peppermint Essential Oil
Peppermint is refreshing and energizing. Diffusing it clears the airways and promotes deep breathing. It helps you wake up in the morning so it's perfect to diffuse in the morning when you need that extra boost to get going!
3. Lemon Essential Oil
Lemon is one of the best essential oils to diffuse in the office. It has a fruity lemon scent that instantly boosts mood. It's good for getting rid of clutter in your mind and improving focus and concentration.
4. Bergamot Essential Oil 
Want to relieve anxiety, panic and jitteriness? It's time to get your hands on bergamot oil, a sharp citrusy scented oil that helps give focus and clarity. Diffusing bergamot will also help elevate a dull mood.
5. Lavender Essential Oil
Lavender is calming and relaxing. It helps relieve tension, stress and fatigue. You can diffuse this oil to help calm your mind, get rid of anxiety and relax your body as you go through your tasks for the day.
Other Great Essential Oils for the Office 
Cedarwood Essential Oil
Frankincense Essential Oil
Lemongrass Essential Oil
Wild Orange Essential Oil
Grapefruit Essential Oil
Important Notes:
Remember, if you're working in a shared/open office space, you should check with your colleagues and your supervisor before diffusing essential oils. Some people have allergic reactions to essential oil scents, which may be overpowering for them and cause headaches.
Also, please make sure the office you're going to diffuse the essential oils in is well-ventilated.
For a shared office space, a handy tip is to place the diffuser in a central location so the aroma can diffuse evenly.
If you're working on your laptop in the office, you can get yourself a USB essential oil diffuser!
10 Essential Oil Diffuser Blends for the Office 
Below are 10 essential oil diffuser blends you can use in the office:
1. Citrus Clarity 
 1 drop lemon
1 drop grapefruit
1 drop lime
1 drop wild orange
 2. Let's Focus 
 5 drops cedarwood
4 drops lemon
2 drops rosemary
3. Headache Relief 
 3 drops lavender
3 drops peppermint
3 drops lemongrass
4. Monday Motivation
 2 drops grapefruit
1 drop wild orange
1 drop lemon
1 drop lime
5. Productivity Booster
5 drops wild orange
3 drops peppermint
2 drops lemongrass
6. Get Some Work Done 
 4 drops bergamot
3 drops lavender
2 drops ylang ylang
1 drop patchouli
7. Energize 
2 drops peppermint
2 drops rosemary
2 drops lemon
8. Take a Break Blend 
3 drops bergamot
2 drops frankincense
2 drops lavender
9. Stress Buster 
3 drops bergamot
2 drops geranium
1 drop ginger
10. Mood Booster 
2 drops wild orange
2 drops ylang ylang
2 drops lavender
Where To Get A High Quality Diffuser
It's worth it to have a high quality diffuser to diffuse essential oils. This Smiley Daisy Essential Oil Diffuser, Quite Cool Mist Humidifier, 350 ml has been around for a long while and has great reviews. Smiley Daisy is a cold air diffuser, as well as a humidifier, which is great because it releases moisture into the air and is helpful in providing relief for dry skin, dry throat and cold and flu symptoms such as irritated nasal passages and more. Order below:
Don't Miss: More Essential Oil Diffuser Blends
What are some of your favorite essential oil diffuser blends for the office? Let me know in the comments below!