Find out what bergamot hydrosol is, how to use it, bergamot hydrosol benefits, tips and more!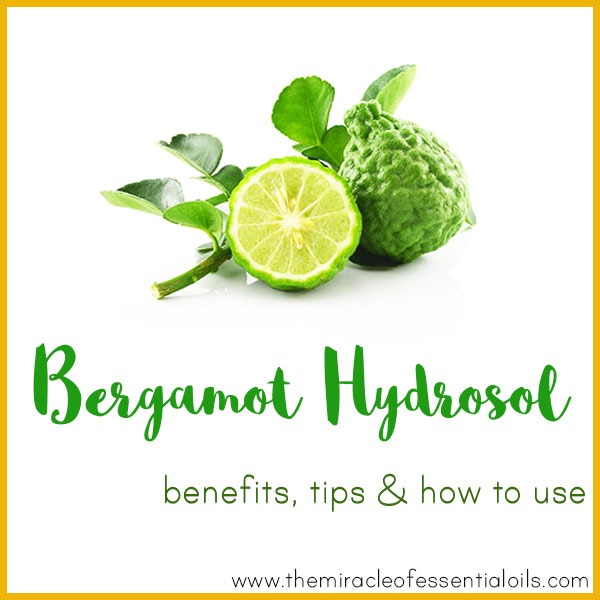 What is Bergamot Hydrosol?
Bergamot (Citrus bergamia) is a green colored, fragrant citrus fruit roughly the size of an orange. It has a thick, bumpy rind. The juice of bergamot is more bitter than sour, resembling that of grapefruit more than lemon.
Bergamot hydrosol is the by-product of the steam distillation method from which bergamot essential oil is produced.
The rinds of bergamot contain essential oils, which are released via steam distillation. During this process, the essential oil within the rind are carried within water vapor and transported to the condensation chamber. The essential oil is then separated from the water (distillate). This resulting distillate is known as bergamot hydrosol.
Note: Wild Bergamot hydrosol, otherwise known as Bee Balm flower hydrosol is different from what is commonly refered to as bergamot hydrosol. To distinguish the two, please note that Wild Bergamot hydrosol has the scientific name "Monarda fistulosa". To find out more about Wild Bergamot/Bee Balm hydrosol, read: Benefits of Wild Bergamot Hydrosol/ Bee Balm Flower Water
Benefits of Bergamot Hydrosol
Here are some of the benefits of bergamot hydrosol:
Analgesic : Bergamot hydrosol has strong pain relieving compounds that make it an excellent analgesic.
Anti-inflammatory: The anti-inflammatory properties of bergamot hydrosol make it beneficial for reducing swelling, redness and rash.
Antimicrobial & Disinfectant: Contains antimicrobial, antibacterial and antifungal compounds; is a potent disinfectant, helpful in cleaning wounds and preventing infections
Deodorant: Highly aromatic, helps in neutralizing odors, infuses fresh citrus scent
How to Use Bergamot Hydrosol
Body Mist : Simply transfer bergamot hydrosol into a spray bottle and spritz all over your body for a cooling and refreshing body mist.
Room Freshener : Bergamot hydrosol makes a great room freshener that is safe and non-toxic, unlike commercial air fresheners.
Green Cleaning : Citrus hydrosols like bergamot are among the best for green cleaning. Its antibacterial and disinfectant properties make it a hygiene-booster. Its refreshing scent neutralizers odors. Bergamot hydrosol also cuts through grime and grease.
Skin Toner : Bergamot hydrosol makes a wonderful facial toner, especially for oily skin. It also works great on combination skin. Bergamot hydrosol is very helpful for those suffering from acne.
For more ideas on how to use bergamot hydrosol, read: 25 Ways to Use Hydrosols
Is Bergamot Hydrosol Phototoxic?
All cold-pressed citrus essential oils are phototoxic to various degrees. Lime essential oil is extremely photosensitive while grapefruit is slightly less phototoxic.
The amazing thing about citrus hydrosols like bergamot hydrosol is that they can be enjoyed without having to worry about phototoxicity at all!
Where to Buy Bergamot Hydrosol