Find out what cinnamon hydrosol is, how to use it, the many cinnamon hydrosol benefits, tips and guidelines!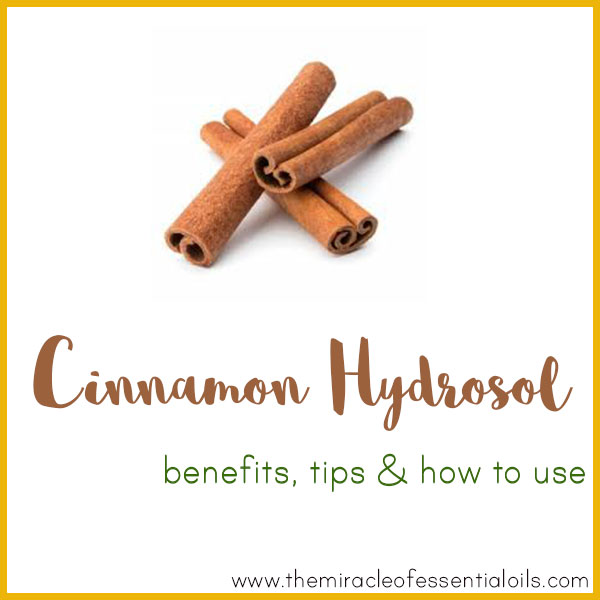 What is Cinnamon Hydrosol?
Cinnamon (Cinnamomum zeylanicum) hydrosol is harvested from the bark of cinnamon during the essential oil distillation process. Cinnamon hydrosol can also be extracted from the leaves of the cinnamon tree.
The aroma of cinnamon hydrosol is sweet, spicy but not hot to taste.
Benefits of Cinnamon Hydrosol
Here are some of the benefits of cinnamon hydrosol:
Digestive: Cinnamon hydrosol is a potent digestive aid and can be taken as a tonic to soothe an upset tummy and aid digestion.
Food Flavoring: Popularly used in food flavoring, cinnamon hydrosol can be added to various sweet and savory dishes, as well as drinks.
Mental Focus & Concentration: The scent of cinnamon hydrosol can stimulate the mind, and improve mental focus and concentration. This can be particularly helpful during studying, long road travels and in memorization.
How to Use Cinnamon Hydrosol
Flavor your coffee or tea : Did you know cinnamon boost metabolism and helps with weight loss? Add a splash of cinnamon hydrosol to your tea or coffee for a fragrant and warming beverage.
Green cleaning : Make use of cinnamon's potent antimicrobial and disinfectant properties by spraying dirty kitchen countertops, bathroom surfaces and sinks/faucets; and wiping them down with a microfiber cloth.
Digestive Tonic : Cinnamon hydrosol makes a wonderful digestive aid. It helps relieve gas and bloating. It is also helpful for colic. Add 5 – 10 drops of hydrosol in a teaspoon of breast milk for babies suffering from colic.
Festive Scent: There's nothing that screams fall/autumn like cinnamon does! With cinnamon-flavored everything taking over the world during the festive season, use cinnamon hydrosol as spray to freshen your rooms and more!
For more ideas on how to use cinnamon hydrosol, read: 25 Ways to Use Hydrosols
Can You Use Cinnamon Hydrosol on Your Face?
Most sources recommend avoiding the use cinnamon oil and cinnamon hydrosol . This is because cinnamon bark oil is sometimes a dermal irritant. It may cause irritation, redness or rash when applied on the skin. This is especially true for those with sensitive skin.
Avoid directly spraying cinnamon hydrosol on the face.
You can use cinnamon hydrosol in your skin care by diluting it with other hydrosols or in other liquids such as water, milk or herbal teas.
Where to Buy Cinnamon Hydrosol
Buy an 250 ml bottle of 100% pure and organic cinnamon hydrosol here.