Do you sneeze like crazy whenever you clean your house? You might be allergic to conventional cleaners and detergents. Learn how to make a DIY essential oil all purpose cleaner for allergenic free green cleaning!
What is An All-Purpose Cleaner?
Just like its name states, an all-purpose cleaner is a liquid cleaning agent that can be used to clean almost anything. It can be used in the kitchen, bathroom, floor, surfaces, windows, glass doors and more. It basically removes grime, dirt and stains from any surface.
How do Essential Oils Help in an All-Purpose Cleaner
Essential oils are powerful substances made up of hundreds of natural chemicals. What makes them good for cleaning? Here's a list of benefits of essential oils as green cleaning agents:
They are all natural and non-toxic
Have strong cleaning action
Kills germs, bacteria and microbes
Remove dirt and grime
Break down grease and oils from surfaces
Help loosen hard stains
Have pleasant scents
Leave surfaces shiny
And more!
Okay, now let's move on to the DIY essential oil all-purpose cleaner:
DIY Essential Oil All-Purpose Cleaner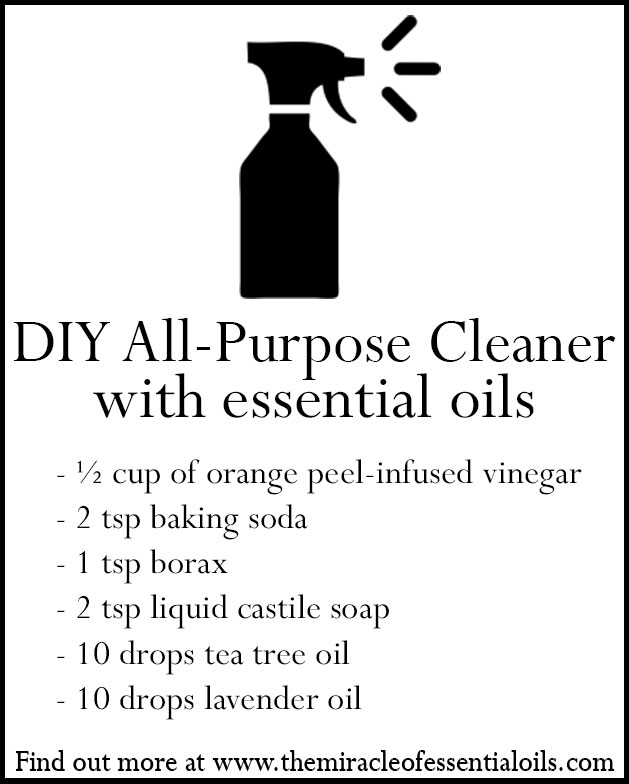 What you Need
Method
First make your orange peel-infused vinegar. Do this by combining dried orange peels in a mason jar then pour white vinegar over it. Let it sit for 2-3 weeks to infuse. Replace the peels every 3 months.
Now pour ½ cup of orange peel-infused vinegar into an empty spray bottle.
Add 1 tsp borax, 2 tsp baking soda and 2 tsp liquid castile soap into the bottle and shake well to mix.
That's it! Your DIY essential oil all-purpose cleaner is ready! Store in a cool dry place.
To use, spray onto the surface, let it sit for a couple of minutes then wipe off with a microfiber cloth.
Say hello to squeaky clean and shiny surfaces!
Caution
Keep this DIY essential oil all-purpose cleaner away from children and pets.
If you're new to essential oils, please first read Caution & Safety Information when Using Essential Oils