Looking for a DIY Essential Oil Blend for Cellulitis? Here is a very effective recipe you can try.
What is Cellulitis?
Cellulitis is a secondary bacterial infection of the skin. It is a common and potentially serious condition. Cellulitis appears as a swollen, red area of skin that feels hot and tender to the touch. It can spread rapidly to other parts of the body and can go deeper into the skin reaching the tissues, blood stream, lymphatic system and more. When it spreads deeper and rapidly like this, it turns into a life-threatening condition.
The most common area affected by cellulitis is the lower leg though it can affect other body parts including the face. Cellulitis is caused when bacteria, most commonly streptococcus and staphylococcus, enter through the skin through a cut, wound or disrupted area of skin. Bacteria can also enter through areas of dry flaky or swollen skin. Some of the most susceptible ways bacteria can enter the skin is through an ulcer, puncture wounds, athlete's foot, dermatitis, recent surgery areas, etc.
Among the signs and symptoms of cellulitis include:
Red inflamed area of skin that tends to expand
Swelling and tenderness
Pain
Warmth
Fever
Red spots and blisters
Skin dimpling
And more
How Can Essential Oils Help Cellulitis?
Essential oils are immensely helpful when it comes to naturally managing cellulitis. You can read a list of effective essential oils for cellulitis here: Top 15 Essential Oils for Cellulitis
These essential oils have powerful antimicrobial, antibacterial, antiseptic, anti-inflammatory, analgesic properties and more that help soothe skin, fight off infection and promote quick healing.
DIY Essential Oil Blend for Cellulitis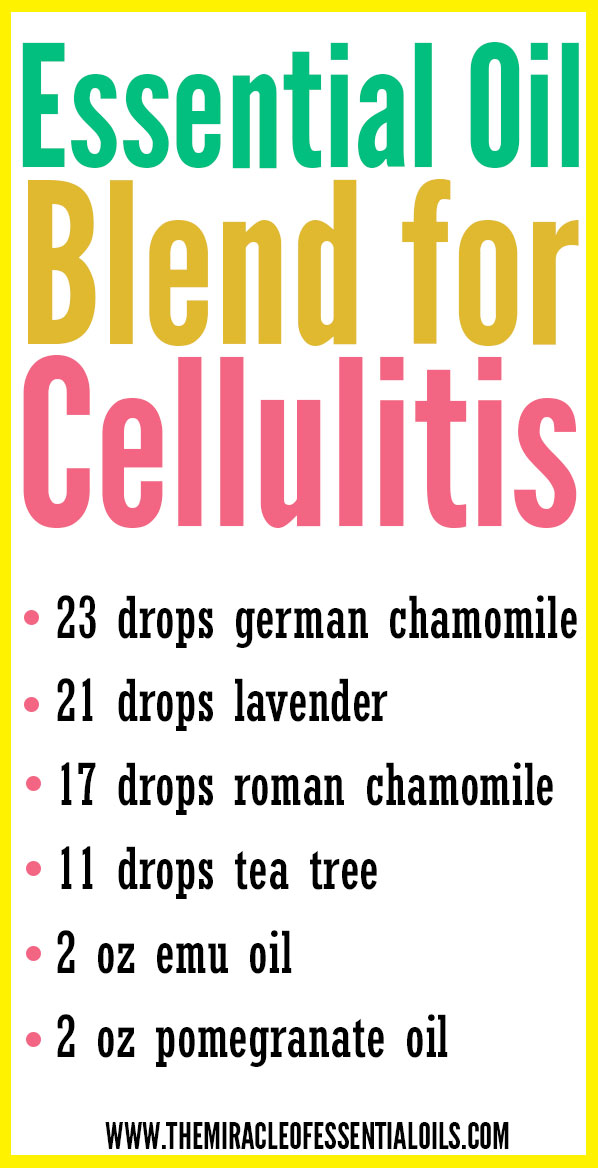 What you need:
2 oz emu oil
2 oz pomegranate seed oil
23 drops of german chamomile oil
21 drops of lavender oil
17 drops of roman chamomile oil
11 drops tea tree oil
Small funnel
4 oz amber glass dropper bottle
Directions:
Using a small funnel, pour 2 oz emu oil and 2 oz pomegranate seed oil into a 4 oz amber glass dropper.
Carefully pour all your essential oil drops. Now tightly screw on the cap and tip the bottle back and forth to mix up everything evenly.
Your DIY essential oil blend for cellulitis is now ready for use.
To use, place a few drops (3-4) on your palm, rub both palms together and apply gently on the affected areas for a minute or two. Wash your hands thoroughly afterwards.
If you have blisters, then apply a few drops using a clean cotton ball.
Caution
It's important to identify and treat cellulitis in its early stages before it has a chance to rapidly spread to other parts of your body. If you suspect you have cellulitis, please seek medical help immediately. You can use the DIY Essential Oil Blend for Cellulitis above after you see a doctor, in conjunction with conventional treatment. If you regularly suffer from cellulitis due to diabetes or a compromised immune system, this blend can be very useful for you to promote quick healing and continued recovery.
If you're new to essential oils, please read Caution & Safety when Using Essential Oils

Do you have a good essential oil blend for cellulitis? Which other home remedies do you use for natural treatment?