Find soothing relief fast using this DIY Essential Oil Blend for Eczema!
What is Eczema?
In today's world, eczema is a common skin condition that can affect anyone: from babies to adults. Approximately 32 million Americans are estimated to have symptoms of eczema. Worldwide, statistics show that 20% of children and up to 3% of adults are said to suffer from some form of eczema.
Eczema is characterized by dry, itchy, scaly, red and inflamed rough patches of skin anywhere on the body. It can be mild, moderate or severe. Mild eczema usually doesn't cause any disturbance and normally sorts itself out. But moderate and severe eczema is challenging to manage. If you want to go the natural way, avoiding chemicals on your skin, you'll find essential oils very helpful.
How Can Essential Oils Help Eczema?
Obtained from aromatic parts of plants, essential oils are highly concentrated liquid plant extracts. They contain strong anti-inflammatory properties that reduce inflammation in eczema patches. Most essential oils such as frankincense, lavender and chamomile are soothing in nature and calm down irritated eczema skin.
Essential oils also have quick wound healing properties helpful for weeping eczema that bleeds. Not to mention, they contain powerful antibacterial properties that keep eczema patches protected from germs that can cause infection. Some of the top essential oils for eczema include:
You can find out more in our article: Essential Oils for Severe Eczema
DIY Essential Oil Blend for Eczema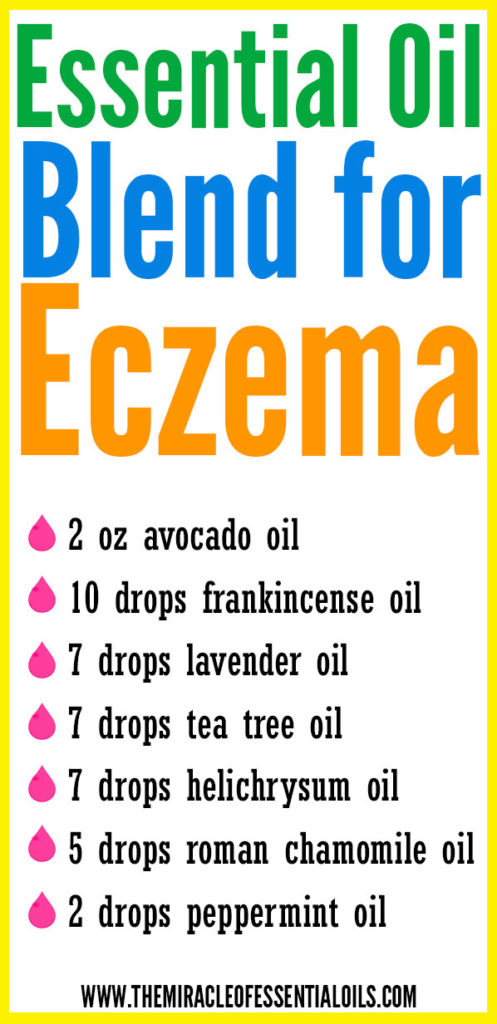 What you need:
2 oz avocado oil
10 drops frankincense oil
7 drops lavender oil
7 drops tea tree oil
7 drops helichrysum oil
5 drops roman chamomile oil
2 drops peppermint oil
Small funnel
2 oz amber glass dropper bottle
Directions:
Fill a 2 oz amber glass dropper bottle almost to the top with avocado oil. Use the help of a funnel to avoid spillage.
Next carefully drop all the essential oils required.
Tightly screw on the bottle's cap and shake it well until all oils are well mixed.
Your DIY Essential Oil Blend for Eczema is ready!
Gently apply it onto your eczema patches up to 4 times a day to speed up healing. If you apply the blend when your skin is damp, it can help soften the dry flaky skin.
Caution
This DIY Essential Oil Blend for Eczema is very effective at naturally treating eczema patches. Give it a go and let us know if it helped!