Grow back your gums and promote healthy oral care using this DIY Essential Oil Blend for Receding Gums!
What are Receding Gums?
Receding gums are also known as gingival recession. It refers to the loss of gum tissue which ends up exposing the roots of the teeth. Receding gums can also occur due to the edge of the gums, called the gingival margin, retracting and eventually detaching from the crown of the tooth.
One of the main pointers of gum disease is receding gums. The problem should be immediately seen to by a medical professional to prevent further deterioration of the gum.
If you have receding gums, natural remedies, a healthy lifestyle and balanced diet can help check the worsening of your gums. You can actually grow back your gums when you eat nourishing foods, use natural remedies and quit smoking & drinking alcohol.
Make sure to also visit a qualified dentist to help you get proper diagnosis and treatment. Essential oils are a natural remedy that you can use alongside conventional treatments to support healthy re-growth of gums.
How Can Essential Oils Help Receding Gums
Essential oils are powerful liquid plant extracts. They have amazing therapeutic properties that make them one of Nature's most powerful healing substances. Essential oils help support healthy oral care. They have strong anti-inflammatory properties that reduce inflammation in the gums, antibacterial properties that destroy cavity causing bacteria and analgesic properties to fight tooth/gum pain. Some of the best essential oils for receding gums include:
Frankincense oil
Clove oil
Peppermint oil
Tea tree oil
Yarrow oil
Lemon oil
Sage oil
You can read more in this comprehensive article: Grow Back Gums with Essential Oils for Receding Gums
DIY Essential Oil Blend for Receding Gums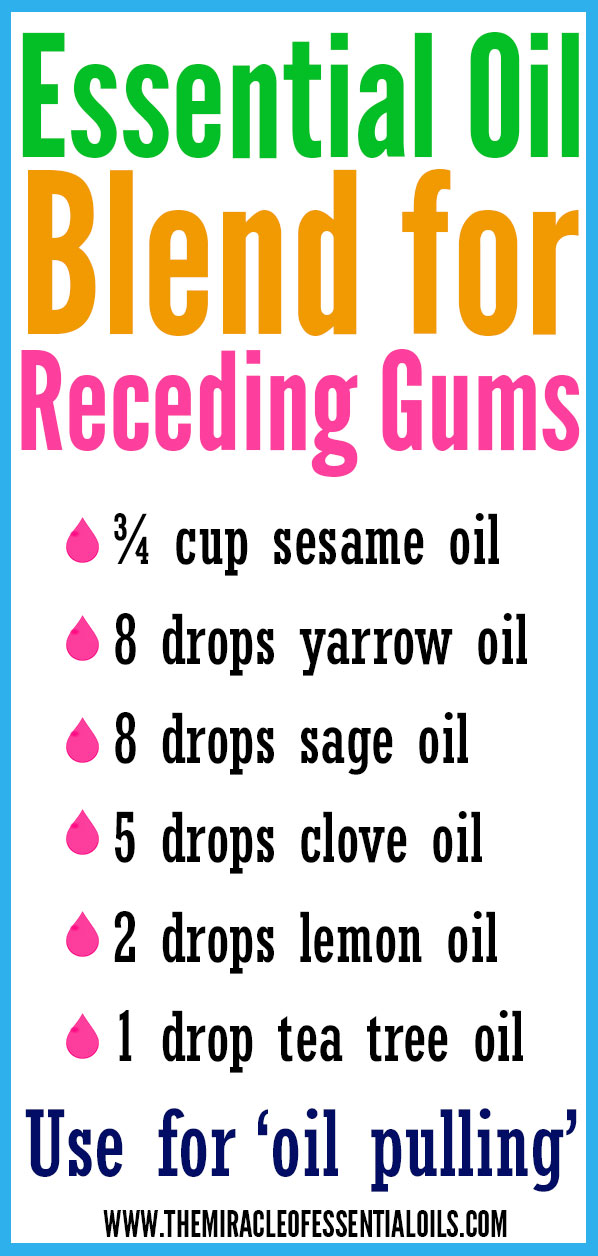 What you need:
¾ cup cold pressed sesame oil
8 drops yarrow oil
8 drops sage oil
5 drops clove oil
2 drops lemon oil
1 drop tea tree oil
Funnel
8 oz amber bottle for storage
Directions:
Using a funnel, pour ¾ cup of cold pressed sesame oil into a 8 oz amber bottle.
Next, carefully drop all your essential oils into the bottle.
Screw on the cap tightly and shake the bottle gently to combine all ingredients.
Fini! Your DIY Essential Oil Blend for Receding Gums is ready! You're going to use this blend for Oil Pulling: Simply measure out 1 tbsp of the blend and swish and suck it between your teeth for up to 20 minutes then spit it out in the toilet or sink. If you're a beginner, you can use just 2 tsp and swish for 10 minutes. Do this every morning when you wake up, on an empty stomach before brushing your teeth.
Oil Pulling is an ancient holistic practice of swishing 1 tbsp of pure vegetable oil in your mouth for up to 20 minutes. This practice is touted as a remedy for many health ailments including teeth & gum problems, digestive problems and more! Read more about it here: Oil Pulling with Essential Oils | Benefits, How-to & More!
Caution
If you're new to essential oils, please read Caution & Safety when Using Essential Oils

This is a powerful DIY Essential Oil Blend for Receding Gums. Please use it every morning without fail to see amazing results!