Make your own essential oil hand sanitizer spray that's non-toxic, kid safe and very effective!
Hand sanitizer is a must-have when you're out traveling especially for picnics with the kids. Kids can get their hands dirty instantly especially when you're outdoors and there's no tap nearby to scrub them clean!
You can buy a cheap hand sanitizer at the store but it's filled with chemicals and toxic ingredients. And the artificial chemical smell always gets to me! One of my biggest pet peeves is using stuff that smells artificial and plastic-y!
Fortunately, you can make your own hand sanitizer that contains non-toxic natural ingredients including nice smelling essential oils. I have a quick and easy recipe here on the website.
The recipe below is one for an essential oil hand sanitizer spray because who doesn't love a quick refreshing spray that gets your hands squeaky clean?!
Now on to the ingredients!
Ingredients Used

This spray uses just 3 ingredients and these are:
Witch hazel – It's a natural astringent that is obtained from the bark and leaves of Hamamelis virginiana or the witch hazel shrub native to North America. Native American Indians knew of the medicinal properties of this herb since long ago and used it to prepare treatments for various skin conditions. Since it's an astringent, it tightens skin and shrinks pores which prevents excess sebum from being secreted. It also removes dirt and excess oiliness from skin.
Tea tree oil – Another aboriginal discovery, tea tree oil was used by Native Australians as healing skin treatments. It's a powerful antiseptic that destroys germs and bacteria. This makes it a good addition to this essential oil hand sanitizer spray. It also has a strong medicinal scent that makes your hands really feel fresh and clean!
Lemon oil – Lemon oil also kills germs with its antibacterial properties. It also has a refreshing citrus scent that's said to uplift moods.
DIY Essential Oil Hand Sanitizer Spray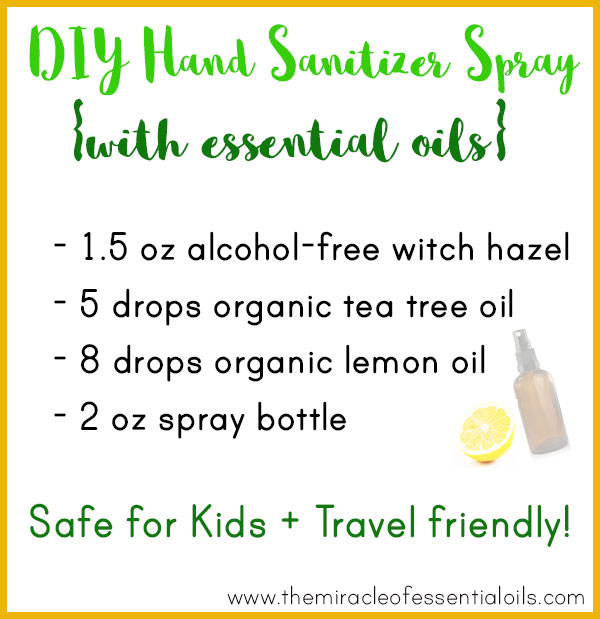 What you need
Method
Add the witch hazel and essential oils to the spray bottle.
Close the cap tightly and shake well to combine the ingredients.
That's it! Your essential oil hand sanitizer spray is ready!
Store in a cool dry place and shake well before each use.
Caution
Before using essential oils, please read Caution & Safety when using Essential Oils.
Keep this essential oil hand sanitizer spray out of the reach of children and pets.
Spray carefully away from the face, especially the eyes.