Ticks are dangerous insects! Tick borne diseases like Lyme disease can make you wish you never existed. Learn how to prevent the pesky ticks forever with this DIY essential oil tick repellent spray!
If you live in a tick-infested area, or it's summer and all the ticks have come out to enjoy your tasty blood, then please make this DIY essential oil tick repellent ASAP. Prevention is much better than cure!
Ticks can latch onto your skin for hours and even days. The tick that spreads Lyme disease actually has to be latched on for 24 hours before it transmits the Lyme disease bacteria. So every time you come from outside, it's better to thoroughly check your children in the bathroom. I'm telling you those dangerous bugs can be super tiny that you easily miss them. You might even need a magnifying glass.
To prevent ticks from ever coming near you and your children, make this tick repellent spray. It contains vinegar so it's a bit stinky but trust me, it's a WHOLE lot better than getting sick with Lyme or any other tick borne disease.
DIY Essential Oil Tick Repellent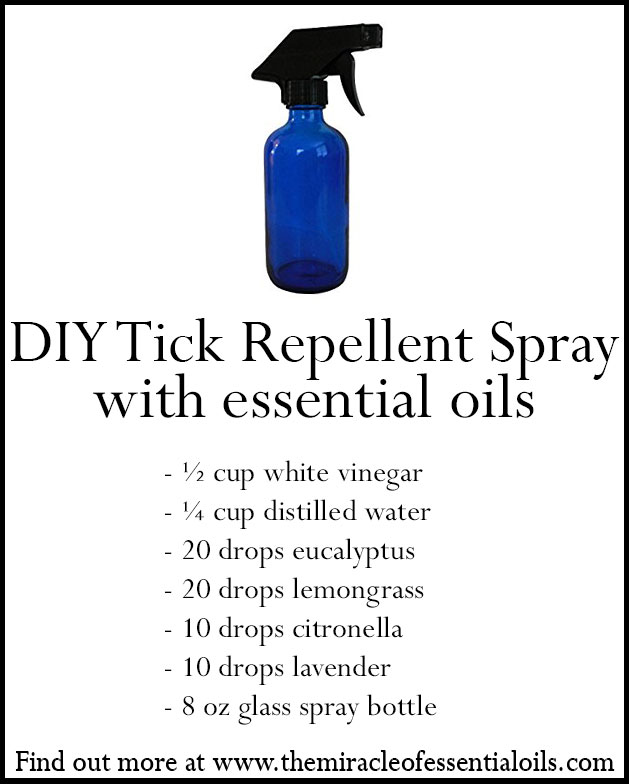 Note: It's safe to be used on clothes, skin and dogs.
For children, please dilute it more by adding an extra ½ cup of vinegar and ¼ cup of distilled water or just halve the essential oil drops. Make sure your kids are not allergic to any of the essential oils. Please read Essential Oils and Children – What is Safe & What is Not? for more information.
What you Need
Method
Pour distilled water and white vinegar into a clean and empty spray bottle.
Add the essential oils, drop by drop.
Shake well to combine.
Spray on clothes, dogs, your belongings and the air around you.
Caution
Before using this DIY essential oil tick repellent, do a patch test on your inner elbow for 30 – 60 minutes. If you notice any negative reactions, do not use on your skin. You may spray it in the surrounding air, clothing and your property.
Consult with a naturopathy doctor before using essential oils, especially on children.
Keep this tick repellent away from children and pets.
If you're new to essential oils, please first read Caution & Safety Information when Using Essential Oils