A great way to use essential oils is through steam inhalation. In this post, I show you how to do a DIY facial steaming with essential oils!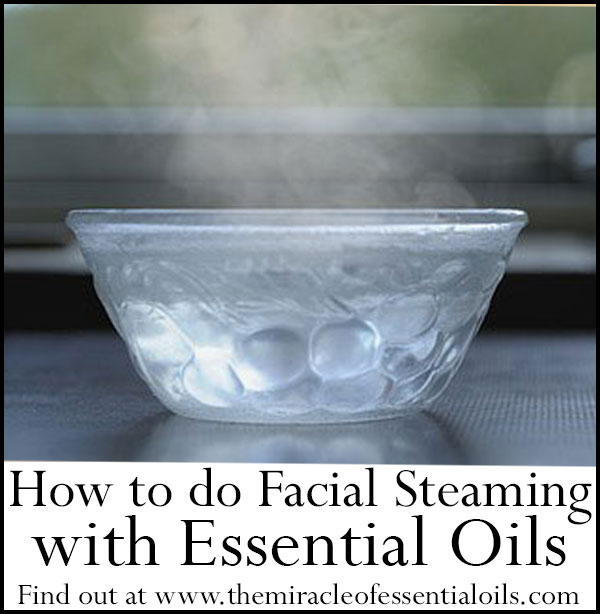 Facial steaming is an ancient practice that dates back to Ancient Egyptian times. As a child, I remember my mom having a facial steam device where you placed your face over it so steam could work its magic on it. That device still exists even now but it was so popular in the 80's and 90's. You could add herbs to it and steam.
But something quicker, easier and much more potent than herbs is essential oils!
Today, you can quickly do your own facial steaming with essential oils! Ever since I discovered essential oils, I've been using them to facial steam. It has so many benefits to offer:
Benefits of Facial Steaming with Essential Oils
Deep cleanses and purifies pores
Removes dirt and grime
Reduces puffy face
Brightens facial skin
Fades blemishes
Treats acne
Heals eye infections including pink eye
Reduces ear infections and earaches
Unblocks clogged sinuses
Relieves nasal congestion
Soothes sore throat
Alleviates allergies
Cures colds
And more!
What a whole lot of exciting benefits, right?! That's why you need to do a DIY facial steaming with essential oils ASAP!
Here's how to go about it
DIY Facial Steaming with Essential Oils
Note: You can use facial steaming with essential oils for kids but please be cautious with which oils you use and how many drops to add. I think 1 drop would be sufficient.
Do not use facial steaming for kids under 7, they might scald themselves with the hot water. Instead, give them warm baths with essential oils: mix 5 drops of essential oil in 2 tbsp of coconut oil then add it to their baths. Read more: Essential Oils and Children – What is Safe and What is Not?
What you Need
3 cups water
Large heat proof bowl
A stainless-steel pot & heat source
1 – 3 drops of essential oil
A towel
Method
Pour 3 cups of water into a stainless-steel pot and place it on the stovetop to boil.
Once it has boiled and is very steamy, remove from heat.
Gently place it on a table over a place mat.
Now sit right in front of the pot, with your face directly over the steam.
Place the towel over your head and cover the pot with it to create a tent.
Stay in the tent with the steam hitting your face for about 10 – 15 minutes.
If it gets very hot and steamy, you can come out for a breath of fresh air.
When the time is up, your face should be dripping with water.
Wash your face thoroughly with cold water.
Tone and moisturize.
Which Essential Oils to Use
Tips
If you're doing facial steaming for an eye infection, use tea tree oil and keep your eyes wide open so the essential oil-infused steam reaches it. I did this four times a day for my itchy viral eye infection and it cured!
For earache or ear infection, turn your head to the side so the steam reaches within your infected ear.
Caution

If you're new to essential oils, please read Caution & Safety Information when Using Essential Oils