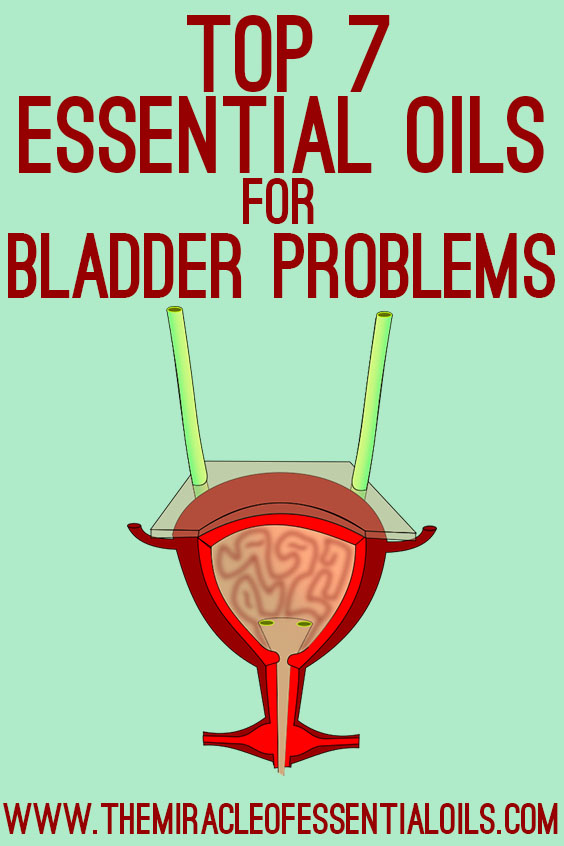 Without a doubt, bladder problems are one of the most excruciating problems that can affect your body in numerous ways. Our bladder controls one of the most crucial functions in the body, which is excreting the waste materials in the form of urine, out of the body. There are many natural remedies for bladder issues. For one, you can try essential oils for bladder problems, for effective relief at home.
Nowadays bladder problems are quite common among us yet is still one of the least discussed health issues. My own grandfather dealt with bladder problems last year, where he was passing blood through his urine – and yet, he never informed any of us. It wasn't until he was finally rushed to the emergency room that we came to know that he was facing bladder problems for over 6 months! It is recommended that you visit your doctor at any symptom of pain related to the bladder. Let's have a look at the causes and symptoms of bladder problems, before we dive into the most helpful essential oils for bladder problems.
What Are Causes of Bladder Problems
Bladder problems can occur due to wide range of things and there are large numbers of treatments available. What you must know before taking these treatments is that not all treatments can help you treat the problem from the roots. But using essential oils for bladder problems will surely help you experience some signs of improvement. Before you start the treatment, it is really important to understand what causes bladder problems. Some of the causes of bladder problems include:
• Skin Irritation
• Lack of sleep
• Sexual problems
• Infection
• Low self-esteem
• Physical trauma
• Medication or genetics
• Psychological issues
Do You Have Bladder Problems? These are the Symptoms to Watch Out For:
Bladder problems aren't only found in older people. People of all ages can find themselves with bladder issues. In some cases, it can become a challenge to control the bladder. This sometimes also results in incontinence. Another common bladder problem is Overactive Bladder Syndrome (OAB), where you always feel a frequent urge to urinate.  So before it is too late, recognize the signs and symptoms of bladder problems, including bladder infection and Urinary Tract Infection. Some of the common symptoms of bladder troubles include:
• Pain while urination
• Frequent urge to urinate
• Foul-smell of urine
• Bloody or cloudy urine
• A frequent urge to urinate also known as urgency
• Cramping in the lower abdomen and lower back
Top 7 Essential Oils for Bladder Problem
Essential oils serve as a useful remedy to treat this problem. Have a look at some of the best essential oils for bladder problems:
1. Cypress Essential Oil
Cypress oil can do wonders for bladder problems. It has potent astringent and vaso-constricting properties, which help in tightening of your skin and tissue in the bladder region and reduce the problems associated with the bladder.
Tip: You can use 15 drops of cypress oil along with grapeseed carrier oil, put it in a roller ball-bottle and gently massage over your lower abdomen area.
2. Lavender Oil
Lavender is also a vital essential oil for bladder problems. This oil has remarkable calming and relaxing qualities which help to manage the stress and thus soothing your bladder problem. It also treats nocturia which is a bladder problem experienced explicitly in the night time.
Tip: Add 15 drops of lavender oil in 2-4 tablespoons of coconut oil and gently rub over your lower abdomen to get relieved from bladder problems.
3. Ylang-Ylang Essential Oil
In East Asia, locals have been using ylang ylang oil for ages for treating health issues such as bladder problems. Ylang ylang has remarkable nervine and sedative properties. It helps to relax your bladder and control frequent urges to urinate.
Tip: You can use 15 drops ylang-ylang oil essential oil along with 2 TBSP jojoba or almond carrier oil. Rub it over your lower abdomen to treat bladder problem.
4. Clary Sage Essential Oil
Clary sage essential oil is an excellent choice to manage OAB because of its calming and stress relieving properties. A recent study has concluded that it is a more powerful essential oil in treating urinary bladder problems than lavender oil.
5. Pumpkin Seed Oil
You may have heard an old folk tale that eating pumpkin seeds frequently solves your urinary incontinence. A recent publication in the Journal of Traditional and Contemporary medicine (2014) has established that pumpkin seed oil can positively treat urinary bladder problems. As pumpkin seed oil is not as concentrated as essential oils, it can be safely consumed.
Tip: Take 5 ml of pumpkin seed oil twice a day for bladder issues and overall health.
6. Geranium Oil
Geranium essential oil is also a perfect choice to treat Overactive Bladder (OAB). It is a noted anti-depressant, antiseptic and aromatic essential oil, which helps in managing urinary bladder problems.
Tip: You can use this essential oil along with coconut oil to offer relief to bladder problems. Simply massage the diluted geranium oil onto your lower abdomen.
7. Lemongrass Oil
Lemongrass oil is highly effective in neutralizing the bacteria that causes a host of urinary bladder infection like S. aureus, B. subtilis, B. cereus, and K. pneumoniae. It can also eliminate the drug-resistant bacteria, which are harder to treat with conventional anti-biotics. Moreover, the aroma of lemongrass oil also calms your body and soothes your mind.

So, these are the top seven essential oils for bladder problems. Overactive bladder syndrome is a widespread disorder found in both men and women. In many cases, this condition results due to diabetes, urinary tract infection or neurological problems. Bladder infections resulting from Urinary Tract Infections (UTI) are also common bladder problems faced across all age groups. Essential oils are beneficial in managing the symptoms of bladder problems.