Boils are skin infections that can be painful, swollen, inflamed and tender as well as induce fever, sore muscles and fatigue. Here are the 9 best essential oils for boils and how you can use them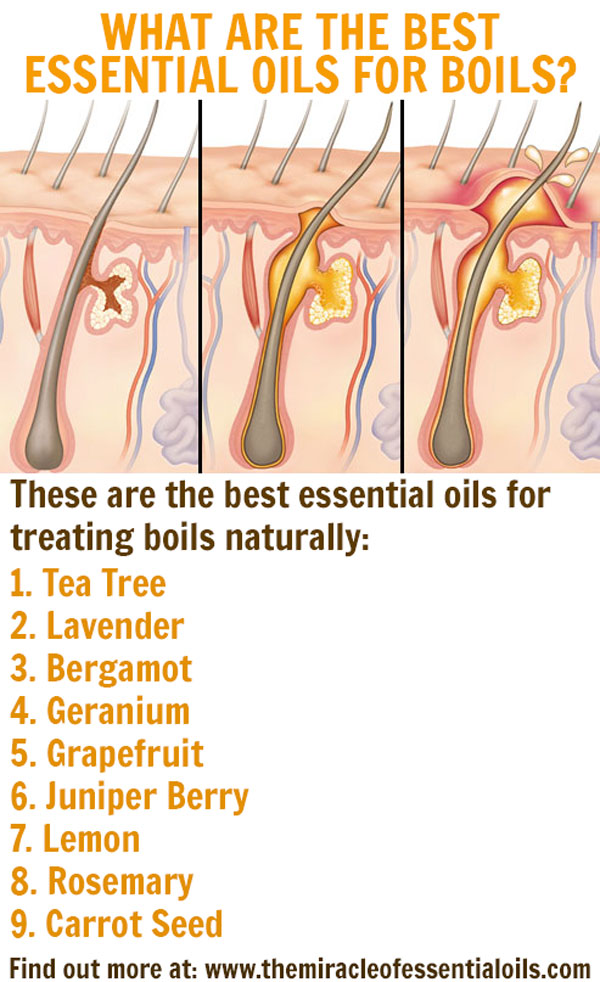 What are Boils?
Also known as furuncles, boils are infections of the hair follicle or deep folliculitis. They are caused by the Staphylococcus bacteria and characterized by a painful swollen and tender bump around a hair follicle on the skin that's brought about by the accumulation of pus and dead tissue. Boils clustered together are called carbuncles and boils that are expanded are pus-filled nodules. Their sizes can range from that of a pea to a golf ball.
When the boil is ready to drain pus, a yellow or white point appears at the center of the boil. Small boils caused by skin infections or conditions that make one over scratch and damage the skin such as bug bites usually go away on their own after the pus is drained but in case of a severe infection, a boil may bring about other symptoms like fever, tiredness and swollen lymph nodes.
How Do Essential Oils Help Boils?
Essential oils are highly concentrated liquid plant extracts that are obtained from steam distillation or mechanical expression of aromatic plant material such as the leaves, roots, fruit rinds, flowers, tree bark and resin.
They are so potent and contain various natural chemical compounds that give them their characteristic scent and therapeutic properties, which include antibacterial, antiseptic, analgesic, anti-infectious, antimicrobial, anti-inflammatory properties.
Essential oils help treat boils by:
Fighting off the Staphylococcus bacteria and infectious pathogens
Reducing swelling and tenderness
Soothing inflammation
Disinfecting the boil
Reducing fever
Strengthening the immune system
Drawing out the boil and speeding up healing
Assisting in detoxification
Reducing fluid retention
Promoting flow of lymph, toxins and wastes to sites of elimination in the body
Research on Essential Oils for Boils
There are several studies that show that essential oils are powerful against the staphylococcus bacteria that cause skin infections including boils. To see the numerous studies, please check this article: 11 Powerful Essential Oils for Staph Infection
9 Best Essential Oils for Boils
How to Use Essential Oils for Boils
Note: Do not pop or burst the boil because this can lead to the infection going deeper into the body. It also causes other boils to form in the surrounding areas since boils are contagious.
1. Disinfecting Spray

What you need
Method
Add the ingredients to a spray bottle and shake well to combine them thoroughly.
Spray onto the boil and surrounding areas then gently dry with paper towels.
2. Detox Clay Paste to Draw Out the Boil

What you need
1 tsp of bentonite clay (where to get it)
1 tsp baking soda (where to get it)
2 drops bergamot
2 drops juniper berry
Enough water to create a paste
Small mixing bowl
Method
Add all ingredients to a small mixing bowl and add just enough water to create a thick non-drippy paste.
Gently and lightly smear the paste on the boil and surrounding area.
Leave it on for at least 15 minutes.
Then gently wash it off with warm water, taking care not to scrub too hard because the pressure will burst the boil.
Essential Oil Safety Information
Before handling essential oils, please read Caution & Safety when Using Essential Oils, especially if you're new to and aroma therapy essential oils.
Please consult your doctor before using essential oils for boils.