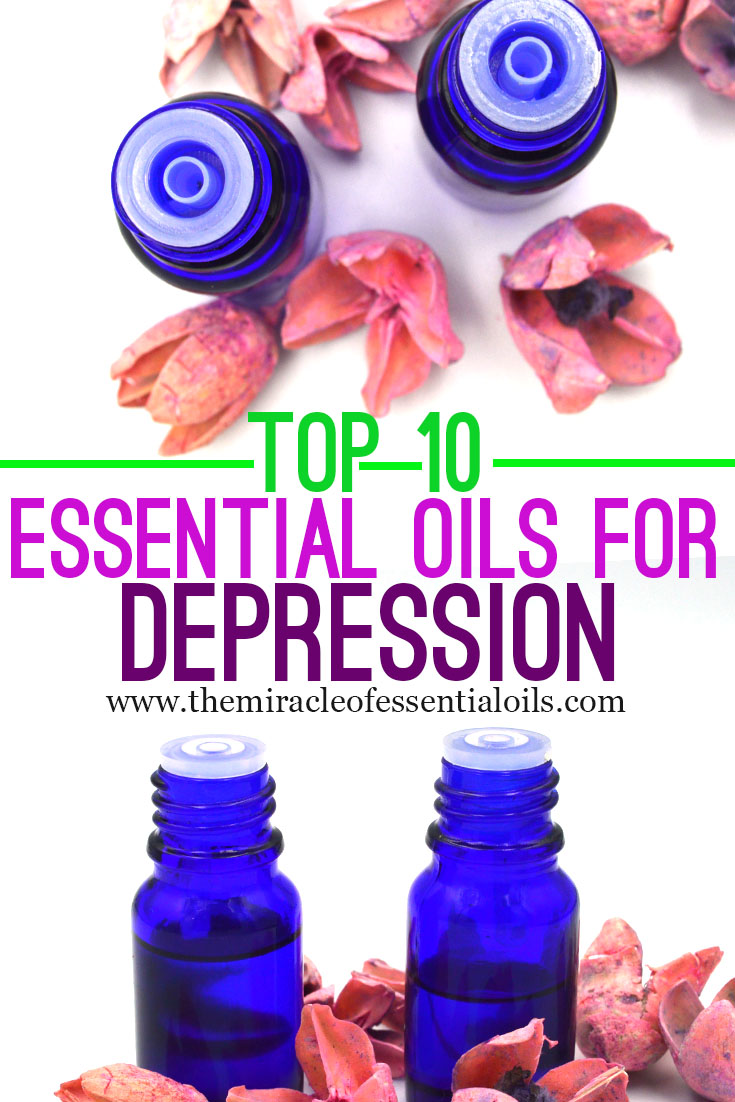 Using Essential Oils for Depression
In this informative article, let us explore the 10 best essential oils for depression and how to use them to become happier from within, naturally!
We've all been there – feeling gloomy & sad due to personal problems, work/school struggles and family & relationship related issues. However, depression is more than just feeling sad once in a while, it's a serious disorder where the individual suffers from chronic & severe symptoms of negativity and hopelessness.
According to latest statistics from the World Health Organization, around 300 million people suffer from depression. It can affect people of all ages and from all walks of life, no matter their culture or background. Some of the symptoms of depression include:
Symptoms of Depression
Changes in appetite & weight – such as decreased eating, lack of appetite or constantly bingeing or overeating. Depressed people can have a change of more than 5% body weight in a month.
Disturbed sleep patterns on a regular basis. Insomnia is one of the major symptoms of depression. Oversleeping or wanting to lay in bed all day without doing anything is also something depressed individuals find themselves doing frequently. Sleep is used to provide an escape to the problems of real life.
Lack of energy/drive to do anything. Depressed individuals lack the motivation to carry out any task. Frequent fatigue and aches all over the body is also a symptom of being severely depressed.
Difficulty making decisions, concentrating & focusing.
Constant thoughts of worthlessness, hopelessness and negativity about one's self/life.
Suicidal thoughts every day
Not enjoying activities/hobbies previously enjoyed by the individual
And others
If you suffer from one or more of these symptoms, then it is highly likely that you are suffering from depression. You should visit a trained psychologist who can counsel you, give you coping techniques to use such as CBT (Cognitive Behavior Therapy), and also provide medication in the form of antidepressants for severe symptoms.
Essential Oils & Depression – How they Work
Antidepressants however, are not an easy way out of depression. In fact, many people however are realizing the negative side effects of antidepressants, such as weight gain, low sex drive, nausea, shakiness, anxiety/panic attacks and even suicidal thoughts & desire to self-harm! Furthermore, when you no longer want to take antidepressants, it's very hard to wean out of them. The 'detox' period can be very harsh & scary as your body tries get back to balancing out 'happy' & 'feel good' hormones: dopamine and serotonin by itself.
That's why, lots of people are now considering alternative remedies to treat depression without the use of commercial antidepressants. One of these remedies is using pure essential oils. These concentrated plant extracts are liquid gold when it comes to holistically healing your body.
Essential oils are scientifically proven to help make you feel happier, improve mood and prevent you from relapsing back into depression. These liquid extracts can affect a number of biological factors in our bodies including heart rate, immune function, stress levels, moods, breathing rates, blood pressure, hunger cravings as so on.
The tiny aroma therapeutic molecules of essential oils can pass through the blood-brain barrier and reach the areas of the brain responsible for controlling moods, pain, pleasure, emotions and behavior, etc. This area is known as the limbic system. Nerves from around the body trigger various impulses that signal the brain to respond to stimuli through emotional responses such as happiness, sadness, fear, anxiety, attraction and others.
These molecules can travel to the brain through the olfactory senses, that is through the nose. The nerve cells in the nose detect smell and triggers an impulse to the brain through the olfactory nerve that is connected to the olfactory bulb. This bulb evaluates the trigger impulse and then transmits information about the smell to the limbic system. The aroma of the essential oils contains various therapeutic properties. For example, lavender essential oil molecules have therapeutic properties of calming and soothing the mind and body. So the limbic system responds by sending signals to the body to calm down and feel relaxed.
That is how powerful the aromas of essential oils are. They directly affect the limbic system which sends instructions to our bodies to react in a certain way. They can calm and relax the body, alleviate anxiety and improve moods which helps directly treat depression.
10 Best Essential Oils for Depression & How to Use Them
Here is a list of the 10 best essential oils for depression and ways you can use each of them to naturally fight depression!
1. Lavender Essential Oil
One of the most versatile essential oils in the world, lavender oil is great for calming and soothing. It helps relax the mind, body and soul when feeling distressed, anxiety, and sad. Lavender helps you sleep better and also is useful for those suffering from Post-Traumatic Stress Disorder (PTSD) as well:
According to this study, lavender oil showed good results to decrease depression (by 32.7%), regulate sleep and improve mood in 47 PTSD patients who were participating in the study.
How to Use Lavender Essential Oil for Depression
Here are a few ways you can use lavender oil for depression:
Diffuse 6-12 drops in a 200ml high quality diffuser for 15 minutes.
Make a pillow spray by combining 10 drops in ¼ cup witch hazel and ¼ cup distilled water. Spray on your pillow and linen before bed.
2. Lemon Essential Oil
Lemon is a sweet fruity and fun essential oil. It has a clean scent to it and instantly puts a smile on your face. Lemon essential oil can be diffused, applied on skin (mixed with a carrier oil) and used as in a spray as well.
How to Use Lemon Essential Oil for Depression
This roller bottle method is a great way to use lemon essential oil for depression below:
Make a fruity roll-on by combining 10 drops of lemon essential oil and enough olive oil to fill 10ml roll-on bottle. Rub onto hair ends, wrists, collar bones and behind your ears to smell an uplifting lemony aroma all day long!
3. Bergamot Essential Oil
The distinct sharp citrus scent of bergamot oil has effective anti-depressant and hormone balancing properties. It is highly stimulating and contains the natural chemicals limonene and alpha pinene that help boost mood.
This study shows that bergamot essential oil helps decrease anxiety. Below are ways to use this exciting citrus essential oil:
How to Use Bergamot Essential Oil for Depression
Diffuse 6-8 drops in 200 ml high quality diffuser for 15 minutes.
Make a synergistic anti-depression & anti-anxiety blend of bergamot and lavender. In a 10 ml roll on, carefully add 10 drops of lavender and 10 drops of bergamot essential oil. Fill up the rest of the space with a carrier oil of choice (such as extra virgin olive oil). Rub onto abdomen, collar bones, behind ears and wrists.
Note: Don't wear bergamot oil on your exposed skin when going under direct sunlight because it is phototoxic.
4. Orange Essential Oil
Another citrus essential oil, orange is also great for fighting off the blues. It has a fun fruity scent that instantly energizes and uplifts you. Orange oil is extracted from orange rinds and contains compounds such as geraniol, alpha-pinene, and limonene which have anti-depressant properties.
One study conducted at the Japan based Mei University demonstrated that patients given orange oil reported reducing the antidepressants they took. Orange oil also helped stabilize immunity and balance out endocrine levels.
How to Use Orange Essential Oil for Depression
Here are ways to use orange oil for depression:
Sniff it directly from the bottle for instant feelings of happiness, energy and positivity.
Diffuse 6-12 drops in a 200ml high quality diffuser for about 10 minutes when you feel low.
5. Ylang Ylang Essential Oil
The exotic yellow ylang ylang flowers grow on tropical trees native to Indonesia, Malaysia, and the Philippines. They are popularly harvested for their essential oil that has a heavenly scent.
According to this 2005 study,  the use of ylang ylang oil in aromatherapy can cause a relief of depression and stress in humans. Want to know how to use ylang ylang oil for depression? Here's a great way!
How to Use Ylang Ylang Essential Oil for Depression
Happiness perfume: Combine 1 tsp ylang ylang essential oil, 1 tsp geranium essential oil and 1 tsp lemon essential oil and store in a suitable container such as roller bottles. Apply on clothes.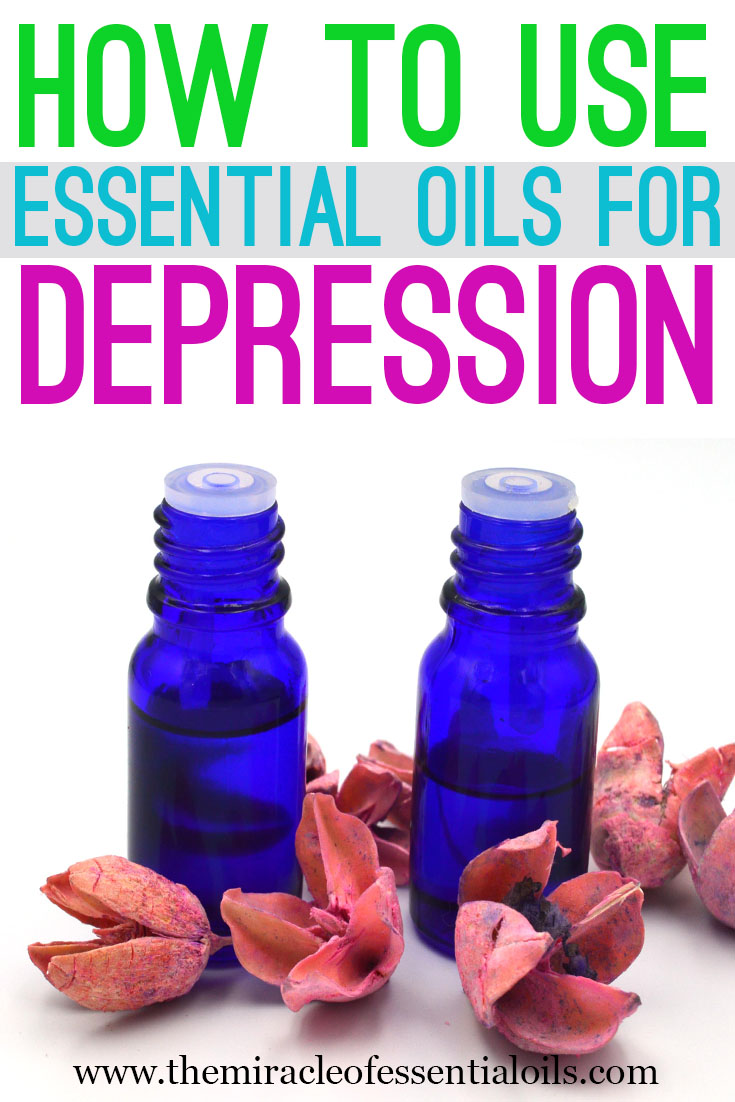 6. Cedarwood Essential Oil
Just like lavender essential oil, cedarwood oil has sedative and calming properties. When mixed with lavender, it can help promote better sleep.
Cedarwood has a soft woodsy aroma and contains the compound cedrol, which trigger the secretion of serotonin which is the 'happy hormone.' Serotonin is converted into melatonin which is a hormone that encourages better sleep.
How to Use Cedarwood Essential Oil for Depression:
Diffuse 3 drops of lavender and 3 drops of cedarwood essential oils in a 200ml high quality diffuser 15 minutes before bed.
7. Sandalwood Essential Oil
Sandalwood is an ancient oil that is also rare and precious. The real sandalwood extracted from mature trees India is rare and expensive so you will most likely find Australian sandalwood oil in the market when purchasing it.
Sandalwood is great as an incense and for meditation and spiritual purposes. It helps increase mental clarity and focus while also having sedative properties that promote calmness & enhance sleep quality.
How to Use Sandalwood Essential Oil for Depression:
Diffuse sandalwood essential oil – about 6 drops in your 200ml diffuser for a few minutes and try to relax and meditate while breathing deeply.
Apply a few drops of sandalwood directly on your wrists (it is gentle and can be used neat but you can mix it with a carrier oil to be safe).
8. Grapefruit Essential Oil
Citrus essential oils are great for reducing depression, as shown in this 1995 study that showed that 'the treatment with citrus fragrance normalized neuroendocrine hormone levels and immune function and was rather more effective than antidepressants.'
Grapefruit oil is extracted from grapefruit rinds through cold pressing. It's scent instantly invigorates the senses, improves immune function, relieves mental fatigue and uplifts a dull mood.
How to Use Grapefruit Essential Oil for Depression:
Burst of Happiness Essential Oil Blend: Into your diffuser, add 8 drops grapefruit oil, 5 drops lavender oil and 2 drops geranium essential oil. Diffuse for about 15 minutes for a burst of happiness in your soul!
9. Chamomile Essential Oil
Both roman chamomile and German chamomile essential oils are good for treating depression naturally. The only difference may be that roman chamomile is more readily available and cheaper than German chamomile oil.
Chamomile tea is commonly used to calm an upset stomach, anxiety, etc. Chamomile oil also has the same properties. It is calming and soothing and helps alleviate negative feelings.
How to Use Chamomile Essential Oil for Depression:
You can inhale chamomile directly from the bottle or rub a few drops on your wrists.
Diffuse 6 drops in your 200ml diffuser to calm your body, mind and soul.
10. Rose Essential Oil
This romantic sweet-smelling essential oil is also good for depression. It is especially good for recovering from a broken heart whether it's from breakups or loss of loved ones. It is also good for recovering from PTSD which is a cause for depression. Rose essential oil contains the compound geraniol that has anti-depressant properties.
How to Use Rose Essential Oil for Depression:
Mix a few drops (3-5 drops) in coconut oil (1 tsp) and rub it over your heart daily.
Diffuse it together with lavender oil (3 drops each) for 15 minutes in a 200ml diffuser.
Rub it on your body such as the temples, on your hair ends, on your collar bones and behind the ears. You can use it directly since it is relatively safer to use on its own or if you have sensitive skin, mix it with a carrier oil/aloe vera gel.
Final Thoughts
Essential oils are a wonderful and effective natural treatment for depression that carry no side effects, when used correctly. If you are new to essential oils, then please head over to read: Safety and Caution when Using Essential Oils