Check out these essential oils for eczema on eyelids to find natural relief fast.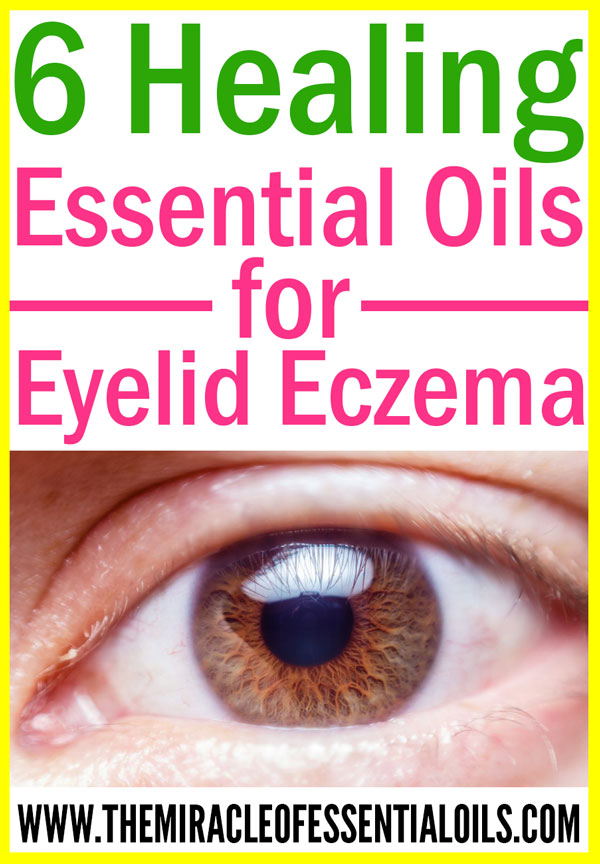 Let me tell you – there's almost nothing out there that's worse than eczema on the eyelids. Eczema is a debilitating skin condition that causes dry itchy inflamed patches to appear on the skin. Now when you have eczema on the eyelids, it's even more debilitating and unbearable.
Eczema on the eyelids looks like you have red itchy and flaky skin on your eyelids and even under your eyes. It can also make your eyelids swell up, causing you not to see properly.
The causes of eyelid eczema include change in weather, allergic reactions to food, medication, cats, hypothyroidism and others. It's very helpful to identify what triggered your eyelid eczema. This will help you get rid of your eyelid eczema! If it's cats, you should definitely get them another kitty parent. If it's cold weather, warm yourself up and take antioxidant-rich foods to boost your immune system. If it's something like diary, avoid it. These lifestyle changes are life changing, trust me!
When you go to the doctor's they're going to give you a steroid cream that will get rid of it, but you should only use it for 7 days. That's because it causes glaucoma if you use it for longer! And surprise surprise, after the 7 days, the eczema comes right back again.
For some people it's even worse. They can't even bear applying the cream because it burns like crazy!
Has this happened to you?
It probably has, that's why you're here looking for natural alternatives, a.k.a essential oils for eczema on the eyelids…
Well, I have good news for you! You can concoct your own miracle cream using just essential oils and manuka honey and plant butters. This cream is gentle and works effectively in moisturizing your eyelids and prevent it from flaking, itching and hurting.
Best Essential Oils for Eczema on Eyelids
I've written a post on Essential Oils for Severe Eczema which you can go check it out. But in this post, since we're dealing with eczema on a sensitive spot – the eyelids, we're going to take extra precaution and use only the safest essential oils good for eczema. There are:
1. Lavender
Edens Garden Lavender Essential Oil, 100% Pure Therapeutic Grade (Skin Care & Stress) 10 ml

2. Tea tree
Edens Garden Tea Tree Essential Oil, 100% Pure Therapeutic Grade (Allergies & Inflammation) 10 ml

3. Eucalyptus
Edens Garden Eucalyptus Radiata Essential Oil, 100% Pure Therapeutic Grade (Congestion & Energy) 10 ml

4. Frankincense
Edens Garden Frankincense Carterii Essential Oil, 100% Pure Therapeutic Grade (Inflammation & Skin Care) 10 ml
5. Peppermint
Edens Garden Peppermint Essential Oil, 100% Pure Therapeutic Grade (Digestion & Energy) 10 ml
6. Roman Chamomile
Edens Garden Chamomile Roman Essential Oil, 100% Pure Therapeutic Grade (Pain & Menstrual Cramps) 10 ml

How to Use Essential Oils for Eczema on the Eyelids
The best way to use essential oils is by mixing them in carrier oils. The carrier oils we're going to be using are thick emollients that are lubricating and contain healing fatty acids. These are shea butter and avocado oil. When you mix essential oils in these two ingredients, you'll get a nice cream.
What you need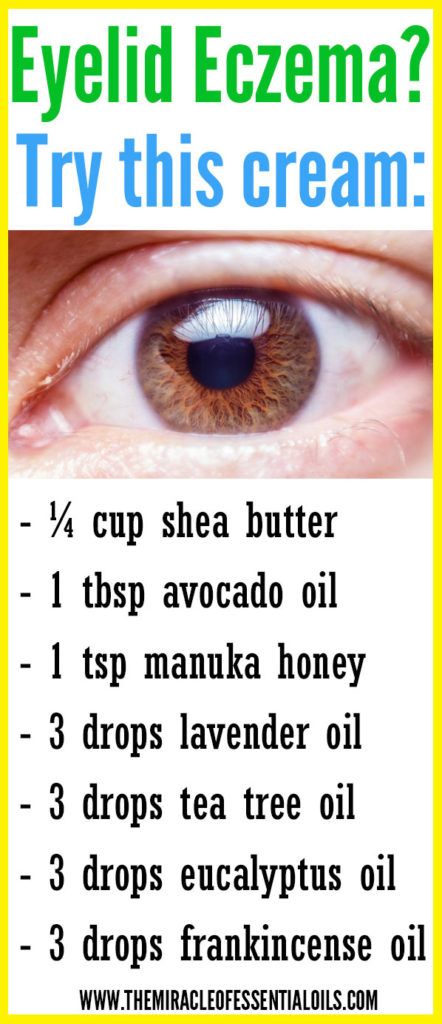 Directions
The first thing we're going to do is melt the shea butter. Do this by placing the shea butter in a heat-safe bowl or Pyrex measuring cup.Now boil some water in a pot. After it's done boiling, remove from heat and immerse the Pyrex cup/heat-safe bowl containing shea butter into it. Make sure the water doesn't get inside into the shea butter! Stir the shea butter as it gently melts down.
Once it has completely melted, add 1 tbsp of avocado oil and 1 tsp of manuka honey. Stir well.
Store the mixture in the refrigerator for 15 minutes or freezer for 10 minutes.
When the time is up, get it out and whisk it up into a smooth fluffy white cream.
Add your essential oils and whip again.
Your cream is ready! Transfer it into a sterilized storage container.
To use, first gently dab a warm damp washcloth on your eyelids. Then scoop out a tiny amount of the cream and gently apply on your affected areas.
Use 2-3 times a day. You can gently dab with a soft wet and damp washcloth after some time, to remove excess oils if you feel its melting on your skin and making it oily/burning your eyes.
Caution
Please note that I am not a doctor and the information provided above is only for informational purposes.
Do not get essential oils in your eyes. If it happens, flush your eyes with whole milk or olive oil.
If you're new to essential oils, please first read Caution & Safety when Using Essential Oils