Okay, so exam date is coming nearer and nearer and you want your kids to sit down and focus. Or your kid keeps squirming and can't do his/her homework properly. What do you do?
Use essential oils of course! Below are some of the best essential oils for focus and concentration for kids. They are safe to use, gentle and very effective!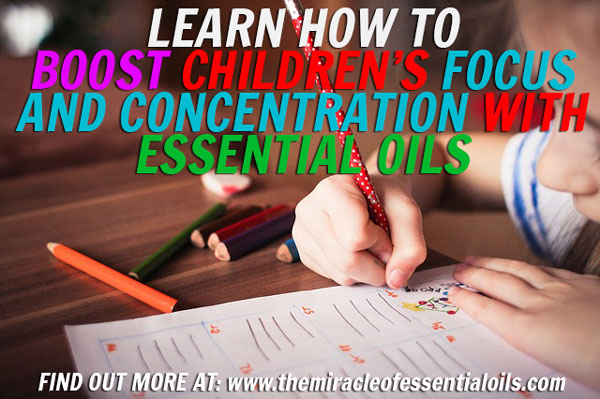 7 Essential Oils for Focus and Concentration for Kids
Below are 7 best essential oils for focus and concentration for kids.
1. Rosemary
Scientific name: Rosmarinus officinalis
Rosemary oil is the best essential oil for boosting memory. It also increases mental power and helps a child concentrate on his/her task to the end.
2. Wild Orange
Scientific name: Capparis mitchellii
Wild orange oil is good for awakening the senses and increasing focus and energy.
3. Lemon
Scientific name: Citrus limon
Fresh, clean and fruity, lemon oil is good for cleansing the mind of clutter and useless thoughts. It also actively fights depression, improves a sour mood and prevents tantrums.
4. Peppermint
Scientific name: Mentha piperata
Refreshing and invigorating, peppermint oil increases mental clarity and focus.
5. Cedarwood
Scientific name: Cedrus Atlantica
Cedarwood oil has a high amount of sesquiterpenes – more than any other essential oil! Sesquiterpenes are chemical compounds that increase oxygenation to the brain, making it perform much better! It also calms the brain which helps maximize focus and concentration.
6. Basil
Scientific name: Ocimum basilicum
A fresh cooling and herbal oil, basil is an amazing oil. It clears the nasal pathways and promotes clear and easy breathing. This allows the child to breathe more oxygen which promotes more blood flow and oxygenation of the brain. It also combats colds and cough, which can disrupt concentration and studying.
7. Grapefruit
Scientific name: Citrus paradisi
Grapefruit oil has a very uplifting and energizing scent. It boosts mood, energizes an individual and motivates them to complete the task at hand.
Essential Oil Blends for Kids' Focus and Concentration
1. Homework Help Diffuser Blend

What you need
Method
To your diffuser, add enough water (about 90 – 100 ml) followed by the above oils. Diffuse right before your child settles down to do homework.
2. A+ Exam Scorer Roller Recipe

What you need
Method
Remove the roller ball from the roller bottle.
Add the essential oils drop by drop. Top with grapeseed oil.
Roll behind ears, back of neck and base of skull.
3. Room Spray

What you need
Method
Pour the witch hazel into the glass dropper bottle.
Then add the essential oils.
Swirl the bottle to combine the ingredients.
Pour in distilled water and shake well. Spray around the room.
4. Personal inhaler

What you need
Method
Remove the wick from the personal inhaler then drop the essential oils on it.
Place it back and close the cap.
Let the child inhale deeply as needed to improve focus.
Caution