Use any of these 6 essential oils for hives to stop itching and heal that crazy rash fast!
What are Hives?
Hives are a form of skin rash that causes red, raised, itchy bumps to appear on the skin. Hives come in abundance and may have a painful or stinging sensation. They can be unbearable especially when the bumps itch and sting and thankfully, most hives go away quickly.
Some of the causes of hives include allergic reactions to insect bites, food & medication. They may also be triggered by cold temperatures, too much sun exposure and having asthma & hay fever. Mild hives may disappear within 2 hours, others may take a couple of days and severe cases can take up to a week.
In this article, we shall look at the top 6 essential oils for hives! You can find quick natural relief from hives and heal your skin faster by using essential oils!
Top 6 Best Essential Oils for Hives
There are a number of effective essential oils for hives! What makes them so effective is their anti-histamine, anti-inflammatory, antimicrobial, antiviral, antibacterial and skin soothing properties. Here are the top 6 essential oils for hives:
1. Peppermint oil
2. Lavender oil
3. Tea tree oil
4. Chamomile oil
5. Helichrysum oil
6. Frankincense oil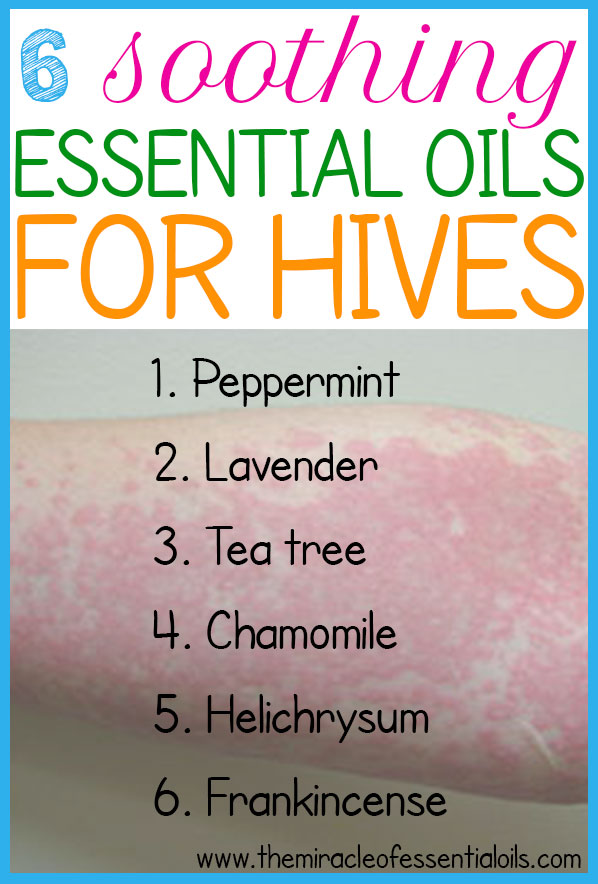 How to Use Essential Oils for Hives
1. Essential Oil Blend for Hives. The best way to use essential oils for hives is by making a potent essential oil blend with a few healing carrier oils. Here is my DIY Essential Oil Blend for Hives. To use, apply it on your hives three times daily after washing them with cool water and a mild soap. You can store this blend in a roll-on bottle or an amber dropper bottle.
2. Soothing Bath. Baths are great for soothing irritated, hot and stinging hives. Draw a warm bath and throw in a 1 cup of colloidal oatmeal into it. Next mix 2 tbsp of coconut oil with 5 drops lavender oil, 5 drops tea tree oil, 3 drops chamomile oil, 3 drops peppermint oil and 3 drops frankincense oil. Stir the bath with your hand and soak in it for about 15-20 minutes.

If you're new to essential oils, please first read Caution & Safety when Using Essential Oils
Have you tried using essential oils for hives? Which essential oils worked most effectively for you?