Insomnia is a common disorder – more than half of Americans lose sleep. Discover 10 powerful essential oils for insomnia to finally get some good quality sleep in your life.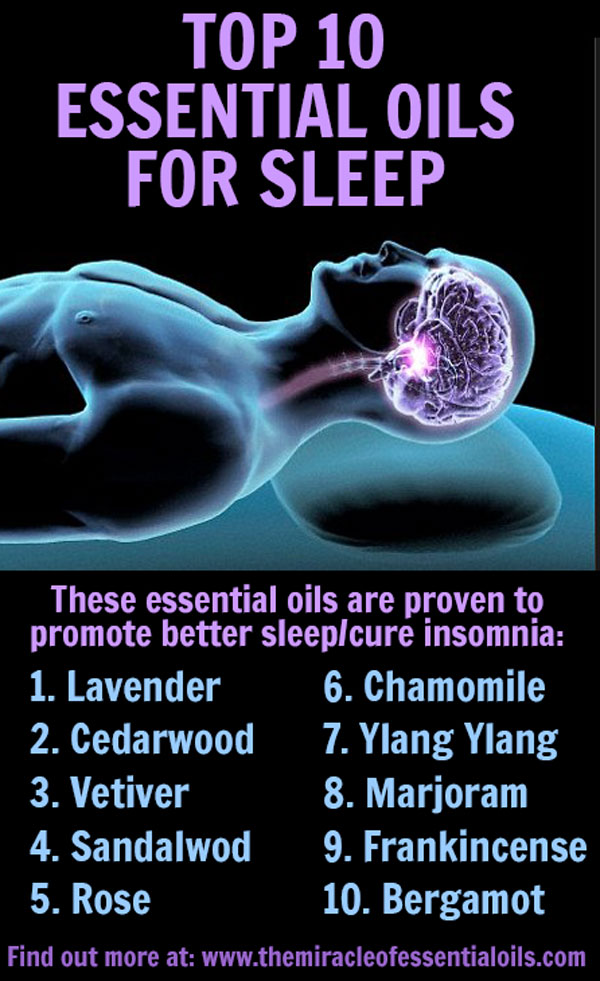 What is Insomnia?
Also known as sleeplessness, insomnia is a disorder where by people have a hard time sleeping, whether it's difficulty falling asleep or having a light and restless sleep instead of a deep and peaceful one. It is a sleep disorder that affects more than 30% of the population and can lead to mental fatigue, irritability, low energy, tiredness and depression.
Some of the causes of insomnia include:
Mental stress
Chronic pain
Hyperthyroidism
Restless leg syndrome
Excitement
Anxiety
Heart burn
Certain medications
Over consumption of alcohol
Too much caffeine
Drugs such as nicotine
Sleeping pills are not the answer to correcting insomnia as they have other dangerous side effects such as dementia and addiction. Try using essential oils and aroma therapy to holistically go about treating insomnia:
How Do Essential Oils Help Insomnia?
Essential oils are pure plant extracts obtained from aromatic botanicals such as the leaves, roots, tree bark, flowers, fruit rinds and resin of plants. They are composed of various chemical compounds that give each oil it's characteristic scent and therapeutic properties. Essential oils help insomnia by:
Reducing stress
Relaxing the mind
Quelling anxiety
Relieving pain
Cooling down an overheated body
Helping with heart burn
Calming nerves
Promoting positive feelings of peace and tranquility
And more
Research on Essential Oils for Insomnia
Study One: Lavender oil increases the Percentage of Deep or Slow Wave Sleep and increases stage 2 (light) sleep which decreases restlessness and insomnia (1)
Study Two: Inhalation of essential oils have a positive effect on sleep and may be considered for people with mild sleep disturbances (2)
Study Three: Rose oil aromatherapy can significantly improve the sleep quality of patients (3)
Study Four: Cedarwood oil has sedative effects when inhaled, which promotes deep sleep (4)
Top 10 Essential Oils for Insomnia
1. Lavender
2. Cedarwood
3. Vetiver
4. Sandalwood
5. Rose
6. Chamomile
7. Ylang Ylang
8. Marjoram
9. Frankincense
10. Bergamot
3 DIY Essential Oil Recipes for Insomnia
1. Peaceful ZZZ'z Diffuser Blend

What you need
3 drops vetiver
3 drops lavender
2 drops frankincense
Non – plastic cold air diffuser
Method
Add oils to your diffuser with about 70 ml water (follow the manufacturer's instructions).
Diffuse 15 minutes before bed time.
2. Lavender Pillow Mist

What you need
½ cup distilled water
7 drops lavender
1 tsp witch hazel
½ oz amber glass spray bottle
Method
Combine the ingredients in the amber glass spray bottle and shake well.
Mist onto your pillow, sheets and around the room.
3. Relaxing Bath Blend

What you need
1 cup Epsom salts
2 cups whole milk
10 drops lavender
5 drops chamomile
5 drops rose
5 drops ylang ylang
5 drops cedarwood
Method
Run a hot bath and throw 2 cups of Epsom salts to let it disperse.
Once you've drawn the bath, mix the essential oils into the milk and pour it into the bath.
Soak for as long as you want to relax your mind and soothe a tired body.
References
(1) Goel N1, Kim H, Lao RP. An olfactory stimulus modifies nighttime sleep in young men and women. Chronobiol Int. 2005;22(5):889-904.
(2) Lillehei AS1, Halcon LL.A systematic review of the effect of inhaled essential oils on sleep. J Altern Complement Med. 2014 Jun;20(6):441-51. doi: 10.1089/acm.2013.0311. Epub 2014 Apr 10.
(3) https://www.ncbi.nlm.nih.gov/pubmed/25129884
(4) https://www.ncbi.nlm.nih.gov/pubmed/12898420
Grounding and calming oils such as vetiver, lavender and frankincense can help with insomnia by easing the mind and body. Which essential oils for insomnia are you planning on trying out?