Got keratosis pilaris? There seems to be no real solution out there for this skin condition but when you try essential oils for keratosis pilaris, you'll want to keep using them because they work better than other natural remedies!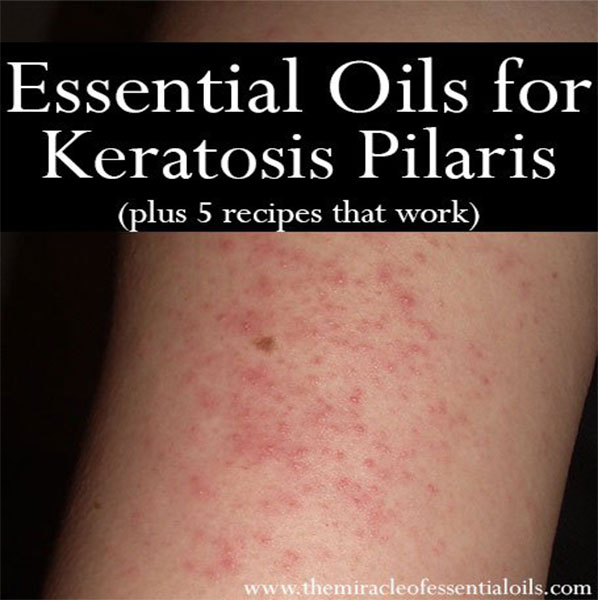 What is Keratosis Pilaris?
Also known as follicular keratosis, lichen pilaris or chicken skin for the layman, keratosis pilaris is a genetic follicular condition that causes rough red or brown bumps on the skin that look like a bad rash. Scientifically speaking, keratosis pilaris forms when the body produces excess amounts of skin protein keratin, which results in the formation of small red bumps on the skin. The keratin also traps the hair follicles inside of the skin, causing the bump to sometimes contain a coiled up ingrown hair.
They most commonly appear on the outer side of arms and thighs as well as the buttocks and even face. Keratosis pilaris can occur anyway in the body except the palms and soles of feet. Sometimes, the bumps become infected and pus – filled especially due to excessive scratching, which makes them look like tiny acne.
Don't Miss: Our Essential Oil Ebooks
Although keratosis pilaris is a medically harmless skin condition, it's visually unappealing so many people affected usually look high and low for treatment, whether natural or conventional. There is no yet known medical 'cure' for keratosis pilaris, but there are several products that can significantly reduce its severity that it doesn't appear so embarrassing anymore. One such product is directly from Nature in the form of pure plant essential oils.
How Do Essential Oils Help Keratosis Pilaris?
Essential oils are highly concentrated liquid substances. They are obtained from the aromatic parts of plants through steam distillation or cold pressing.
These potent liquids contain a multitude of natural chemicals and healing substances. This makes them beneficial for treating many skin conditions including keratosis pilaris. Essential oils help keratosis pilaris by:
Reducing inflammation
Softening skin
Soothingand calm the area
Killing microbes and germs that aggravate skin and cause pus – filled lesions
Relieving itchy skin
Drying out the bumps
Minimizing redness
Cooling down the irritated area
Below, let's take a look at the best essential oils for keratosis pilaris treatment and relief:
6 Best Essential Oils for Keratosis Pilaris
1. Lavender
2. Tea Tree
3. Roman Chamomile
4. Frankincense
5. Lemon
6. Lemongrass
How to Use Essential Oils for Keratosis Pilaris – 5 Recipes
1. Keratosis Pilaris Roll – On Recipe

What you need
Method
Add the essential oils drop by drop to a roll – on bottle.
Top with fractionated coconut oil.
Roll onto affected areas one to two times daily after a shower.
2. Lavender Sugar Scrub

What you need
Method
Add ingredients to the glass jar and mix till they combine to form a gritty scrub.
Use at least twice a week in the shower for smoother skin.
3. Soothing & Skin Smoothing Lotion

What you need
Method
Mix up all the ingredients to form a creamy lotion. Store in a cool dry place. If it's summer, then you might want to store it in the refrigerator.
To use, scoop up a little depending on the size of the affected area and gently rub it in after a shower.
4. Powerful Serum for Keratosis Pilaris

What you need
Method
Mix all oils in a glass dropper bottle.
Apply a little amount on the affected areas in the morning and night after showering.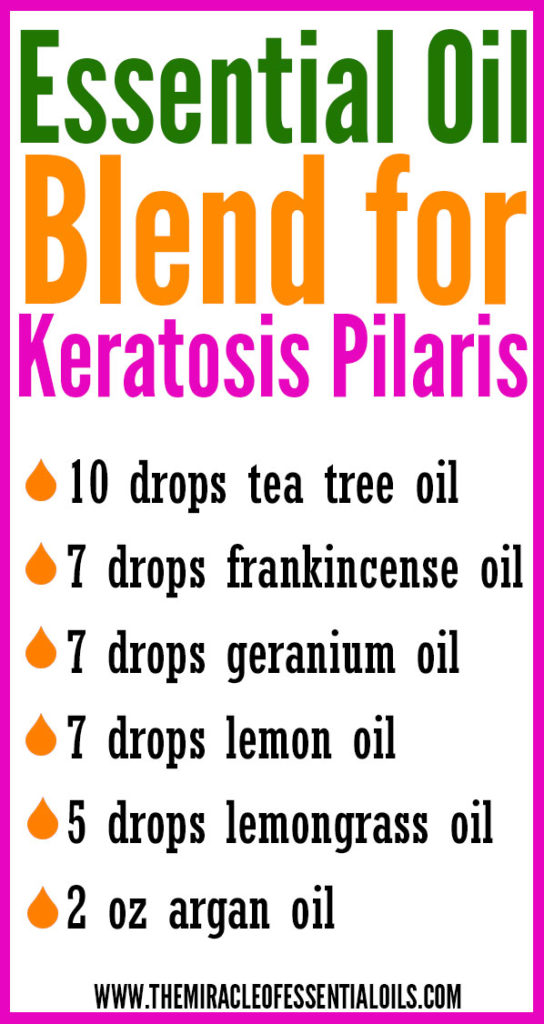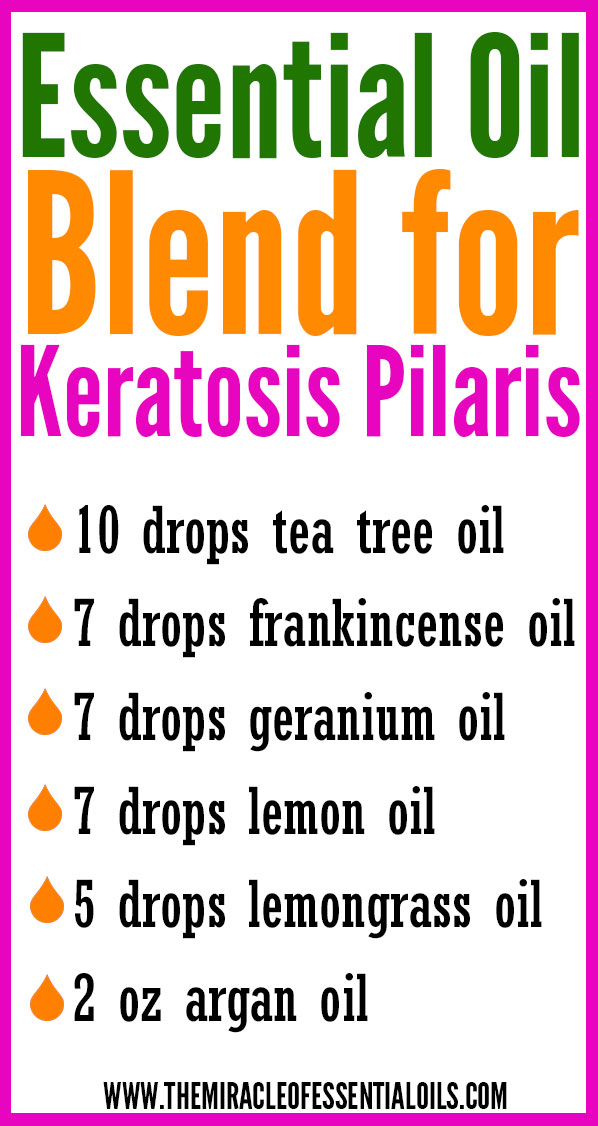 5. Apple Cider Vinegar Toner

What you need
Method
Shake up the above ingredients in a spray bottle.
Spray onto the affected areas about 3 times a day and leave it on for 15 minutes before rinsing.
Caution
Do not use synthetic oils. Always purchase essential oils that are 100% pure high quality from a reputed seller.
Before using essential oils, perform a patch test on your inner elbow for 1 – 2 hours to see if you're allergic. If you notice irritation, then wash the area well and do not apply essential oils on your skin.
Always dilute essential oils before use. As a rule of thumb, add 2 drops of essential oil for every tsp of carrier oil/base ingredient. Carrier oils include coconut oil, olive oil, grapeseed oil, etc. Also see How to Dilute Essential Oils for more information.
Keep essential oils away from children and pets.
Do not use essential oils when you have a chronic or severe health problem.
Before using essential oils for pregnancy, read: Is it Safe to Use Essential Oils While Pregnant? and What Essential Oils are Good for Pregnancy?
New to essential oils? Please read Caution & Safety when Using Essential Oils
What do you think? Are you ready to try essential oils for keratosis pilaris?