Essential oils are very potent and are generally not recommended for young children. But can you use essential oils for lice in newborn babies? If not, what are the best ways to remove lice from the head of babies?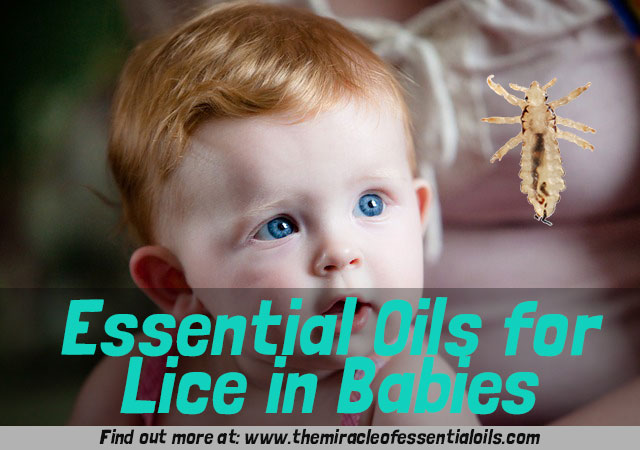 Lice in Newborn Babies
Your newborn or baby may have contracted lice from an older sibling. Lice are very contagious and one cuddle is enough to transfer a louse from one host to another. A female louse is capable of laying 8 nits, or eggs, in a day. Within a matter of days, your baby's head could be filled with several adult lice.
Lice can be itchy as they move through the hair and their bites can be painful and create rash-like skin, especially in babies who have sensitive skin.
I personally saw a case where a mother was struggling to get rid of head lice from her 2 month old baby, who had a nice lock of hair. She said she tried everything on her baby, but there was no end to the lice invasion. The thing is, she had 2 older school-going children, who had lice. (School-going children between the age of 3 -12 are more prone to lice attacks)
If your baby has older siblings with lice, you need to treat them first. Getting rid of lice takes up to 2 weeks. 2 weeks is the maximum amount of time it takes for an egg to hatch, whether on the host's hair or outside in the host's surroundings, such as pillows, bedding and more.
Tell your older kids to keep away from baby for at least 2 weeks until you make sure that they are lice free.
Essential Oils for Lice in Newborn Babies
Over the counter lice treatment products are not prescribed for babies and children under the age of 2. This is because they contain harmful insecticides that may pose dangers to your baby. These synthetic products contain known carcinogens and hormone disruptors, among central nervous system damaging ingredients.
Essential oils are not recommended for infants, or babies under 3 months of age. Newborns' skin is not yet fully mature until the age of 3 months and is much more permeable to whatever is applied atop it.
For a baby above 6 months of age, certain essential oils can be used in treating lice – as long as they are properly diluted in a suitable carrier oil.
Read more: Top 10 Essential Oils for Lice
Safe Essential Oils for Lice in Babies
For babies between the ages 6 months – 2 years, the maximum dilution of essential oils in a suitable carrier oil, such as olive oil is a 1% concentration. That is, 4 drops in 2 tablespoons of olive/coconut oil.
Some anti-lice essential oils that can be used include:
These essential oils contain natural insecticides and can repel and kill lice and their nymphs.
How to Use Essential Oils for Lice in Babies
Begin by diluting your chose essential oil carefully in a carrier oil. You can choose olive oil or coconut oil.
In a glass jar, pour 1/4 cup of olive oil along with 4 drops of Melaleuca, 2 drops of Cinnamon and 2 drops of Peppermint essential oils.
Mix all these in with the back of a spoon to get it all evenly distributed.
Once a day, apply this mixture liberally onto your baby's scalp, preferably overnight.
The Truth About Getting Rid of Lice
Lice are very sturdy adamant critters that can be a pain to get rid of. You will need to follow a 2 week protocol to completely get rid of them. This protocol is very time-consuming and manual, but it has to be done.
Unfortunately, using essential oils is not the magic answer to getting rid of lice overnight. Along with the diluted essential oil treatment, you will also need to follow the following steps:
First, get yourself a nit-picker or fine toothed comb, and a small bowl filled with water.
Place your baby laying down on your laps, with a white towel under their head.
Begin by combing your baby's hair with a wide-tooth comb to remove any tangles.
Now begin combing your baby's hair with the nit-picker. After each comb through, keenly scan the nit-picker with your eyes for any sign of a louse.
Remove any louse and place it into the bowl of water to trap it.
Continue this process until you don't see lice anymore.
Now apply the diluted essential oil mix onto your baby's scalp, coating each strand of hair.
The next day, wash your baby's hair as usual. Dry it completely. Then repeat the above process. This should be done for at least 4 days, until 2 -3 weeks elapse.
Also use an Essential Oil Lice Repellent Spray on yourself and your other family members to repel and keep lice out of the house.