Lice are blood-sucking, hair-loving parasites that are increasingly becoming resistant to conventional treatment. Turn to essential oils for lice removal, repelling and eradication.
Lice, Lice, They Aren't Nice
Head lice are tiny wingless, six-legged, blood-sucking parasites that are extremely contagious. Their color ranges from clear, pale yellow to dark brown or black.
Let me make it clear that head lice are NOT a sign of poor personal hygiene. Conversely, studies have proved that lice like cleaner hair better because it's easier for them to move around and bind their eggs to hair shafts better.
Reasons to Use Essential Oils for Lice
There are dozens of conventional products available for treating head lice. But more and more of us are turning to natural treatments for head lice because:
Insecticides Lose Their Potency Over Time Lice are getting resistant to conventional products on the market. Many people use these products for weeks on end, only to see no relief from the pesky parasites. That's when they turn to potent natural remedies like essential oils that work faster and more effectively.
Essential Oils Are Safer Natural remedies like essential oils are safer than conventional products, which contain toxic insecticides that are not only harmful to the lice themselves, but also harmful to humans. These insecticides may be neurotoxic and damage the central nervous system in the long run. Most ingredients contained in synthetic products are also known hormone-disruptors and carcinogens.
You Can Save Money Essential oils are also cheaper in the long term because only a few drops are needed at a time. Furthermore, most essential oils are highly versatile and can be put to many more uses around the home, and not just in lice prevention.
12 Powerful Essential Oils for Lice
1. Eucalyptus (where to get it)
2. Clove (where to get it)
3. Cinnamon (where to get it)

4. Aniseed (where to get it)
5. Peppermint (where to get it)
6. Rosemary (where to get it) 
7. Geranium (where to get it)
8. Nutmeg (where to get it)
9. Lavender (where to get it)
10. Melaleuca (where to get it)
11. Thyme (where to get it)
12. Neem (where to get it)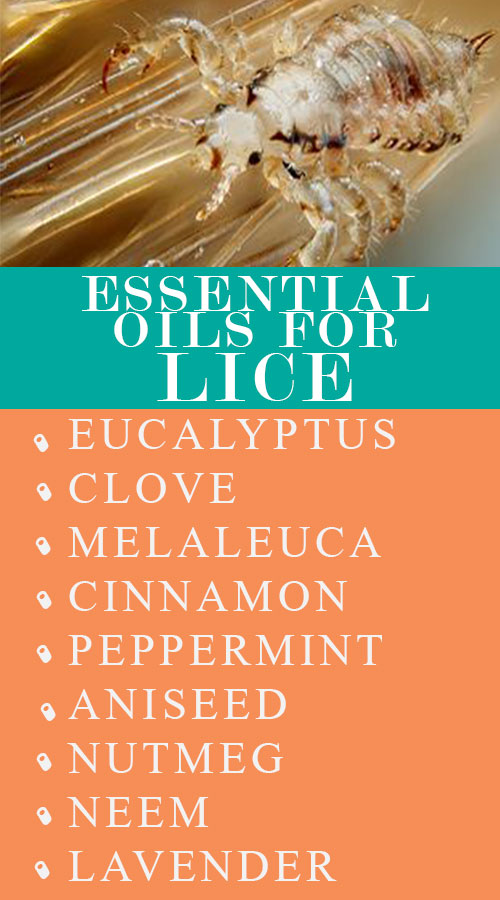 Why Anti-Lice Essential Oils Work
The 12 essential oils listed above are so potent simply because of their strong chemical constituents, which have incredibly effective lice-repelling characteristics. These are the main constituents in all anti-lice essential oils that have strong natural insecticides properties:
1. Linalool: Present in many aromatic essential oils, such as lavender, linalool is a phytochemical that is used in many skin care products. It is also a natural insecticide that is effective against not just lice, but also mosquitoes, ants and roaches.
2. Eugenol: Eugenol is another highly aromatic plant compound that is found in oils such as clove, cinnamon, nutmeg and more. It is also widely used as a natural insect repellent.
3. Menthol: A commonly recognized compound, menthol is found in chewing gum, muscle pain ointments and mouthwashes, thanks to its characteristic minty aroma. This same compound is also a potent insect and lice repellent.
How to Use these Essential Oils to Repel Lice
These essential oils don't just repel lice – they are powerful enough to suffocate and KILL lice and their eggs, when used correctly. Here are the 3 best ways you can use essential oils to kill lice:
1. Use Essential Oils on a Lice Remover Comb
Wet combing, done with a lice removal comb, is very effective though it is a manual, time-consuming procedure. To amp-up it's lice-killing power, why not add a few drops of an anti-lice essential oil to the comb in order to fight the lice and their eggs better?
2. Olive Oil Pack
Make a simple olive oil pack by mixing olive oil and a potent lice repelling oil like melaleuca (tea tree). This olive oil pack can be liberally applied on the scalp and along the hair shafts. Throw on a shower cap and allow the oils to work their magic overnight or for at least 2 hours. This will suffocate the lice by coating their spiracles (breathing organs). It will also kill the nits (eggs) of the lice.
For more detailed instructions on how to carry out an olive oil pack for lice extermination, please read: Olive Oil & Tea Tree Oil for Lice
3. Essential Oil Lice Repellent Spray
Making an essential oil lice repellent spray is the way to go when you want to zap those critters on the head. You can make a simple yet potent spray using essential oils and rubbing alcohol. For the full recipe, check out: Essential Oil Lice Repellent Spray Recipe
Using Essential Oils for Lice on Pets
If your child has lice and you are afraid of your pets, such as dogs or cats, catching the lice – don't worry. Lice normally do not cross-contaminate with non-human subjects. Likewise, the species of lice that host themselves on pets, cannot pass onto to humans.
For more information, please check out: Never Use these Essential Oils for Pets