Natural remedies work very well in getting perioral dermatitis under control. Use one or more of these top 5 essential oils for perioral dermatitis as a quick natural remedy!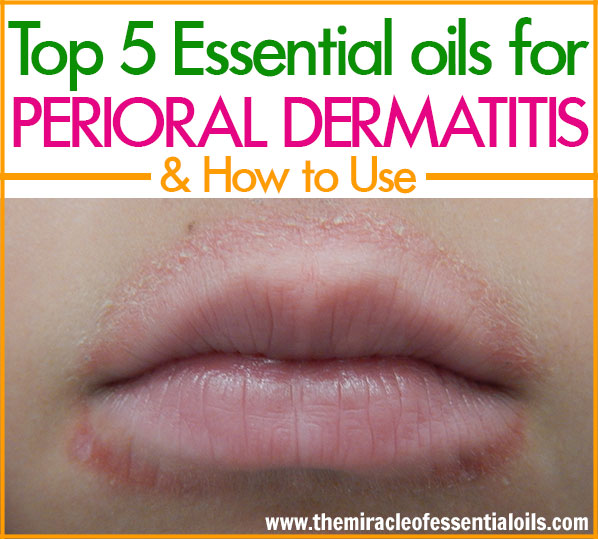 What is Perioral Dermatitis?
Perioral dermatitis (PD) is a type of inflammation around the mouth area. Perioral means 'around the mouth' while dermatitis means inflammation of the skin. This skin condition appears on the face around the mouth. It most commonly affects women of menstruating age. PD is often misdiagnosed and confused for eczema or acne. But it's actually like a cross between eczema and acne.
It is characterized by red, bumpy, itchy, hot and flaky skin. Although the exact cause of perioral dermatitis hasn't been pinpointed, it varies from individual to individual. Among the most common causes of PD are using commercial face washes, lotion and toothpaste (that contain SLS – Sodium Lauryl Sulfate which irritates skin), exposure to extremely cold or hot temperatures and hormonal fluctuations, among others. Other causes may include drinking alcohol, eating too many spicy foods and inflammation in the body.
Essential oils help treat perioral dermatitis by getting rid of the inflammation, fighting bacteria, relieving itching, soothing skin and keeping it healthy overall. Here are the top 5 essential oils for perioral dermatitis:
Top 5 Essential Oils for Perioral Dermatitis
How to Use Essential Oils for Perioral Dermatitis
Before applying essential oils, always make sure to dilute just a few drops in a base ingredient such as a carrier oil or something else like your face moisturizer, face wash or aloe vera gel. Follow a 2% essential oil dilution rate which is 2 drops of essential oil in 1 tsp of base ingredient. Below is a list of proven ways on how to use essential oils for perioral dermatitis:
1. Moisturizer:
Get a small storage container and add 2 tbsp of coconut oil. Now add 3 drops lavender essential oil and 3 drops tea tree essential oil. Use this to moisturize your perioral dermatitis.
2. Powerful Spot Treatment:
Fill a 1 oz amber bottle with olive oil then add 6 drops of oregano oil. Apply on affected area.
3. DIY Face Wash:
Make your own face wash! Perioral dermatitis is aggravated by SLS (Sodium Lauryl Sulfate) found in most face washes or soaps. Making your own face wash means you'll have a chemical-free sulfate-free cleanser that's friendly to your sensitive skin.
Here's how to make a DIY face wash for perioral dermatitis with essential oils:
Fill a foaming soap dispenser bottle with ¼ cup of unscented liquid castile soap and ½ cup of distilled water. Then add 2 tbsp of vegetable glycerin, 3 drops frankincense oil, 3 drops lavender essential oil and 3 drops tea tree essential oil. Shake everything together. Use as a face wash just 1-2 times a day.
4. Moisturizing, Anti-inflammatory & Anti-Aging Toner:
Get a4 oz amber spray bottle. Fill it ¾ way with organic rose water. Now add 1 tsp of organic raw apple cider vinegar. Add 5 drops of sandalwood essential oil. Shake it well. Spray on your face right after cleansing it, before moisturizing.
5. DIY Toothpaste:
Yes! You can also make your own toothpaste at home! Check out DIY Essential Oil Toothpaste
Natural Remedies for Perioral Dermatitis
Here are some natural remedies for perioral dermatitis that you can try at home:
1. Turmeric: 
This yellow golden spice is one of the most powerful anti-inflammatory substances of earth. You can buy turmeric powder, add ½ tsp to 1 cup of warm water then mix in 1 tsp of raw honey. Consume this every day. If you're not a fan of turmeric powder, then purchase turmeric capsules.
2. Probiotics:
Balance out your gut bacteria, strengthen your immune system and fight inflammation by taking probiotic capsules.
3. Juicing fruits and vegetables to alkalize your body:
Juicing is the number one way to alkalize your body. An acidic body causes inflammation and leads to a host of health problems including hair loss and also PD. Buy a high quality juicer and juice pineapples, oranges, apples and other fresh fruits and vegetables and consume a glass daily.
4. Evening Primrose Supplements:
Hormonal fluctuations is a major cause of PD. Taking evening primrose supplements helps balance out hormones. Buy Now Foods Evening Primrose Oil Supplements and take them every day without fail. It'll also help with PMS symptoms and menopause issues as well!
Caution
If you're new to essential oils, please read Caution & Safety when Using Essential Oils