Stomach flu is caused by viruses and can be painful while it lasts. Learn how to use essential oils for stomach flu relief in a natural, safe and faster way.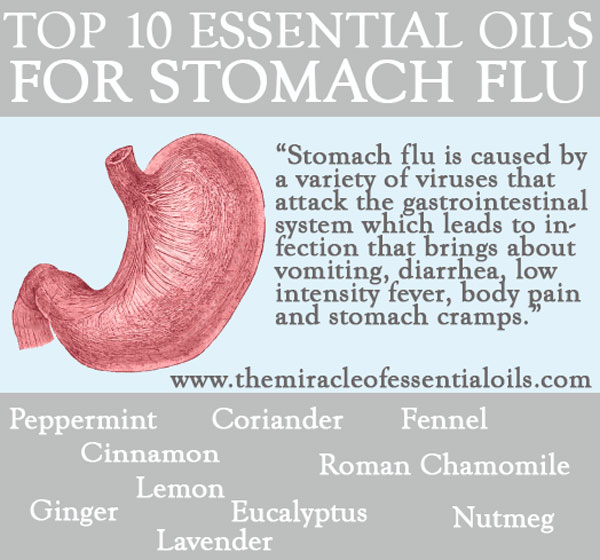 What Exactly is Stomach Flu?
Stomach flu or gastroenteristis isn't really 'flu' (or influenza, a respiratory ailment that's like a severe cold) but what it does have in common with flu is that they're both caused by viruses. Stomach flu is common condition that arises from consuming contaminated food or water. It is caused by a variety of viruses that attack the gastrointestinal system which leads to infection that brings about vomiting, diarrhea, low intensity fever, body pain and stomach cramps.
How Essential Oils Can Help Relieve Stomach Flu
Below are some of the ways essential oils can help ease and reduce the severity of the stomach flu:
» Curbing Nausea – Diffusing or simply inhaling a few drops of some of the essential oils below have therapeutic benefits of curbing nausea.
» Fighting Viruses – Stomach flu can be caused by viral infections that irritates the stomach walls, causing stomach aches and upset stomachs. Many essential oils have been shown to possess powerful anti-viral properties to combat these viruses. To fight stomach viruses, just a few drops of pure GRAS food grade essential oils can be taken in capsule form. I do not recommend consuming the essential oil in water at all. Read: Can I put Essential Oils in my Water? for more information. If you don't use the capsule method, then mix your essential oils in a fatty medium or emulsifier like yogurt, kefir, whole milk or honey before consumption.
» Alleviating Abdominal Aches – Massaging your tummy with oils can help relieve stomachaches due to their analgesic and stimulating properties. You can use peppermint, ginger or cinnamon oils diluted in carrier oils for a massage. If you can't do a massage (due to pain), then just apply the oils gently. Read more: 6 Essential Oils for Stomach Ache
» Minimizing Diarrhea – A massage oil with essential oils like peppermint, lavender and chamomile can be used to assist with diarrhea. Peppermint capsules can also be taken to soothe and digestive tract and reduce loose stools.
» Bringing Down Fever – A low grade fever is another symptom of the stomach flu. Peppermint or lavender oils massaged on soles of the feet can help reduce fever.
» Soothing Sore Muscles – The pain alleviating properties of essential oils help relieve sore muscles and painful & fatigued body parts which is a symptom of the stomach flu. Enjoy a hot bath with a handful of Epsom salts and 20 – 25 drops of essential oils to help reduce muscle soreness.
» Reducing Headaches – Stomach flu can leave you with a pounding headache or dull pain that increases nausea. Essential oils like peppermint are invigorating and help numb headaches and take away the pain. Simply mix 2-3 drops of peppermint in a carrier oil of your choice and massage it on your temple and forehead. Make sure not to apply too much or the vapors will affect your eyes, causing them to tear up.
10 Essential Oils for Stomach Flu
1. Peppermint Essential Oil (where to get it)
2. Lemon Essential Oil (where to get it)
3. Ginger Essential Oil (where to get it)
4. Fennel Essential Oil (where to get it)
5. Lavender Essential Oil (where to get it)
6. Roman Chamomile Essential Oil (where to get it)
7. Cinnamon Essential Oil (where to get it)
8. Eucalyptus Essential Oil (where to get it)
9. Coriander Essential Oil (where to get it)
10. Nutmeg Essential Oil (where to get it)
Different Ways to Use Essential Oils for Stomach Flu Treatment
Inhaling from a tissue/hanky: Place a few drops of oil – about 1 to 3 drops – on a hanky or small cotton cloth and inhale from it. The therapeutic scent can alleviate nausea, improve your mood and improve digestion.
Diffusing: In your high quality cold-air diffuser, add a few drops of essential oil or a blend of essential oils – about 6 to 8 drops – and enjoy their aroma therapeutic properties.
Internal Consumption: Add 2 drops of organic food grade essential oils safe for consumption (Please read: Can I Ingest Essential Oils? for clarification on which oils are edible) to an 00 vegetable capsule then fill the rest of the capsule with olive oil or other edible vegetable oil and take the capsule. You can also mix the drops of essential oil in yogurt (okay to eat for stomach flu) or raw honey and eat it up. See below for further notes on internal use of essential oils.
Abdominal Application or Massage: Massaging your stomach can help alleviate stomachache and manage diarrhea. Simply blend a few drops of essential oils in a carrier oil like olive oil, jojoba oil and coconut oil then deeply massage this on your belly. If it's too painful to massage, then combine the oils in a roll-on applicator bottle and roll it on your stomach in a gentle circular motion.
Bath: A bath is also another way to help stomach flu: it can take care of symptoms like sore muscles, headaches, not feeling well and terrible stomach cramps. Add about 20 – 25 drops of an essential oil of your choice or a blend of a few or all of the above oils in your warm or hot bath, stir well and soak in for as long as you want. Note: Don't go overboard with oils like cinnamon or ginger as they are very 'hot' oils that can give you burning sensations.
Note about Ingesting Essential Oils
The British Aroma therapy school of thought refuses the ingestion of essential oils and emphasizes that essential oils are only supposed to be used externally because they are extremely potent and can have hazardous side effects when consumed. However, the French school of thought says essential oils can be ingested for their healing properties but only in very small diluted amounts.
In my opinion, consuming essential oils is fine but comes with a long list of warnings and precautions:
Most essential oils are NOT for internal consumption. There are only a few handful of oils that can be safely consumed, and even then only with extreme caution.
Essential oils aren't something that you should consumed every day because they are VERY concentrated and consuming small amounts everyday will tax the liver and kidneys, leading to long term organ damage. Only if you have a health condition that you need to treat such as stomach flu, then the essential oil(s) can be taken for their medicinal value for a period of not more than a week.
It's best to consult with a certified aroma therapist or naturopathy doctor before ingesting essential oils and to find yourself the right dose of essential oil consumption for your condition.
For consumption, only use 100% pure high quality and organic essential oils that are GRAS (Generally Recognized As Safe) for internal consumption. You can also purchase food grade essential oils. Never just ingest any brand of essential oil without first confirming that the oil is pure and organic without any additives or synthetics included!
Don't consume essential oils alone without dilution (like putting it directly under your tongue) or in water. Many people do this but it isn't safe – water and essential oils do not mix. Always first mix it with a natural emulsifying medium like milk, yogurt, water or honey.
Do not give essential oils to pets or babies for ingestion. This is a very dangerous act as essential oils can be very toxic and life threatening since they can't be processed by the underdeveloped livers of babies. Pets' livers also can't process essential oils.
Some oils that are food grade, organic and safe for consumption are: