Stomach cramps, diarrhea, gas and bloating are all forms of improper digestion, also known as indigestion. To prevent indigestion, chewing food properly without rushing and eating foods that are gentle on the stomach and promote digestive fire, also known as 'agni' in Ayurveda are recommended. These foods include cleansing vegetables, properly prepared food and spices that raise digestive fire such as ginger, cumin, fennel and others.
If you have chronic digestion, in addition to taking other measures such as eating food mindfully and mixing it properly with your saliva, you can use essential oils for relief.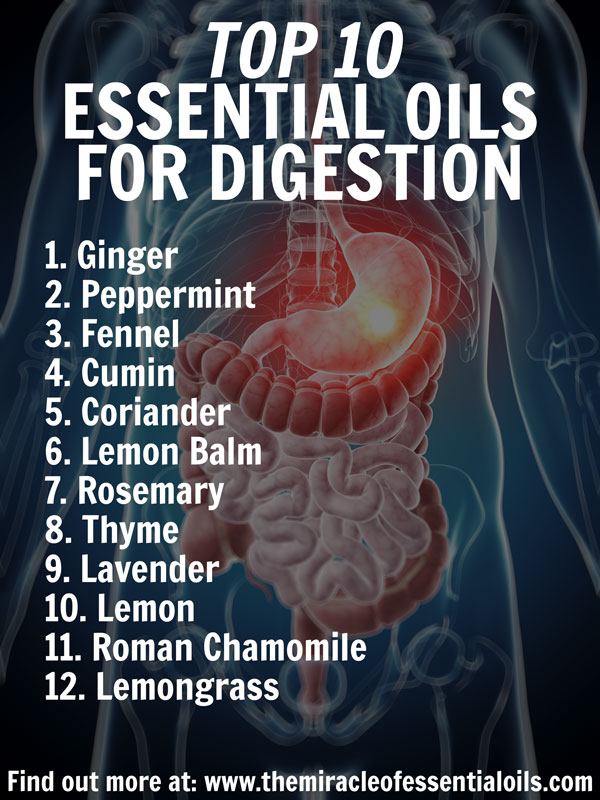 How do Essential Oils Help Digestion?
Essential oils are aromatic liquid plant extracts obtained from plant material. They contain many natural chemicals that have an effect on the body by directing entering the blood stream. When inhaled or topically massaged, the essential oil compounds trigger cells to send information to the brain which responds effectively by sending signals to the body. For digestion, an essential oil such as ginger can cause the brain to release signals that calm and soothe the digestive tract or stimulate digestion.
Below are the top 12 essential oils for digestion and how to use them to support your digestive system:
Top 12 Essential Oils for Digestion
How to Use Essential Oils for Digestion
If you're new to essential oils, please first read: Caution & Safety when Using Essential Oils. Find 3 ways to use essential oils to promote digestion below:
1. Digestive Support Diffuser Blend

What you need
3 drops lavender
3 drops lemon
2 drops peppermint
High quality cold air diffuser (where to get it)

Method
Add oils to your diffuser together with 70 ml of water, following the manufacturer's instructions.
2. Belly Rub Roller Blend

What you need
Method
Remove the roller ball and add the essential oil drops.
Top with fractionated coconut oil and push back the roller ball.
Close the cap and shake well to combine.
Roll onto your belly from the belly button going outwards in gentle circular motions, right after your meal.
3. Rekindle Your Digestive Fire Blend

What you need
3 drops ginger
3 drops lemongrass
4 drops lavender
4 drops roman chamomile
2 drops peppermint
2 tbsp coconut oil (where to get it)

Method
Mix the essential oils in the coconut oil and rub onto your belly to stimulate digestion. Also rub on the bottoms of your feet.
Using essential oils for digestion is a quick way to get relief from stomach cramps, constipation and more! Which essential oils are you interested to use?